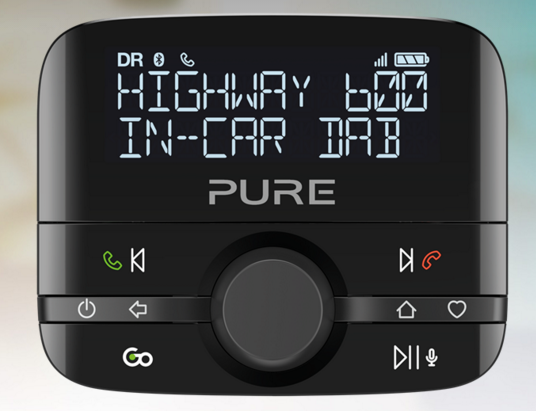 Unless you've got a pretty new car, the world of digital radio is probably beyond your reach right now. You'll probably be listening to some annoying couple called "Kat and Dan" on some generic local radio station as they fake-laugh through your morning commute.
How's about stepping it up? Well, if you head down to Halfords (and avoid geting an e-Receipt) you can grab one of these – a plug-in DAB adapter.
The guys from Pure want you to know about their newly-launched Pure Highway 400 and 600. Now, these are £129.99 and £149.99 respectively (available from April), but there's a bit more to them than just DAB radio. They'll sit on any dashboard and have built-in Bluetooth and you can control Spotify with them too. The higher-end Highway 600 gives you hands-free call technology and both have discreet antennas that'll fit onto your windscreen for the best DAB signal.
Why am I mentioning DAB adapters? Well, digital radio is expanding, big-time. A second multiplex has recently gone live, adding in more capacity for a stack of new stations. They include Share Radio, Premier Christian Radio, Fun Kids, Kisstory, Planet Rock, Absolute 80s, Sunrise Radio, Jazz FM, Awesome Radio, UCB2, Panjab Radio, and Heat. Not only that, but in a week or two you'll be able to get Mellow Magic, TalkSport 2, talkRadio, Premier Praise, Magic Chilled and Virgin Radio.
The adapters include a music tagging feature (a bit like Shazam) that they call "Music discovery". If you press a button it'll listen to the track playing on DAB and will then store the name and artist. You also get access to your Siri or OK Google action with a voice assistance button so you can get weather and travel updates without faffing around with your phone while you're driving.
As mentioned earlier, Spotify users can simply and easily scroll through albums, artists, songs and playlists using the Highway controller too, so no more phone meddling.
Head to Halfords next month or go to www.pure.com/highway for more information.