I love it when I get to review Action Cams and enter the Kitvision Escape 4KW.
Action Cams are great, they allow us to capture our must rugged of family adventures, and as technology advances the price has dropped making them readily available to a wider audience.  Yes I like a good action cam, and I also like the Kitvision range as a value range alternative to Go Pro, but how does the latest entry in the Kitvision range compare to my trusty Kitvision Edge HD30W.
The Kitvision Escape 4KW is a 4K capable action cam in a small and stylish form factor. My first impressions when opening the packaging is how few controls are actually on the device, on the HD30W there are more physical switches to control the various functions on the device, which is great for instant changes to setting but can be a pain in the neck especially when the device is inside it's waterproof casing.
Instead the Kitvision Escape 4KW offers a streamlined (easier) approach with only 4 buttons, all of which are accessible when the device is fastened into its waterproof casing, and its fair to say that point and shoot is as appropriate due, in part, to the integrated 2″ LCD display.
The Camera Performance of the Kitvision Escape 4KW.
So lets start by looking at the 4K elements, just to get the elephant in the room out of the way. Yes it does record 4k video, but it's up-scaled rather than a true 4k capture, it's also limited to  10fps, so I'm not sure how useful this mode really is, a slightly higher frame rate 2.7k 15fps mode is also included but again this is up-scaled. My gut feeling is that these modes are a little bit of a gimmick and are included just because they can be.
Not a great start but what about the other video modes – do they fair any better?
The Kitvision Escape 4KW supports 1080P Video recording at 60fps and 30fps as well as 720P video recording  at 120fps and 60fps. These modes fair much much better with very high quality video and smooth animation, in fact  the results are very impressive, much better than the capture on the wide screen focus of the HD30W.
How about still shots?
In addition to being to record video, the Kitvision Escape 4KW is able to capture still 12mp shots, and has Timed, Burst and Time Lapse modes. The results are pretty impressive although may not worry your dedicated camera, or high end smartphone.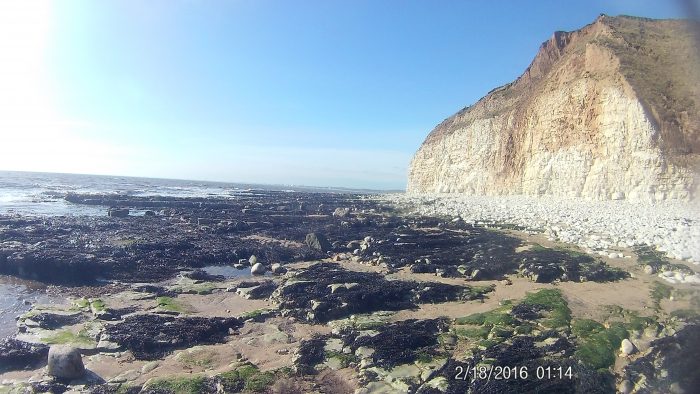 Just keep in mind that the Kitvision Escape 4KW doesn't come with any on-board storage so you will need to install a Micro SD card, which may come as an unwanted surprise if you aren't careful.
The Kitvision Escape 4KW Camera Versatility.
So just how effective is the Kitvision Escape 4KW as a camera suitable for capturing family adventures. As a test we took the camera on a family expedition to Flamborough on the East Coast of England. The original plan was to really push the camera with some caving but unfortunately a combination of bad weather and tide times made this option just to dangerous for my 5 year old son who is very much part of the team.
So instead we took the camera on a coastal work checking out spectacular HD friendly views and rock pools.
The simple nature of the camera's operation meant that all of us could take it in turns to record our journey, especially as the standard camera support fitting meant we could easily attach it to a knuckle grip for easy control.
In fact the shear number of options for attaching the camera to something is fantastic, included with the camera are a bicycle mount, vented helmet straps, adhesive mounts ( great for go-karts 🙂 ), a 90 degree mount and appropriate clips to accommodate each option. I'm really struggling to think of an activity which couldn't be captured using this camera.
Did we dare test the waterproofing of the Kitvision Escape 4KW?
Yes of course we did and it works really well. It's actually much easier to use than the water proof case that comes supplied with the HD30W, just put the camera in the case and lock the clip, no tightening of screws is required, it's all very easy. The case is indeed waterproof as my son proved by recording underwater in rock pools and the sea, although focusing on under water objects is somewhat tricky you do get an exciting and unusual result.
How can we get our videos off the Kitvision Escape 4KW?
One of the problems with the HD30W was that getting access to the video was very difficult especially on iOS, with the  Escape 4KW the situation is much improved.
If you are using a smartphone or tablet then the accompanying app works really well, you can set the camera to be a WiFi hotspot and by connecting your device to the connection you can copy your files to the camera roll, it works well although the WiFi does drain the cameras battery.
You can also use USB to connect the camera to your computer of choice, so that you can access the files over drag and drop, or you can simply plug the memory card directly into a card reader.
So you like the Kitvision Escape 4KW then?
Yes I do – after you get over the disappointing 4k functionality, and the lack of on-board storage – you are left with rugged, waterproof action cam that takes good HD video. What's more the Kitvision Escape 4KW is flexible enough to be attached to almost anything and simple enough to use for a five year old to enjoy using it.
It you are after a good value all round action cam then check out the Kitvision Escape 4KW.
Kitvision Escape 4KW
Video Quality - 89%
Usability - 84%
Battery Life - 81%
Flexability - 92%
Ignore the 4k you & have a great action cam