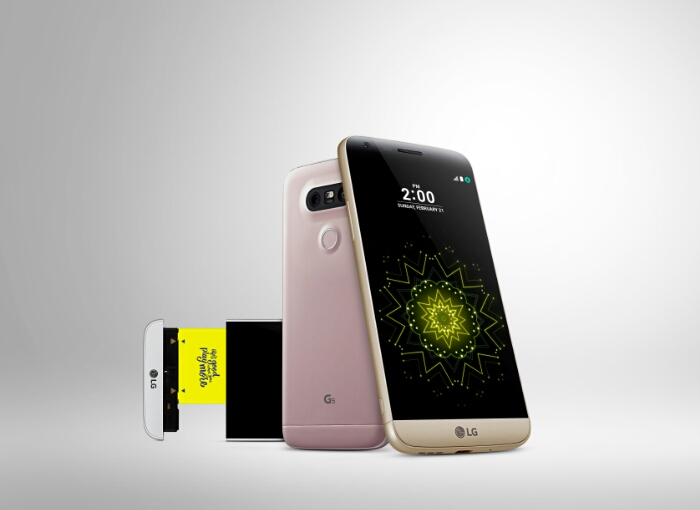 Well, it's not just a metal unibody we have here, this new LG G5 has a "modular type" design with a slide-out battery. It will arrive with some "companion devices" called "LG Friends". a collection of companion devices, the G5 can be transformed into a Hi-Fi player, digital camera and more.
Why make the battery swappable ? Well, LG tell us (rather cheekily) that it'll mean you can "have a fully recharged battery in seconds" by slipping a new one in.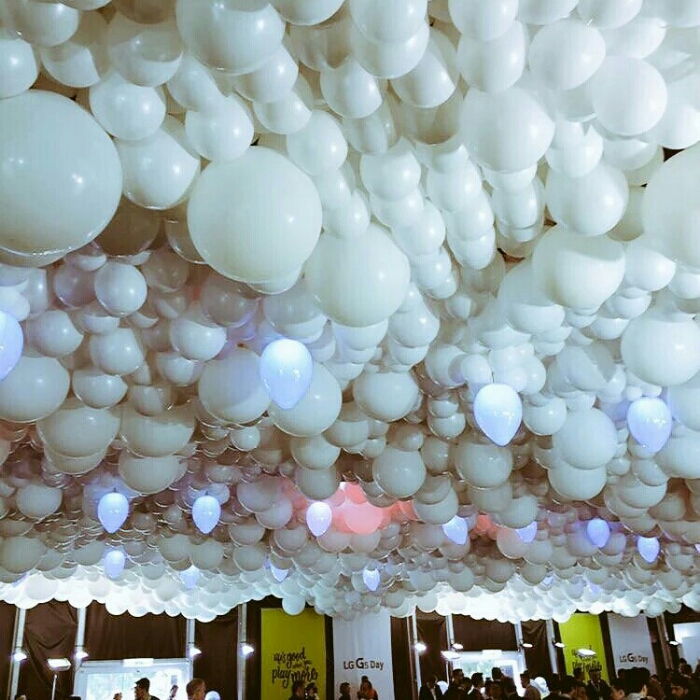 Want to know the specs? Well, first we have to confirm that yes – that always-on display is in there and will display notifications so that you can keep track of what's happening without depleting that battery by having the main screen on all the time. This is the first time we've seen always-on within a main smartphone display and is therefore different to the one on the LG V10. Here the time and date is shown continuously even when the G5 is in sleep mode. It's all thanks to a new display driver which illuminates just one small part of the display and takes only a tiny amount of battery. LG hope that it'll stop you flicking the main display on all the time – which sucks a lot of juice. Whilst we're talking battery life, it sounds like LG were aware of the… slightly limited LG G3 and LG G4 battery life. Here they've also added Qualcomm Quick Charge 3.0 and something called "Low Power Location Estimation (LPLE) Technology" which improves efficiency when location-based apps are trying to find out where you are.
http://www.youtube.com/watch?v=anyW8UY9ELg
The screen itself is a 5.3″ arc glass unit with an utterly stunning Quad HD IPS Quantum display. This give you a 2560 x 1440 / 554ppi resolution and it includes a new "Daylight Mode" to gives better visibility than the current auto brightness tech found on other smartphones. It'll detect surrounding light conditions and will instantly increase or decreases the brightness of the display without any noticeable delay.
Other details include..
Chipset: Qualcomm® Snapdragon™ 820 Processor
Memory: 4GB LPDDR4 RAM / 32GB UFS ROM / microSD (up to 2TB)
Camera: Rear: Standard 16MP, Wide 8MP / Front: 8MP
Battery: 2,800mAh (removable)
OS: Android 6.0 Marshmallow
Size: 149.4 x 73.9 x 7.7mm
Weight: 159g
Network: LTE / 3G / 2G
Connectivity: Wi-Fi 802.11 a, b, g, n, ac / USB Type-C) / NFC / Bluetooth 4.2
LG will be offering it up four colours – silver, titan, gold and pink. The phone itself takes "anodised aluminium to a whole new level" with a uni-body that invisibly hides the antenna and adds grip.
The LG G5 has two cameras at the back, with one having a 135-degree wide angle lens. THis, alongside the standard 78-degree lens next to it, means you won't need additional gadgets like the 3 in 1 lens set we reviewed recently. The wider-angled lens gives it easier to snap large groups, landscapes and a "fuller picture". Once you've snapped a shot, the G5 has a range of photo effects that you can apply, such as a a film effect or a "pop-out picture" option. This latter option will combine the images taken by the standard and the wide angle lens to create a "picture-in-a-frame" effect. There's also an "Auto Shot" mode which will grab the perfect selfie when a face is recognised.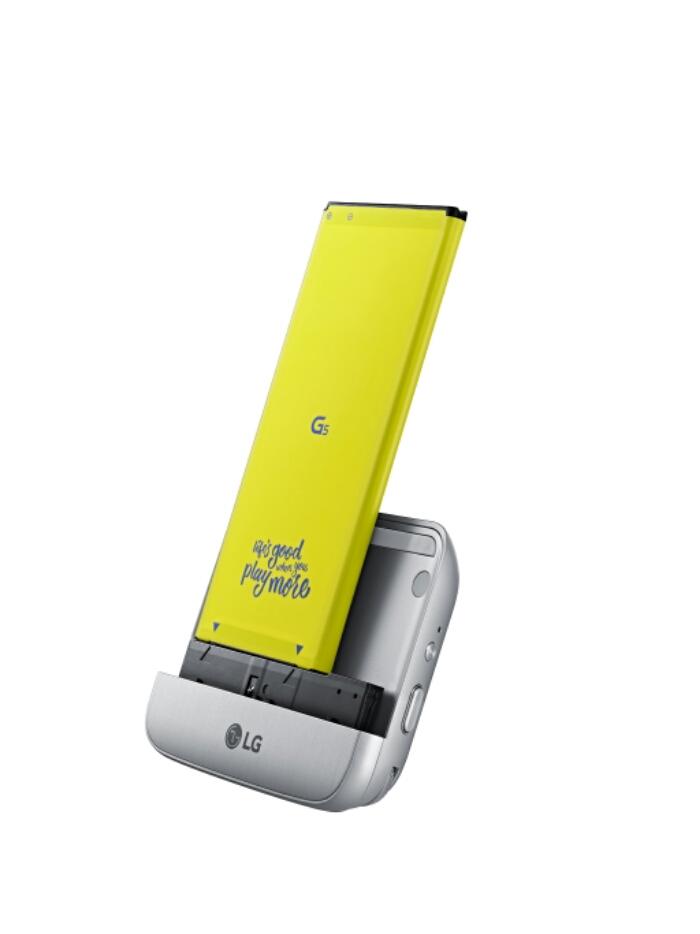 Those modules then, and it's here that the battery slot starts to make more sense. The LG CAM Plus attaches through the battery slot to give you more control over the smartphone whilst filming. Not only that, but it'll add some physical buttons for turning the phone on / off, recording video, snapping shots and zooming. It also an LED indicator, auto focus and exposure lock and an additional battery capacity of 1,200mAh. This means you can shoot for longer, because filming video always sucks battery power pretty quickly. Ahhh… This reminds me of those old clip-on cameras from back in the day 😉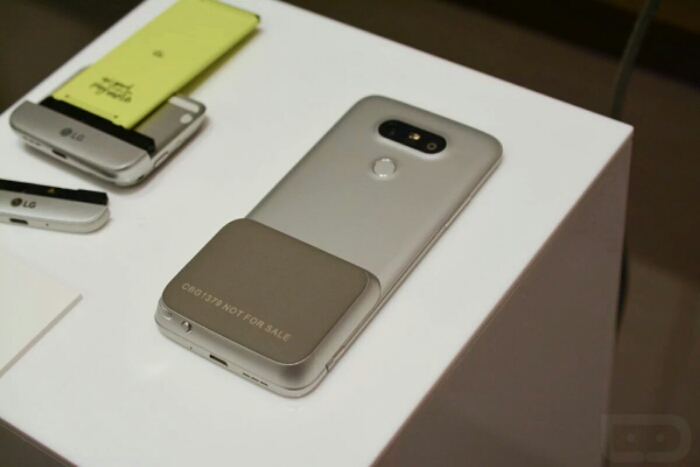 Next, the "LG Hi-Fi Plus with B&O PLAY". Yep, bit of a mouthful that one but this is a portable DAC audio player delivering "premium sound technology". There's 32-bit Hi-Fi DAC upsampling (seen on the LG V10) and 384KHz hi-def playback.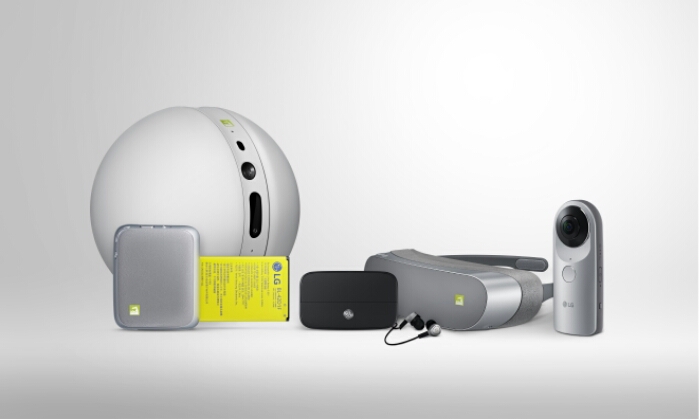 Other companion devices include the LG 360 VR, which connects to the LG G5 and gives you the effect of a 130-inch TV viewed from two meters away. It'll fold away so that you can take it anywhere and doesn't need the phone to be slotted in, so weighs just 118g.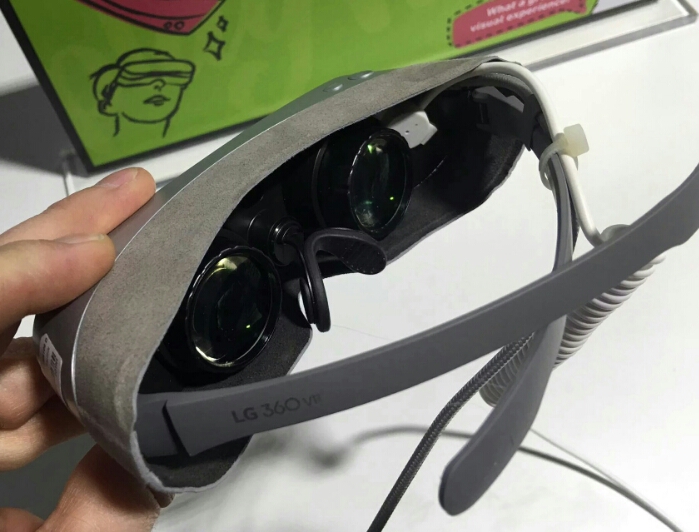 Now sure, you can watch 3D content and use all the Google Cardboard stuff, but how do you capture 3D footage? Well, step forward the LG 360 CAM. This is a compact camera with two 13 megapixel lenses capture 200-degrees eage. Inside is a 1,200mAh battery and 4GB internal memory, which you can boost with a microSD camera. It'll then connect easily to the LG G5 so that you can watch the footage back.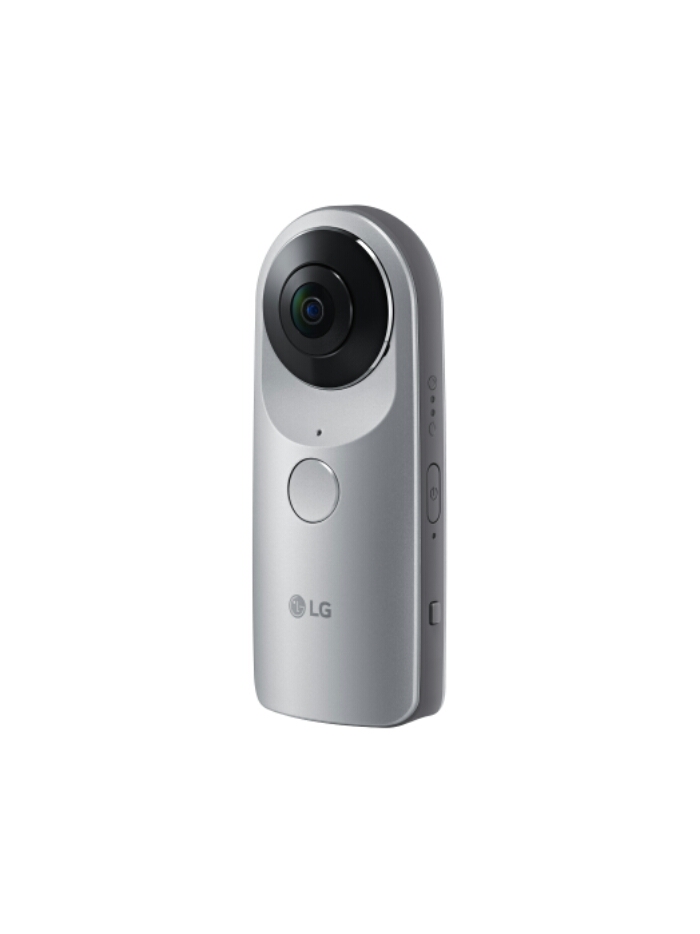 The LG 360 CAM also adds 2K video and 5.1 surround channel recording via three microphone. Not only that, but you can upload shots to Google Street View and YouTube360, adding the fun of sharing creative contents with others. The images will also be available to view on the LG 360 VR or other smartphones or devices that are capable of 360-degree content.
The LG Rolling Bot is quite interesting, and I'll try not to draw any comparisons with a certain Star Wars character here. This thing will roll around your home, snapping video and photos. You can use it as a monitoring system, keeping an eye on your pets perhaps, and it'll even communicate with certain remote control devices. You get to watch it live via your phone.
LG also announced the LG TONE, a Bluetooth headset with the Harman Kardon Platinum quality sound output., and the LG Smart Controller, for controlling drones. A joystick will let you control the drone whilst you watch live images on your G5
We'll have real, actual hands-on images of all of this very shortly. Keep an eye on our Twitter feed for more.
Update – EE have confirmed that they will be ranging it. The handset will be available from March 17th with an exclusive pre-order offer to be announced nearer the time.
Update – Vodafone have also confirmed that they will take the device.