Cables. To be honest you've probably got a quite a few. However, after a bit you may have a frayed, bent or broken cable. Tech Armor, who I will probably spell correctly at some point in this review (it should be Tech Armour of course) have taken the average cable and cranked everything up to "11".
First, I'll give you the bullet points. Don't worry if you don't understand all the terminology. Perhaps just place the words "really high quality" into any bits that sound confusing..
– Lifetime Warranty (which is very good)

– Solid, oxygen free copper conductors that provide higher conductivity and superior signal transfer.

– Cable jackets use state-of-the-art nitrogen-injected skin-foam dielectric to ensure the lowest possible signal loss.

– Cables are triple-shielded for a "superior rejection of radio frequency and electromagnetic noise and interference.
Now, I'll be honest with you. I only understood that first one. My eyes started to glaze over on the third benefit and I just injected the phrase "I think this cable is like those expensive headphones or HDMI cables that promise super-good signal / audio quality" towards the end there.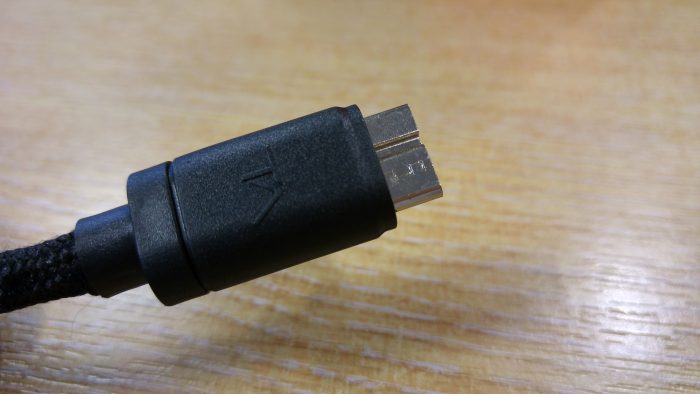 The boys at Tech Armor shipped us this (are you ready for this description) "Tech Armor Hi-Speed USB 3.0 MicroUSB 3.0 Cable", which basically has a microUSB 3.0 plug on the end. Sadly…. none of my devices use this. It is, though, very nice to look at, and I'm pretty much going to have to abandon our review right here because I can't really test the thing. It's available for £6.95 (as I type) at Amazon UK. This cable works with various devices including the Galaxy Note 3 and some external hard drives.
We don't have any of those, but we can tell you that this cable will transfer data at up to 480 Mbps. The cord, which is flexible but thick and tangle-free, is also 6 feet long. This means no problems getting it to reach your kit.
The braided finish, despite me dragging a key down it, didn't fray or fluff and the plugs at each end were solid, well constructed and easy to handle.
All in all, a very high quality product. Whether you understand all the tech-speak doesn't really matter, because you're going to get a top-quality cable for not-much cash. Although I couldn't fully test it, what I can say is that – based on the construction, the fit and the finish of this cable – any other cable you get from Tech Armor should be equally good. Head to Amazon to get this one.
Tech Armor Premium Micro USB cable review
Overall - 9.2
9.2
Good quality ? Yes. Good price ? Yes. A very well built cable.