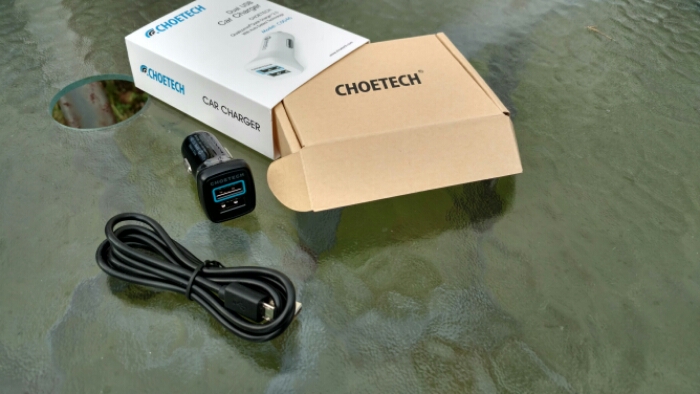 Now that I am using some very shiny phones I have found that I am in need of a car charger that will keep up with the rapid discharge rate of these high-end handsets. Thankfully CheoTech have come to my rescue with the CheoTech Quickcharge car charger.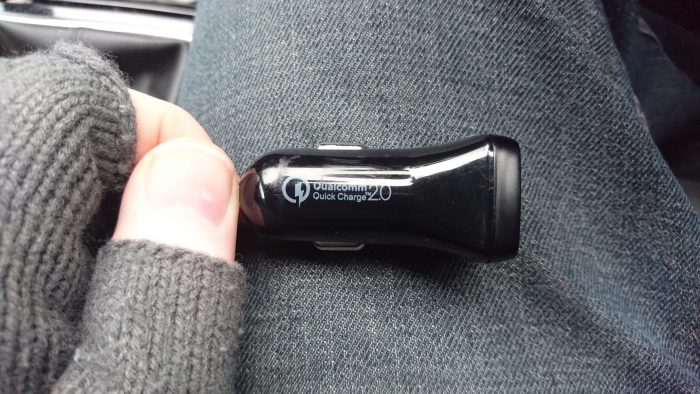 So like any other car charger, this will give you a trickle charge to your phone. However, this time, the output amperage is significantly higher. This is good because if I run an app like Google Maps, the phone will be draining quicker than older style chargers are able to replenish it again. This means that I don't get to the end of a long trip with a flat phone.
The actual charger is fairly non descript, as you would expect for a car charger. It has two USB outputs, meaning my wife can charge her phone as well. Her phone is always low on battery! The charger also has a small LED that will be either green or blue depending on what state the charger is in. Green for Quickcharge support and Blue for normal speed charging support.
As mentioned this charger supports Qualcomm's Quickcharge 2.0. This lets you to charge your phone much quicker. I am very impressed at how quickly it was able to juice my phone up on the way to work (this is about a 1-hour journey). If you have a quickcharge compatible phone then you will see that the charging speed will be increased hugely. Some phones will even show the text like below. Upon seeing "TurboPower" it does give you a little bit of child-like excitement. I mean who doesn't want to charge their phone via a "Turbo" 🙂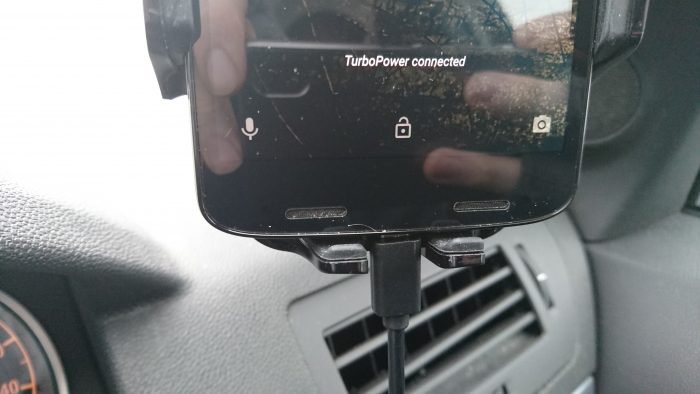 More importantly, I have found that it will give out enough to keep my phone on a trickle charge even when running Satnav, this is something that I cannot say is possible on my old charger.  As an added bonus this charger also has the same output as that of my Surface 3 charger meaning that I can even charge my Surface 3 when I am on the road which is awesome.
The business end of the charger is your standard USB cable fair and the cable is a standard PVC coated affair. It would be nice to have a braided cable but for the price point, I can't expect that. The standard cable is about 1m in length that will allow me to stretch to the far side of my steering wheel, so not too bad.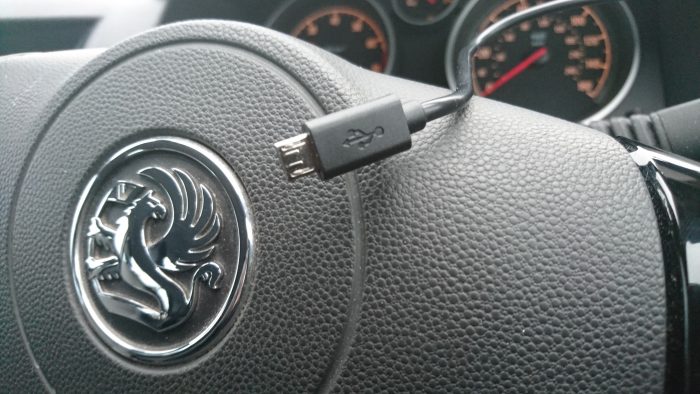 This is a really nice piece of kit and the fact that I can charge two devices at the same time is a real bonus. If you want one of these great wee compact car chargers then you can pick this up for £9.99 from Amazon right now. They also have Prime shipping so this could be in your car tomorrow if you are a Prime customer.
Versatility - 82%
Charging speed - 91%
Value for money - 93%
Great wee dual output car charger that supports Qualcomm's Quick Charger 2.0 with some funky lights.