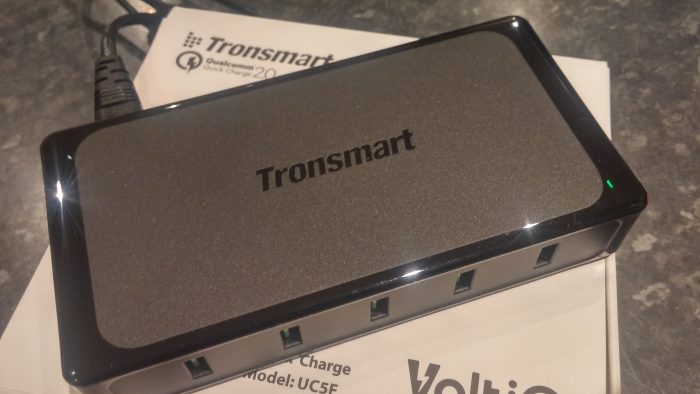 When I was young I really didn't, for one minute, think I'd be reviewing chargers when I grew up. Never mind though, because we've got ourselves a charging station from Tronsmart. We found it under the name of the "family size" multi-port charging station here in the UK (£24.99) and here on the US version of the site ($37.99).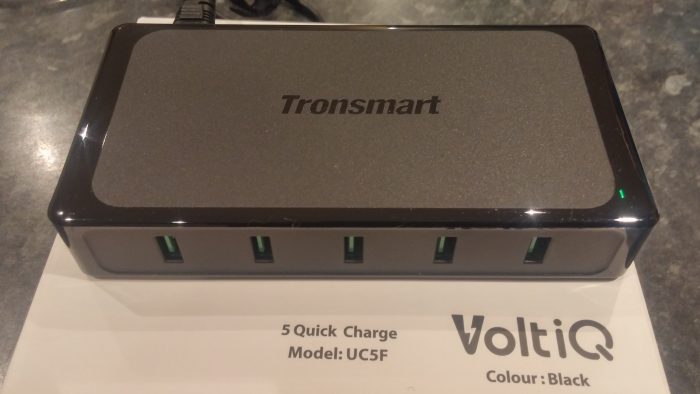 It has, like a few other chargers we've seen, got a clever bit of tech inside which ensures that your devices are charged quickly. There's no "low power" ports and you get the full 2A from each of the 5 USB ports if your device can take it. Each one pumps out 5V, so every device will be getting the required power. There's 90W total and 18W for each port.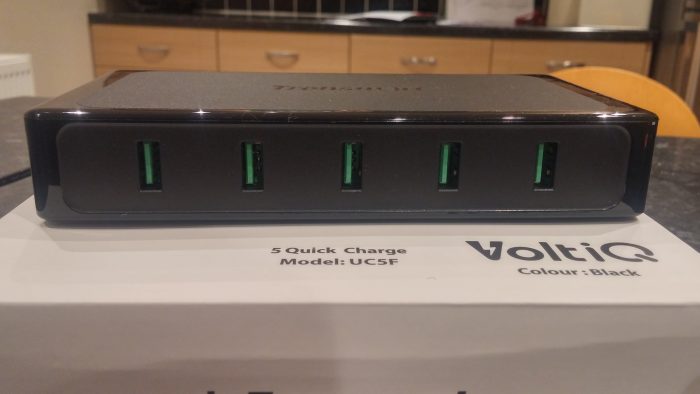 Those ports also have Qualcomm Quick Charge 2.0, meaning that your phone, tablet, Bluetooth speaker or any other device is charged as quickly as possible without damaging your device. The technology basically involves a 2-in-1 charging chip – Qualcomm Quick Charge 2.0 and the "VoltIQ" tech to ensure that your phone gets topped up quickly.
Here's my overview video. I love the word, "Titan", as you'll probably hear…
Inside the charging station has protection against over-current, overcharging and overheating, The device itself is a strong plastic with shiny edging but has enough weight to it to hold it in place on your desktop. There's four rubber feet keeping it well-placed too.

You can get more details here but we have to say, it did the job very well indeed. There was enough space between each USB port and it did indeed charge every device we tried very quickly indeed. You get a power cable to plug it in, but you'll need to supply our own USB cables, which isn't a big problem. It's well built, a good design and I liked little touches like a rocker switch at the back for powering the device on and off. Top stuff.
Tronsmart Titan charging station review
A 5-port desktop charger which will quickly and safely charge multiple devices. A good price too.