As Microsoft launch the new flagship Lumia 950 XL, it's easy to forget the other end of the smartphone market, for example the BLU Win 4.5″ JR which was recently available for just under £40 from Amazon, but what do you actually get for your money a decent Smartphone or a paper weight? Let's have a look.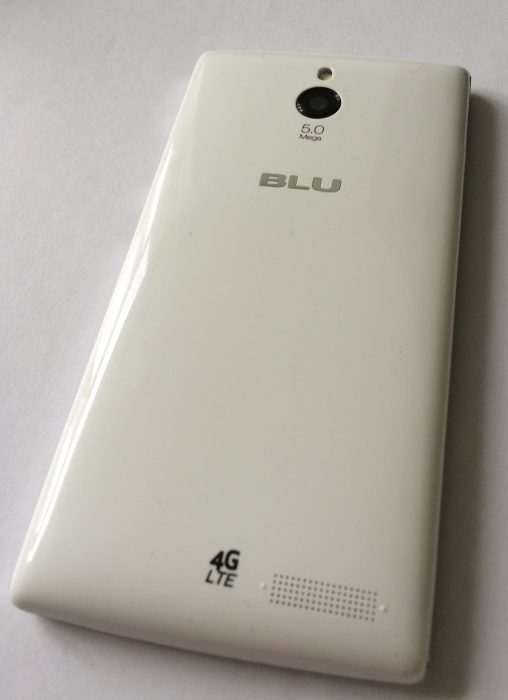 Let's Start with the Specs.
The BLU Win 4.5″ JR certainly isn't bleeding edge with a 4.5 inch IPS screen, Qualcomm Snapdragon 410 processor running at 1.2 GHz, 512MB of RAM and an Adreno 306 GPU to assist with graphics, so not exactly an iPhone but keep in mind you could be a small army of the BLU device compared to a single iPhone. The screen runs at a resolution of 480 x 854 at a density of 218 ppi, and it's fair to say that it's functional rather than impressive, but that could be the mantra for this handset as the build quality of the device shows.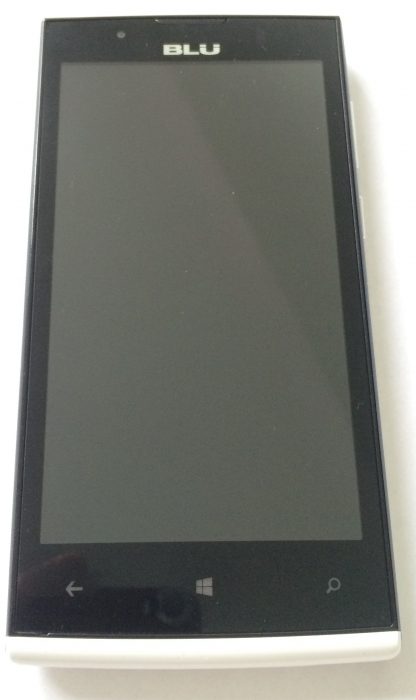 The device comes with a 2000 mAh battery which should provide upto 22 hours talk or 32 days standby time, which is more than enough for most users, and whilst the device comes with a humble 4GB built in storage there is a microSD slot where you can add up to 32GB extra storage.
The Platform.
One factor in the favour of the device's lower end spec is the Microsoft Windows Phone 8.1 operating system which has a relatively low technological requirement, and whilst missing some of the options of other operating systems it does perform the basics that most would expect from a mobile device as SMS, Twitter, Facebook, LinkedIn & multiple email accounts are all supported.
Yes Windows 8.1 isn't for everyone and the Microsoft App Store is a long way behind the Android & Apple Stores, but if all you need are the basic social media and communication tools then your requirements will be met. What's more, and quite surprisingly, the phone is quite quick and responsive and feels like it performs reasonably well, quite a nice experience really.
As a test of the graphical performance I installed Halo: Spartan Assault, one of the most popular and visually appealing games on the Windows platform. The game ran very well with no noticeable lag which on a £40 device has to be considered impressive.
In addition BLU will provide an upgrade to Windows 10 in the near future, although I'm not sure if performance levels will be maintained.
So what about the Camera?
The BLU Win 4.5″ JR includes a 5 MP Camera for taking photographs, it's also capable of capturing video at 720p at 30fps, and the results whilst not sparkling are ok.
Captured images are a little dark, not great on detail but I've seen a lot worse and the pics are absolutely fine for your normal Facebook fodder.
To show the quality of the images I've taken similar photos on both the BLU and my iPhone 5s. The images are shown below where you'll see that whilst the iPhone pictures (shown on the left hand column) are significantly better, the images from the BLU (on the right) aren't terrible by any stretch of the imagination.
In Summary
For the money this is an incredibly adequate smartphone. Yes it's never going to set the world on fire but for many It will do what's needed.
The BLU Win 4.5″ JR is certainly a nice second device, or a phone for the kids or even a usable work phone and I challenge anyone to find a better value Smartphone, at £40 the device is almost disposable.
If you are looking for a little more power in your Windows Phone then don't forget to check out huge Lumia 950 XL review.
The BLU Gallery
BLU Win 4.5 JR
Screen - 60%
Build Quality - 61%
Speed - 73%
Value - 90%
Not sparkling Specs but a great value and functional Windows Phone