Powerline adaptors that allow you to extend your network have been around for a while, and potentially provide the perfect way to extend your network range.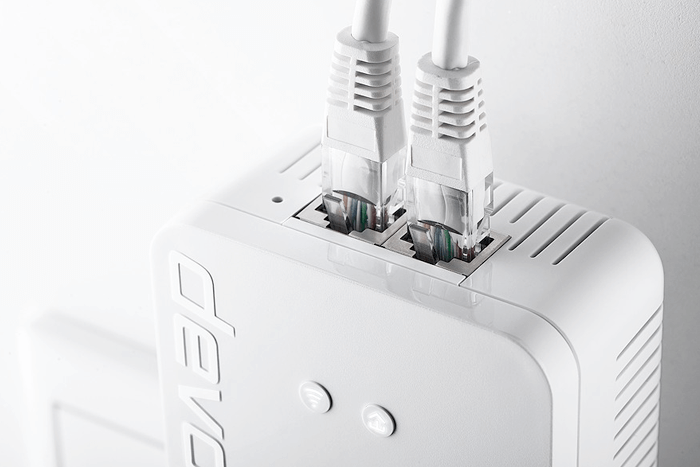 When these first launched on the consumer market, I purchased a pair to extend my extremely poor WiFi coverage. My home WiFi suffers from blackspots in my study and out to the rear garden. As a result, I often work from the dining room table; not an ideal work environment. Whilst they worked, the solution wasn't perfect. The data speed was slow and the connection dropped on a regular basis. This put me off using these as a robust solution.
Fast forward several years and technology has moved on in leaps and bounds.
devolo was founded in 2002 and have been providing powerline adaptors since 2003. Their latest solution, the 'dLAN 1200+ WiFi ac' promises WiFi speeds of up to 1200 Mbps. The adaptor also includes two Gigabit LAN ports. The majority of competing products only offer 500 Mbps network speeds. The WiFi network operates simultaneously at 2.4 and 5 GHz.
This model also features the latest wireless standard; 802.11ac, providing significantly improved speeds over previous Wi-Fi standards, thanks to greater bandwidth and higher amplitude. The great thing is that you don't need to have an 'ac' router as the powerline adaptor provides the 'ac' access point.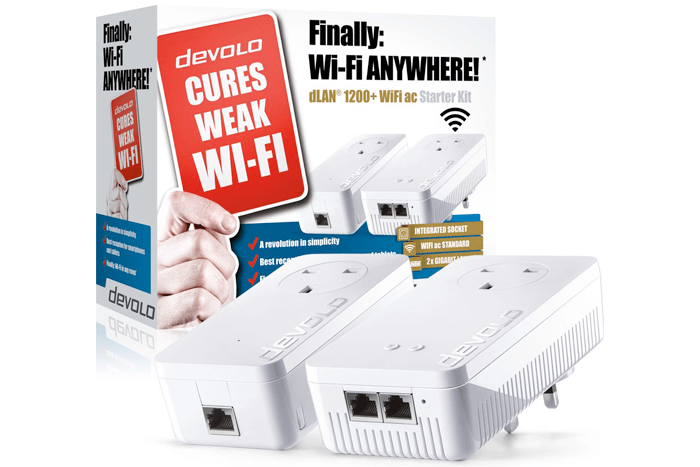 This starter kit is ready to use out of the box and includes two adaptors and a single network cable. Both adaptors include power pass-through, allowing you to still utilise your plug socket, although the adopters did cover the switch on my plug sockets. Similar products do not offer power pass through, and this feature is a must if plug sockets are a premium.
The build quality is fantastic but the adaptors are on the large size and the UK versions are top heavy whereas the international versions are flipped. I'm unsure why this is the case, but as a result (at least in my plug sockets) they do not feel stable. I would have preferred them to be flipped and as a result, have the network cable come from below the plug rather than above.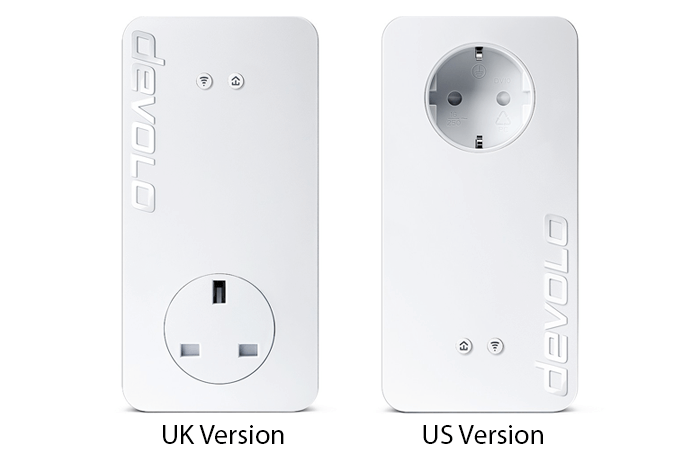 In order to set up the adaptors, simply take the primary adaptor, plug the network cable and connect it to your home router and power up the adaptor. Once the LED light turns white and remains on, simply plug in the second adaptor in your chosen location and again wait for the LED lights to turn white and remain on. Your extended network is now ready for use. Sounds simple, right?
Unfortunately the included manual is not the easiest to follow. It reads as if it has been badly translated. Whilst it is not the most in-depth of manuals, each step is on its own page and without contents or introduction pages you are directed straight to the setup.
I'd strongly recommend that you read the full manual, as if you follow the steps page by page, you may realise you need to follow the second step of instructions rather than the first set. Something I didn't do.
Broken down in to two sections, the first section of the manual is for a basic set up. Whilst this is plug & play, in most cases this is not suitable as it simply creates a new WiFi SSID. As a result, roaming from your current WiFi network requires disconnection and reconnection on the new network in order to benefit from the extended range.
The second section of the manual includes instructions on how to 'clone' your current network. This allows you to copy your existing WiFi name and password and enables true extension for your WiFi network.
Your device will automatically switch to the strongest signal provided either by the extended adaptor or your home router, so having a cloned network will be more suited to the majority of people looking for this type of solution.
If only I read the manual in full before starting the setup, as what should have been a quick setup resulted in me having to factory reset each adaptor in order to use the clone setup facility.
Starting from fresh and attempting to follow the instructions, I was unable to get the second adaptor to talk to my BT HUB5, even though it was less than 6ft away. The manual recommends you use the WPS button on your router in order to complete the setup, but no matter how many times I tried, this simply didn't work for me.
Luckily, devolo provides a management application for Windows or Mac called 'Cockpit'. This application allows you to configure your set up using an extremely easy interface. This method enabled me to configure the second adaptor to utilise the same SSID and password as my main WiFi network. This would now be my recommend route to set up the devolo adaptors.

If you purchase additional adaptors, these automatically show within the Cockpit tool providing an easy to understand network map and configuration.
Once my network was configured correctly within the Cockpit application, I was recommended to carry out a firmware update, which after three attempts was correctly installed and upgraded.
Within the Cockpit application you are also able to activate the 128-bit AES encryption at the push of a button to avoid any unauthorised access to your network.
It's a shame a premium product like this wasn't as easy to set up as I'd hoped. In total, set up took just over 20 minutes. However, if I were to carry out the setup at another location, I know this would be reduced to around 5 minutes. Also, it would also be extremely helpful at the start of the manual to explain the two different types of set up on offer.
devolo uses all three wires of the electric mains circuit for data transfers, which helps boost performance significantly and now the adaptors are set up and fully operational, I am able to maintain a steady 209 Mbps connection. Whilst not the 1200 Mbps advertised, I'm aware many external influences play a part in the connection speed and did not expect to receive advertised connection speeds. My house is only 2 years old, so I'm unable to confirm speeds or performance on older properties or wiring looms.
The connection speed was solid and suited all my requirements such as streaming video, uploading and downloading files to Dropbox. This is something I would never have been able to do prior to installing the devolo adaptors.
At £160 for the starter set, the devolo could be seen as an expensive option. However, the quality and features the adaptors and software provide justify the premium price and one I'd happily recommend to those looking for this type of solution.
Find out more at devolo.com
devolo dLAN 1200+ WiFi ac Powerline Adaptor
Quality - 95%
Features - 95%
Reliabiltiy - 95%
Price - 80%
Set Up - 80%