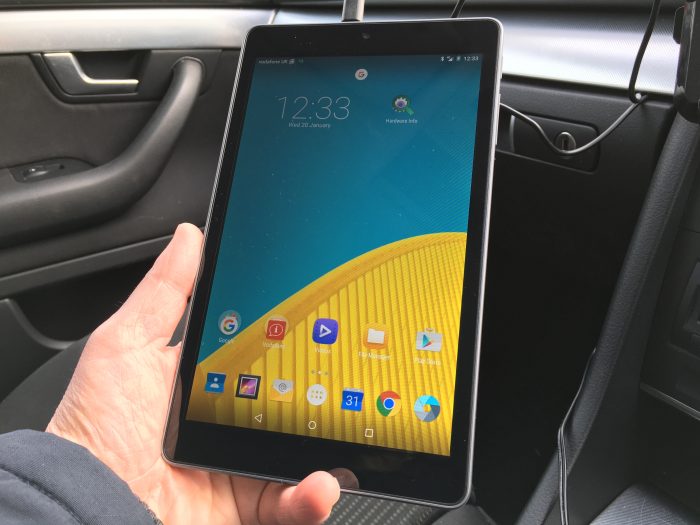 Let's have a look at this then. First up, it's a well-built Android 5.1.1 tablet with an 8″ 1280×800 IPS screen. Inside you'll also find a 1.3GHz quad-core CPU plus a 5 megapixel rear camera and a 2 megapixel front one for those selfies. GPS, Bluetooth and, of course, WiFi is here but you also get 4G via the Vodafone network.
You get 16GB of storage on-board and then you can add a further 64GB via the microSD storage too. It's made in China by a company called TCL Communications and, at 209 x 124.9 x 8.3 mm, it's easy to hold on one hand.
Up front the screen, which is very crisp and bright, is surrounded by thin (especially at the sides) border with the 2 megapixel camera at the top. No buttons here – they're all on-screen.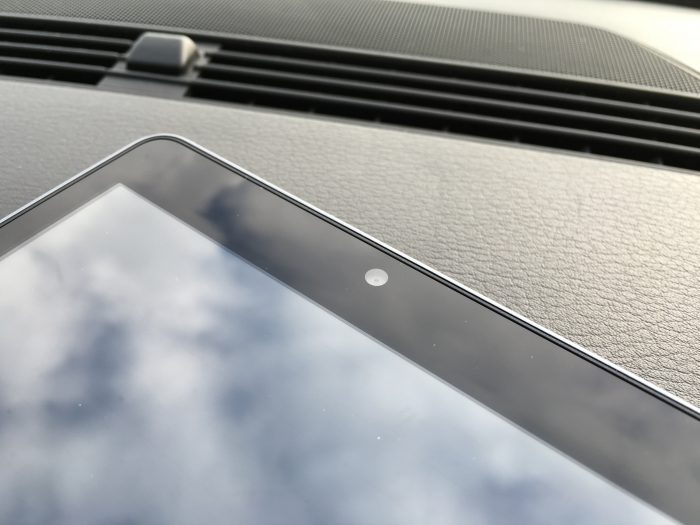 The right-side has the power button and the volume controls on these fairly thin buttons.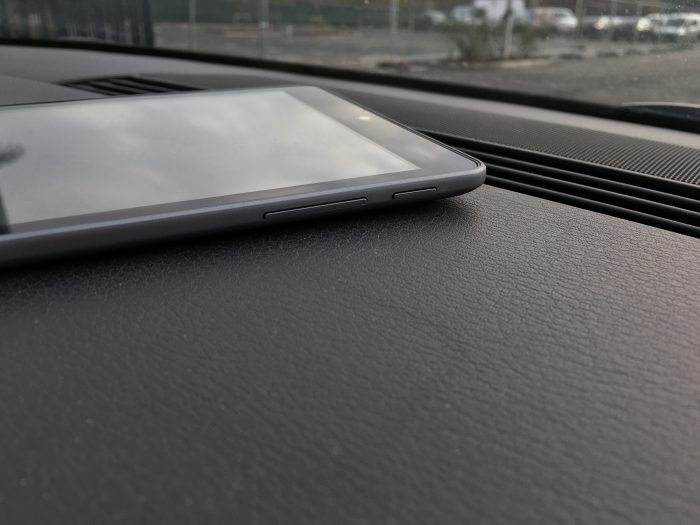 Meanwhile, on the left side but virtually on the rear side is the microSD and SIM card slot behind a small flap.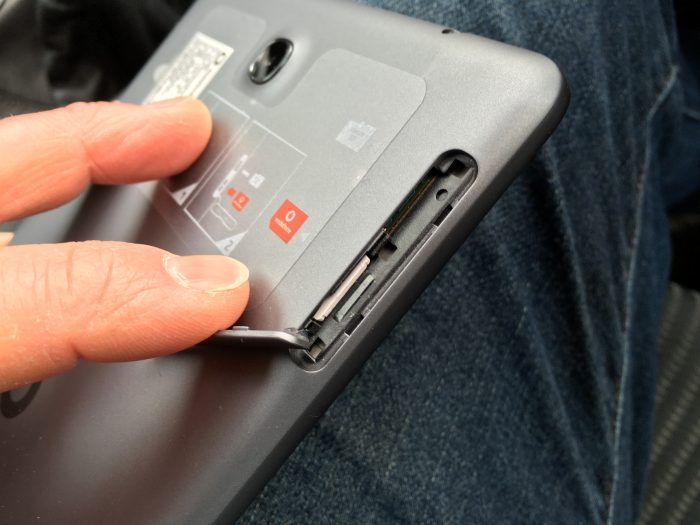 Once you power it on you're met with an easy setup process with EE-style colours (a little strange considering it's a Vodafone branded device). This is the Tab speed 6. Vodafone have announced that they will be offering this up for a mere £125 on pay as you go (including 6GB of data valid for up to 30 days). You can also get it for £16 monthly on a contract, which gets you 3GB of data.
I've done a lovely hands-on video of this thing below, which you may have already seen. It's a great way to get to know the device, so do take a look…
There's another video here recorded by Purav D that you might want to watch too.
As you can see that rear camera is slightly pronounced but it doesn't present any real problems. On the bottom you've got a 3.5mm audio port, microphone and a microUSB charging port..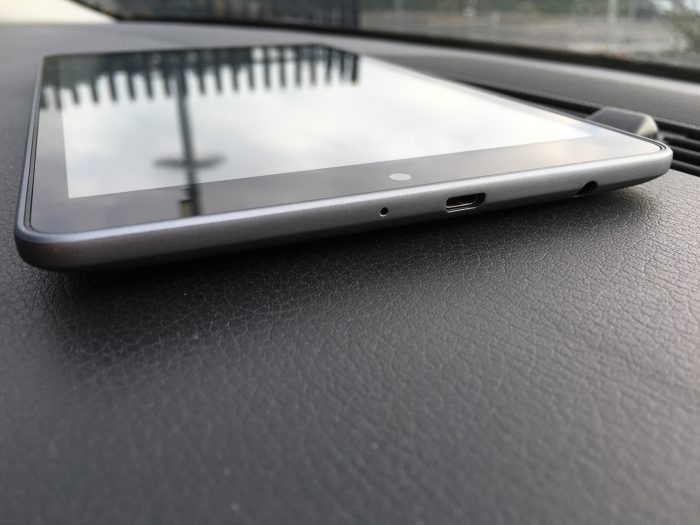 I've got to be honest, there was no noticeable creaking or flex in the chassis and it felt strong. There was a good feel to it considering this is at the lower end of the price scale, and it wasn't too thick either.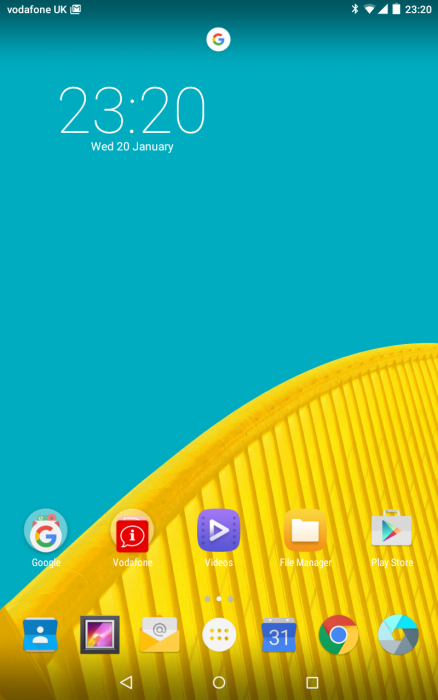 Inside the setup process is relatively painless as I mentioned before. The screen itself is clean, clear and sharp. We ran it through a full AnTuTu Benchmark test and it properly struggled with the 3D tests in particular but gave a total score of 18427 – higher than a Galaxy Note 10.1.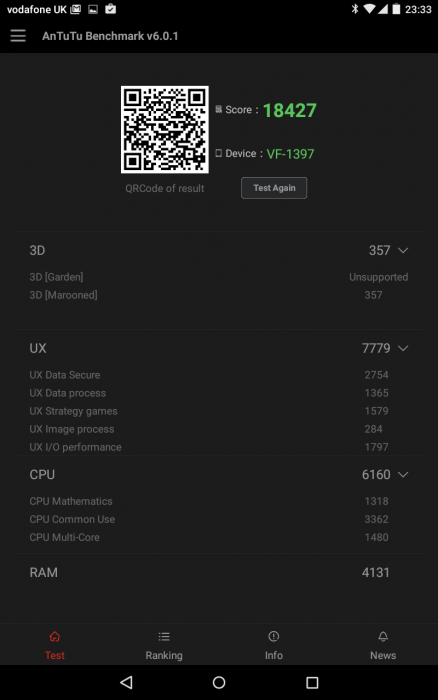 The OS will guide you through and you'll be using and familiar with it in no time. A notification bar slides down from the top and tells you what is happening with your tablet plus it'll let you quickly adjust things like Bluetooth, WiFi, screen brightness and much more.
Google Play is here and there's a smattering of Vodafone apps, but they're not annoying or intrusive and can actually prove pretty useful for keeping a track on the network and performance. There's also a "My Vodafone" app so that you can manage your account on the move.
As for everything else, as this is an Android tablet you can alter the backdrop and move widgets and shortcuts onto your homescreen tabs. The settings will let you enable a "double tap to wake" option too, which means you won't need to keep pressing that power button all the time. The settings screen also has a data counter so that you can keep an eye (and set a limit) on the amount of mobile data you're using, plus you can alter the notification sound, remove and control apps, setup a VPN and enable Google Printing here too.
The usual Google apps are here, including YouTube, Gmail, Drive, Chrome, Google+, Play Books, Play Games, Docs, Calendar, Play Movies and TV, Play Music, Play Newsstand etc. You also get the standard apps such as a gallery, calculator, file manager, FM radio (needs your headphones as an antenna) and messaging. Apart from Flipboard, there's no real meddling with additional apps here.
It's a fuss-free environment and, as this is Android, if you have a Google account then your contacts and email will be sync'd with the cloud.
Camera
The camera images came out relatively well, although the light balance and low-light performance was pretty limited. There's a number of options within the camera app itself, including a timer, sports mode, night mode and the ability to tag your photos with the GPS location or change the aspect ratio. To be honest though, that's about it and I did find it a tad annoying that it didn't have a shortcut to the gallery so that you could see the picture you'd just taken from within the app.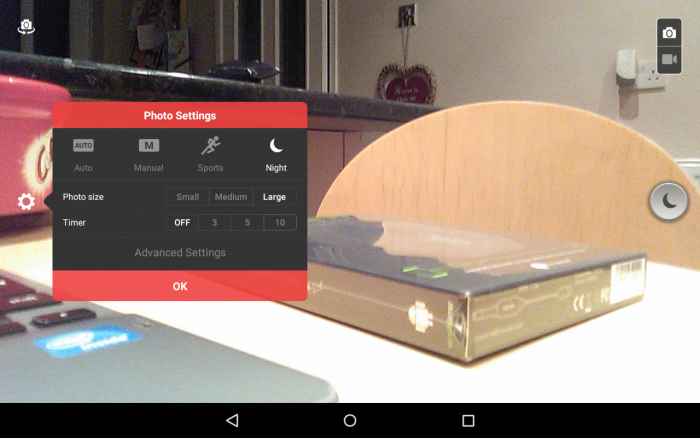 Here's a selection of some images I took on the highest resolution with the back camera. Sadly it's fixed focus, so anything not in the mid-distance is blurry.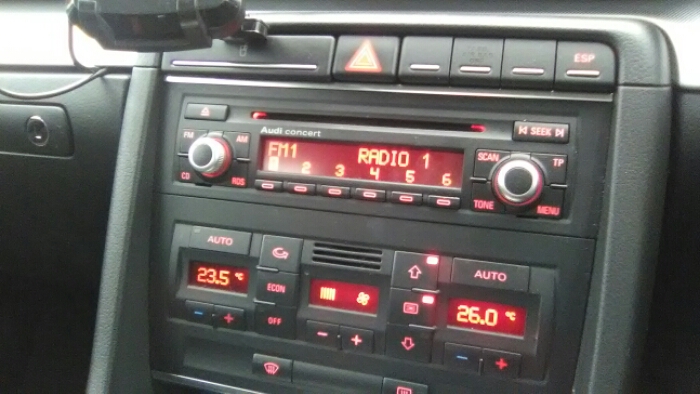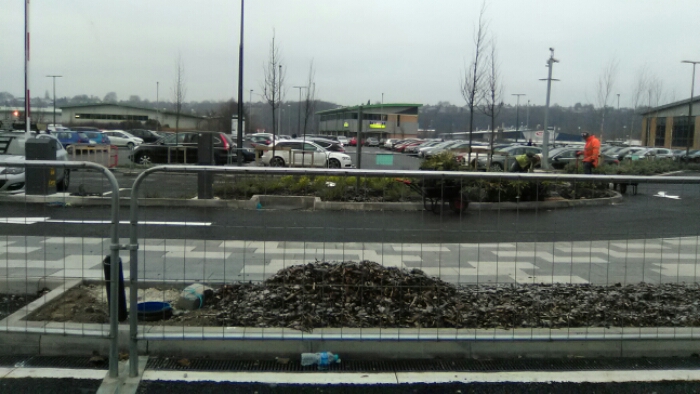 Overall
I did have a few foibles with this, such as the lack of a shortcut to the gallery system from within the camera app and the lack of a brightness sensor on the front of the tablet. The latter meant that there was no auto brightness on the screen so, if you're regularly changing from light to dark areas, you can find yourself tweaking the brightness yourself.
Neither are huge problems though, and overall – for a mere £125 – it's a really good deal. It does not have a cheap feel to it, it's not thick or weighty like those other cheap tablets you may have seen and – praise be – the screen (8″ 1280×800 IPS) is really rather good indeed. Normally, at the cheaper end of the tablet market, I'm staring at an 800×600 and everything looks big, clunky and a little bit fuzzy. Here there's really none of that, and the OS worked well enough with the 1.3GHz quad-core CPU.
The 1GB RAM might hold you up if you start to push things, but at this price-point people will just be wanting a tablet they can give their kids so that they can play multiplayer or chat with their mates through WhatsApp while you're driving. On that level, it's a bargain.
Head to Vodafone for further details.
Vodafone Tab speed 6 Review
Build quality - 9.2
Graphics / gaming capability - 7.2
Value for money - 8.9
Camera - 7.8
8.3
A well constructed tablet with a clear screen, uncluttered interface and good basic performance. Probably one of the best tablets at this price-point.