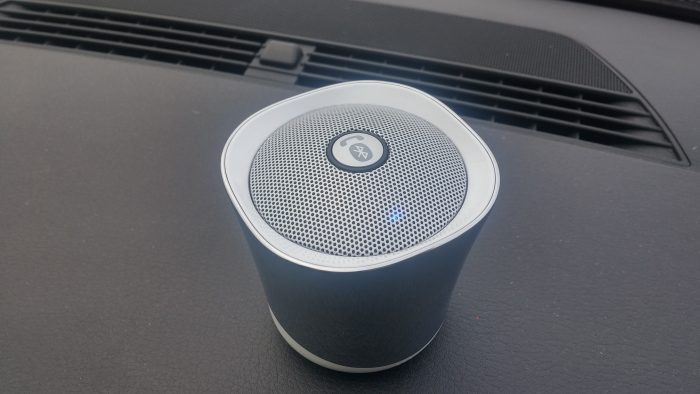 Woof. It's a strange name for a speaker, granted. Does it bark? Does it give lamp posts liquid refreshment? I hope not. That'd be weird.
What it is, of course, is yet another Bluetooth speaker. Here it in Coolsmartphone HQ we've started calling it "the shiny one that looks a bit like a tulip". It does, it really does. Take it out of the packet and the plastic bottom slightly rounded with two small non-slip pads to keep it in place. You'll find the power switch down there too.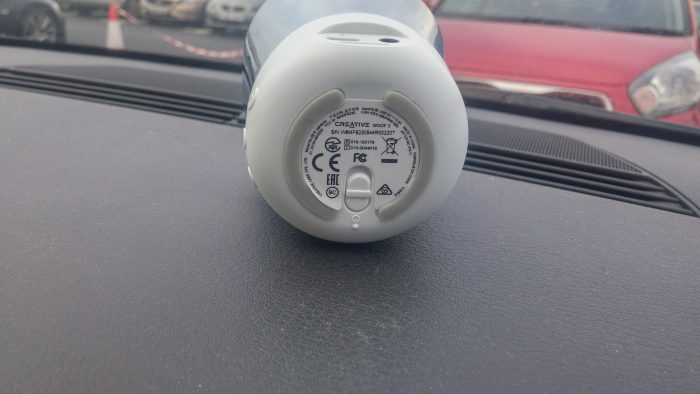 At the back of the speaker is a line-in so you can stick a non-Bluetooth device into the speaker (cable not supplied) and the microUSB charging cable (cable IS supplied). There's also a microSD slot (32GB max according to the details, but my 64GB one worked fine) so you can perhaps pop the one out of your smartphone if it's gone flat.

The internal battery should do you for a good 6 hours of solid music playing, although that does vary depending on the volume you're playing music at. The speaker also shuts itself down if there's no Bluetooth or cable connection for over 10 minutes, which is rather nice of it. You charge it via any smartphone charger or USB output and it stores the charge on an internal 500mAh battery.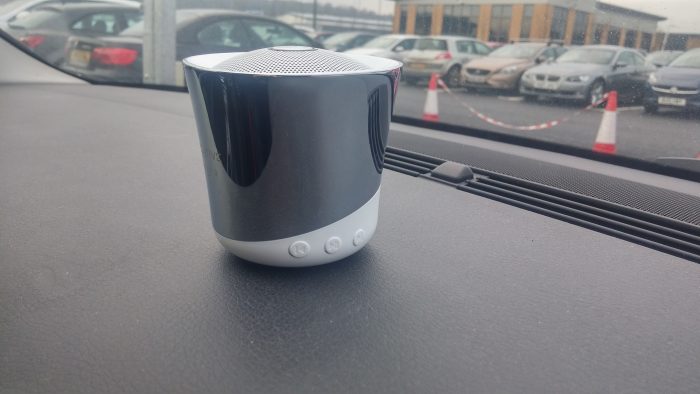 Operation is fairly simple. On the right side of the device are the control buttons – particularly useful when using the microSD card but also usable with Bluetooth kit. You can skip forward / back and pause / play. If you press and hold the skip buttons then you'll find that the volume goes up and down.
The main upper part of the device has a very cool and polished metal finish to it. This meets a white plastic trim which drops down to the speaker grille. In the centre is the source / selection button which – when pressed – scrolls through your input options. When you get to the Bluetooth option a nice lady will tell you if you're in pairing mode. Press again and you'll go to the Aux-in, then once more for the microSD selection.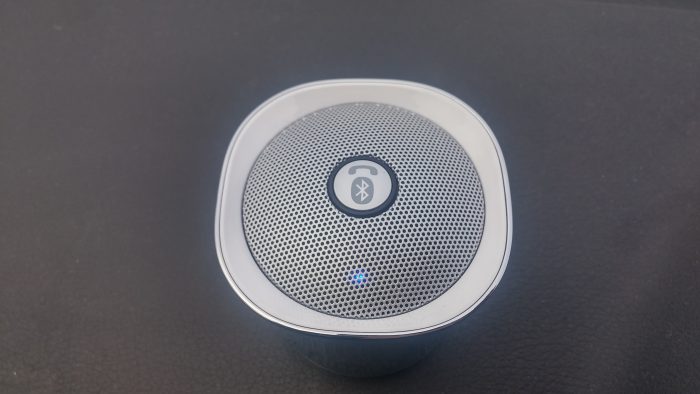 Within the grille, at the front, an LED will let you know what's happening. Solid blue when you're paired, flashing blue when pairing, red for low power. Nothing at all and it's obviously off.
At the front of the Woof 3 is a small microphone so that you can make phone calls, and indeed the button on the top of the device will let you answer calls and do a hands-free phone call without issues.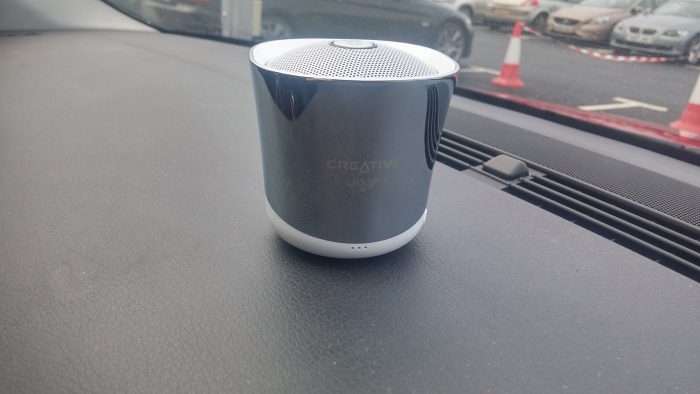 The sound quality on this is OK. There's a lack of bass on it with some of the phones we tested this on, but there was a substantial bass radiator which you can feel vibrating around inside. It is built well and there's a crispness to the audio. The battery life is very good and I like the fact the styling on it, very nice indeed. The speaker is £39.99 and available in various colours. Check it out on creative.com
Creative Woof 3 Speaker Review
Build quality - 9
Value for money - 8.8
Sound quality - 8.7
8.8
A Bluetooth speaker with a genuine weight and quality to it. This is a well designed and premium piece of kit that'll do Bluetooth, microSD and line-in