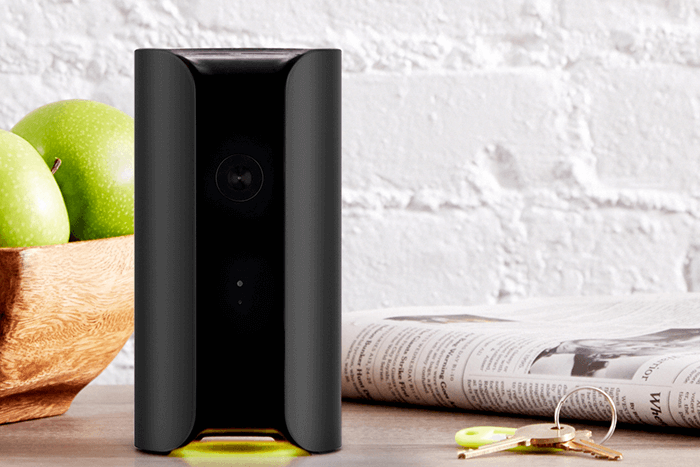 Canary is more than a simple surveillance camera for your home. From the very moment you purchase your Canary for £159, you'll instantly notice the quality.
Canary was launched back in July 2013 on crowdfunding site Indiegogo. There was clearly a market demand, as within a month over 10,000 pre-orders had been placed from over 78 countries worldwide.
The slick, weighty retail packaging provides all the information you require such as specification, box contents and a product overview. Sliding the cardboard sleeve off, you are presented with a matt black box with a glossy Canary logo. Opening the inner box, the Canary takes up the majority of the space with a USB plug also visible. Once you remove the Canary from the box, there are two cables; a long, flat standard micro-USB cable for the power and a shorter flat yellow audio cable. The USB plug and cables continue the quality feel with a matt texture. There is also a very brief product guide that in essence informs you to download the free app from iTunes or the Google Play store.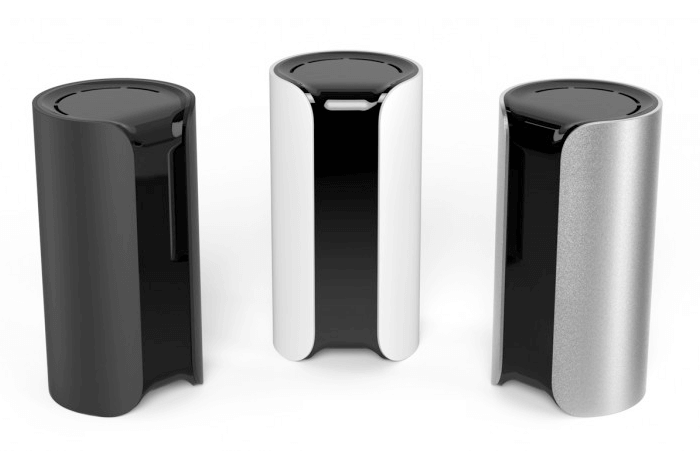 Designed in New York and made in China, the Canary is available in three colours, Black, Silver and White with the centre part of the Canary always remaining gloss black. The cylindrical outer casing of the Canary also continues the quality feel with a matt finish, perfect for finding fingerprints when handling the device. With the colour combinations on offer and the simple design, the Canary doesn't look out of place at home. At 6 inches high, 3 inches in diameter and weighing 396g, the Canary is about the same weight as a large pasta sauce jar. This ensures it remains stable wherever you place it.
Contained within the Canary is a 1080p Camera with a 147-degree viewing angle complete with infrared night vision that gives about 25 ft of coverage. Motion, temperature, light, humidity and air quality sensors are also hidden away. There is also a speaker, microphone, a 90 db siren and LED status lights.
You can unintentionally hear the Canary activate or deactivate the night vision with a clicking sound. When the night vision activates, the Canary becomes more notable as you can clearly see the 12 red LED's.
The HD quality footage captured is extremely clear both during the day and also when using the night vision mode, perfect for low light and pitch black situations.
ICYMI: Watch some of the best moments from our #caughtbyCanary contest!

Congrats again to our winner @emherrera8!https://t.co/ckBNPk9Bn4

— Canary (@canary) August 24, 2015
If a tree falls and no one hears it, does it make a sound?

Yes. Yes it does. #caughtbycanary 📽: @redmondnyc pic.twitter.com/HpgAs5DsWx

— Canary (@canary) December 20, 2015
The Canary primarily uses Wi-Fi (b/g/n) to remain connected to the internet. A standard ethernet connection is also available, but you will need to supply your own ethernet cable if you choose this route. Canary recommends you have at least 1 Mbps upload speed available.
The Canary is extremely easy to set up and took less than 5 minutes to be fully up and running. You'll need to download the app before you begin. Start the app, power up the Canary and follow the onscreen instructions. You'll be requested to set up an account, and create your profile. You'll then have to set your home location. I strongly recommend using the map rather than the address inputs to select your address. My postcode covers a large area and when using the address input, my home location was almost 1 mile away. It's not important to have your exact address listed as this is simply used to determine your home location in order to auto-activate certain features that I'll cover shortly. As Canary automatically determines your current location, it's recommended you do not install the app on multiple devices.If you do want to run it on several devices, you'll need to make sure you sign out of any device you leave at home. Canary allows you to install the app and create additional accounts for other members of your household. This allows Canary to activate the monitoring when everybody has left the home.
If you do want to run it on several devices, you'll need to make sure you sign out of any device you leave at home. Canary allows you to install the app and create additional accounts for other members of your household. This allows Canary to activate the monitoring when everybody has left the home.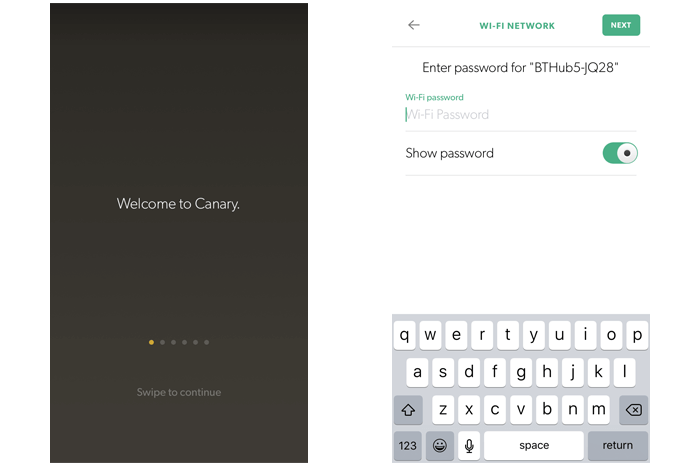 Next, you'll be asked to select your Wi-Fi network and enter your password. You'll need the yellow audio cable. Canary calls this a security cable and state this step of the setup is more secure than an alternative Wi-Fi or Bluetooth option. Simply plug the cable into your device and the Canary and within a few moments your Canary has been provided with your Wi-Fi details and the basic setup is now complete. You can unplug the yellow cable now and store this away. Whilst I personally didn't have an issue with this step, there are a number of people who have had an issue, but Canary does provide an 0800 number for 24/7 support.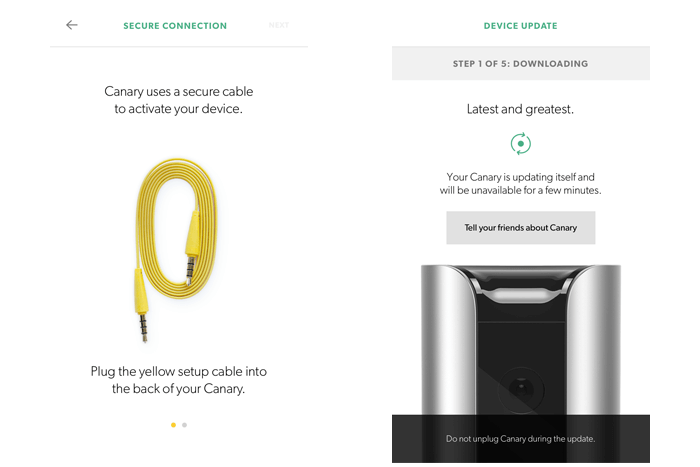 Within the app, you can update your address and enable 'Auto-mode Switching'. This is essential for Canary to arm the system when you are not home. You can also change the mode for when your household members are at home.
Notifications can be customised based on the sensitive level you require. For example, lower the motion sensor if you have shadows from outside causing rogue alerts.
Based on your address, Canary will pre-populate the emergency numbers for you. This includes the police, fire and medical numbers. However, the numbers for my area are out of date and the local 01 numbers provided by Canary for the police have been updated to the 101 number. Canary hasn't picked up this change, but you do have full control over these numbers. You can also change these numbers for family members for example, as within the app there are shortcuts to these numbers.
Additional family members can be invited to download the app, and an email is sent to them with instructions.
The final 'setting' allows you to add multiple Canary's, up to four in total. This would cost over £600 in hardware alone if you opted for the full allocation.
Within your profile settings, you can update your contact details, profile picture, temperature units (f/c) and activate a PIN number in order to start the app. On newer iPhones, you can also activate Touch ID.
On iOS devices, you also have the option to include a widget on the notification centre.
There is a help section, containing information about Canary, including its terms and conditions, privacy policy and options to follow them on social media. You also have the option to log out of your account on the device.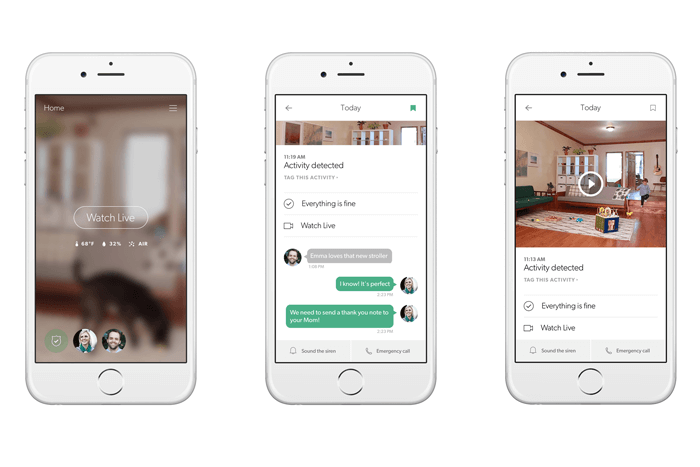 Upon launching the app, your dashboard loads. If you have multiple Canary's you can swap between them. If you have monitoring activated you are able to watch a live stream, although this does have a 10 second delay. You are also shown the current temperature, humidity and air quality on a per Canary basis.
At the bottom left of the dashboard, you are shown all members within your group and an option to change the monitoring mode.
There are three modes available, 'Armed', 'Disarmed' and 'Privacy'. If either Armed or Disarmed is activated, you have the option to view the live stream; with the Privacy mode activated, this option is removed and no video or audio is recorded. When 'Armed', you will receive notifications on your device and with 'Disarmed' these notifications are suppressed. It would have been nice for a master account to have control over these modes rather than allowing any member of your group to change these settings.
The status lights on the base of the Canary indicate what mode you are currently in: no lights for 'Privacy', orange for 'Disarmed' and green for Armed'.
Canary recommend you utilise 'Armed' and 'Disarmed' modes in order for Canary to learn your habits and provide better reporting. You can apply tags to each video captured, such as 'Pet Movement', 'Sunlight', 'Shadows' and 'Motion Outside'. The more video clips you tag, the more Canary will learn your habits.
From the dashboard, you can view your personal timeline detailing all Canary actions including mode changes and activity detections. You can also filter events by 'All Events', 'Armed events' and 'Bookmarks'.
Each captured activity can be bookmarked and commented upon. This is a useful feature when more than one user is within your group. Within the activity, you also have addition options. Selecting 'Watch Live' will start to stream a live broadcast, 'Sound the siren' counts down from 3 and then activates the extremely loud 90db siren until you select to deactivate it. There is also an option to make an 'Emergency call' from one of the predefined numbers previously set up. Another useful feature is the ability to download the video for storage outside of the Canary platform and if required, you can delete the video permanently. It would be nice to be able to create a private 'share' link you can email to other family members. I've seen a few videos Canary has captured of a baby's first steps. To share this video, you need to download it, upload it to YouTube for example, and share it from there. Being able to share within the Canary app would make even more sense.
Selecting the 'HomeHeath' section from the dashboard displays three graphs based on the previous 24 hours. These include temperature, humidity and air quality.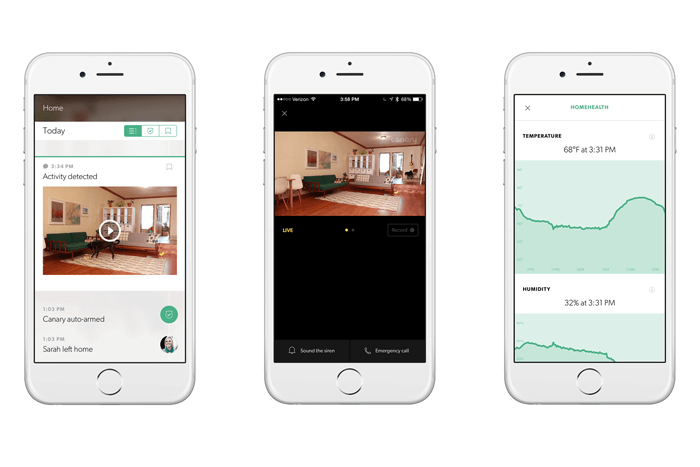 Temperature and humidity are self-explanatory, air quality does come with a warning. Whilst Canary claims to monitor iso-butane, carbon monoxide, hydrogen, ethanol, cigarette smoke and cooking odours, Canary state the monitoring isn't a replacement for a dedicated carbon monoxide or smoke detector within your home.
Canary takes your privacy and protection as a top priority. All data is transferred by AES 256-bit symmetric-key encryption and over a HTTPS connection. Data is stored on Amazon's AWS platform, which also provides its own encryption security measures and multi-factor access control systems to ensure complete privacy. Only a small section of Canary staff have access to customer data.
I've briefly mentioned the retail pricing, currently £159 direct from Canary or retailers such as Amazon and John Lewis and whilst that's all you need to pay for the basic operations, there are paid subscription plans to enhance your Canary. When you sign up your first account, you are provided with a full 7 day trial of all services which doesn't require your payment details.
The paid plans are on a per location basis, and as previously mentioned you can have up to 4 Canary's at a single location. There are three paid plans to select from after your trial expires. If you remain on the 'Free' plan, you are provided with 12 hours of historical videos that are captured, and you can bookmark 5 videos and download 3 videos. What's not clear is if the download limit is reset each month. With all plans, free or paid, there are no limits on the number of videos captured regardless of length or frequency.
Each paid plan allows unlimited video downloads. The basic plan increases the historical captured events from 12 hours to 2 days with the number of bookmarks also increasing to 25. The most popular plan increases historical captured events to 7 days and provides 100 bookmarks. With the most expensive plan you are provided with 30 days of historical footage and unlimited bookmarks.
Paid plans start at $4.99 a month for the basic plan, increasing to $9.99 a month for the popular plan and $29.99 per month for the most expensive. You can also opt to pay annually to get two months free. All subscription charges are billed in USD, so make sure your bank won't prevent this (for example HSBC by default declines all international transactions).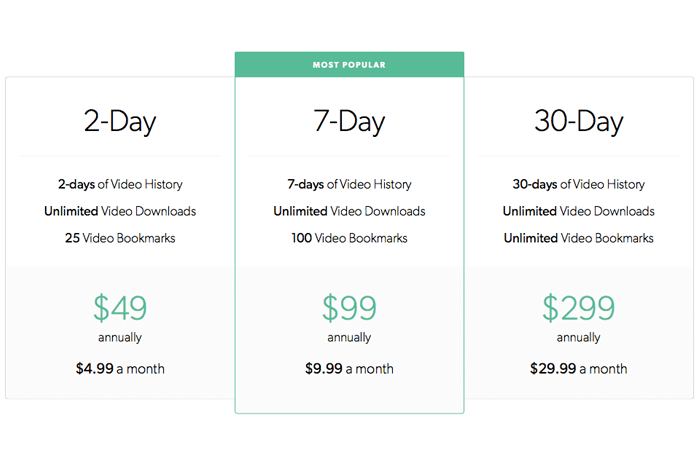 As you would expect, if paying monthly you can upgrade or downgrade each month if required, but after spending £159 on the hardware, you would need to look at the total cost of ownership.
If you were to own a single Canary for 3 years and pay for the popular monthly plan, including the hardware you would be looking at spending just over £400 and without looking at the competition I'm sure this is on the high side.
An option to overcome the cost of entry would be for Canary to adopt the phone contract logic. A low cost of entry and a monthly subscription fee. $14.99 per month and a $49 upfront on a two-year contract would make the Canary much more appealing.
Another factor you should consider is the reliance on the Canary network for this device to operate. If Canary were to no longer exist, your expensive webcam simply becomes a paperweight. A stand alone webcam wouldn't have this issue, but then you wouldn't receive all the features Canary offers.
Conclusion
It's been a while since I have looked at a relatively new product that has felt so complete and polished. With a few enchantments to the app, such as control on a per user basis, direct sharing of videos and an option to simply have a live stream with the need to activate one of the modes would be extremely helpful.
With regards to the hardware, I would like to see a version that included a battery backup, even if it only provided 30 minutes of recording and a cellular network backup option. Currently, if a criminal disconnects the power at your home, the Canary is useless. Nothing is captured and no alerts are sent. Upon activating the battery backup, a notification could be sent and video then uploaded via the 3G/4G network. With an inbuilt speaker and microphone, I'm not sure why I can not have a two-way conversation via the app. This would be a great addition and possibly done via a simple firmware update. I would also like the option to disable the status LEDs, as this would make the Canary a little less obvious.
I've been using the Canary for a few days now and I'm slightly addicted to checking out what's going on at home when I'm out and about. It's like watching an episode of Big Brother where nothing happens. But this is about the 'what ifs'.
I'd never really thought about video monitoring for home. With the ease of set up, the quality of the product, the video it produces and the feeling of safety in the knowledge I will be alerted when there is something I need to know about, Canary is the answer and one I would happily recommend.
Find out more at Canary.is
Canary Review
Canary is a smart home security system that is well designed and full of features. A solution I'd highly recommend.