I know, I know. You probably haven't heard too much about it, but Forex does indeed have a following all over the world. In fact, its popularity in the last decade has soared. For me it's accessible, flexible and exciting.
What is it though? It's basically the foreign exchange market (forex, FX, or currency market) where you can trade currencies. Buying, sell and check prices.
Doing all this on the move means that you're better able to react to market conditions. After all, your mobile phone lets you update your Facebook and Twitter feed, so why not use it to stay on top of your trading activity? The invention of a number of useful apps by brokers like FxPro has been heartily embraced by the many tech savvy investors that frequent the forex markets. Many of these apps offer the same functionality of the desktop trading platform, for instance AVATrade has an app which contains two different trading platforms where you can see your trading history, change your trading positions and view charts etc.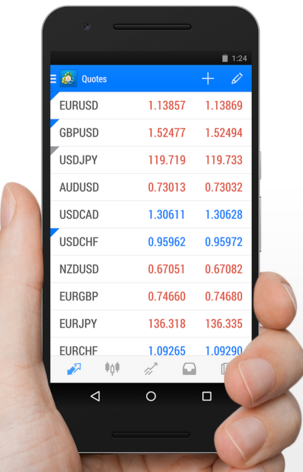 There are, of course, a few things to consider if you're getting into all this, especially if you're new to it. First is..
#1: Price
The aim of trading currencies is, let's face it, to turn a profit and earn yourself some money. To keep things safe this means keeping your expenditure to a minimum. When you work out your outgoings, you need to factor in not only the capital that you trade, but also the money that you spend on your broker, platform and VPS hosting. The less you pay, the more you profit.
#2: Getting the practice in
Like everything, you're never going to be an expert immediately, so hunt around for an app that'll let you practice. Usually this will involve you using fake money so that you can see what would've happened, then you can develop your skills and build your experience so that there's less possibility of failing with the real cash.

#3: Reputation
Thirdly and finally, ensure that you research the reputation of any mobile applications that you check out. Other happy customers are the best indication of how likely you are to be satisfied with an option, so have a look at the reviews – just like you would with any app out there.

Another common method to check the reputation and get useful information about the application is by reading the reviews of specialized forex sites like www.forextrade.co These sites will give you information about the broker, its legal situation and license, its prices, demo account and basically everything you need to know in order to make a more informed decision.
If you want to trade anytime and anywhere, then use our advice to find the perfect mobile trading application for you.