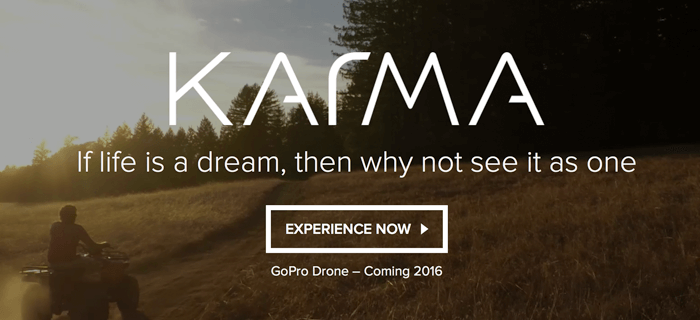 GroPro's first drone, due to arrive in the first half of 2016 will be called 'Karma' (a potential dig at DJI for not partnering with them?), but that is pretty much all we know.
Back in October, GoPro did tease us with test footage that was filmed with at least a 2.5k/1440p resolution and has used the same footage in the latest update from the team.
The most interesting fact about this teaser video was the smooth video wasn't stabilised in post-production. This can only mean the gimbal used on the drone is that of one with a high specification.
GoPro decided to go it alone with regards to the release of it's drone after negotiations fell apart with the market leader in drones, DJI.
The rumoured price tag of $500 to $1,000 can only been seen as a rumour and I personally would expect this drone to be priced a little higher.
With what seems the norm with recent product releases, GoPro are giving you the change to win one of the first Karma Drones.
However, digging in to the terms and conditions of the competition lies a potential clue for the lunch date, stating winners will be selected by April 15, 2016.
Simply sign up to the GoPro newsletter for your change to win 1 of 100 Karma Drones.