Remember recently when Microsoft announced that it was going to reduce the storage it offered on OneDrive, and that the unlimited tier was going away because some people were treating it as – well, unlimited? I know that some people were using up to 75 TB of that OneDrive storage space, but a) it was billed as unlimited, so you can't really blame them, and b) how many people have 75 TERABYTES that they want to store? It cannot be that many people – but there will always be outliers that will push the barrier.
If you don't recall, don't worry – Coolsmartphone Towers has your back. The Redmond giant essentially decided that 15 GB was too much for the free tier, and that they were going to drop that amount to 5 GB. The 15 GB bonus you also got for connecting the photos option was also going to vamoose, hence the case of the missing Microsoft storage.
The case was likely to be that it didn't make a lot of difference for the majority of people. There are some of us who liked that extra storage, who liked that Microsoft was generous with its paid tier and recognised a good thing when we saw it and jumped onto every single darned promotion that Microsoft offered to bump up their storage options. Like Battlestar Galactica's Cylons, we had a plan. In any case, after they recanted on their current offerings and decided to reduce that amount of storage, it didn't go down well with everyone.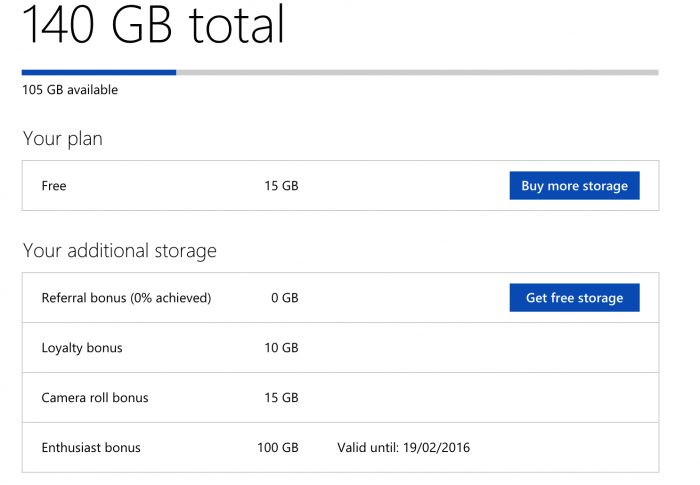 It wouldn't have been so bad for most if they put their storage in line with the other big companies, like Google for instance, which give you 25 GB and the option of unlimited photo storage, or the Amazon Prime version which only give you 5 GB, but unlimited photo storage to balance that out. In retrospect, maybe the Amazon version shouldn't be counted as the unlimited photo option only comes when you lay down your £80 for Amazon Prime.

So here's the good news (it's Christmas – we're trying to bring a little bit of cheer to our readers). Over the last few years, Microsoft has gained a solid track about listening to their users. Happily, it appears that they kept an ear out this time, and behold – they're offering users a way to keep their accrued OneDrive storage space by going to their OneDrive bonus link. What else do you need to know? Oh, there is one more thing: if you want to keep your extra space, do it soon. I'm pretty sure that at the bonus page said before 1 Jan 2016, but the blog post only states:
These changes will start rolling out in early 2016.
We have so advised you. Christmas, pressies, fun, frolics, new stuff, things that get broken, things that need to be fixed… do it soon.