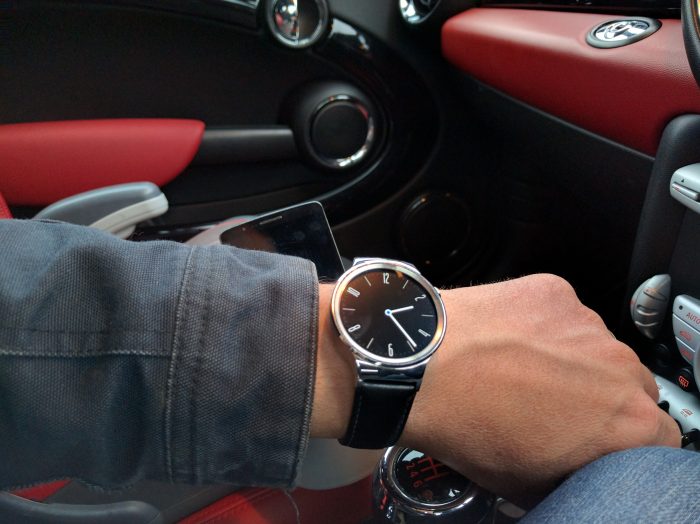 It's the first time that I've properly tried Android Wear, and this is the watch I'm doing it with. The Huawei Watch.
Truth be told, when I got it out of the rather lovely box, I thought it was a bit fat, but after wearing it for the last two weeks I can confidently say that my shirt and my coat slipped over it without any real degree of difficulty. That 11.3mm thickness isn't too bad – especially on male wrists – and, with the right watch face, that rather swish stainless steel unibody makes it look like a "normal" watch. The leather strap wasn't something I thought would survive my rather aggressive and uncompromising testing but again, it's travelled with me on planes, trains and through several pubs to the gym without incident.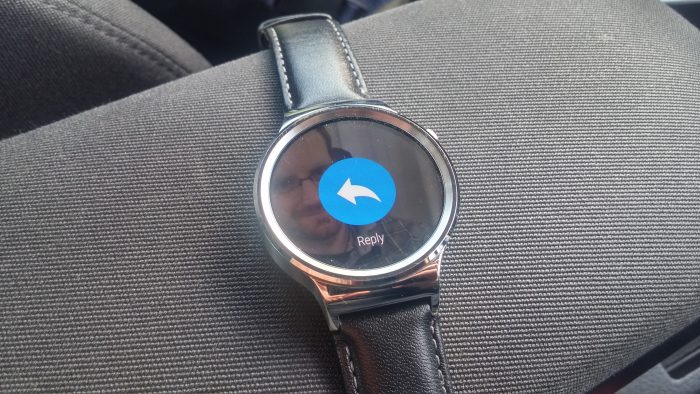 The look, the finish and the feel of the Huawei Watch are all very decent indeed. The only thing you really need to worry about is the look on peoples faces when you try and pronounce "Huawei Watch". It tends to sound like "WaaWayWatch" when I say it quickly and "WaaWaaWaaaaa" after I'd visited those pubs I mentioned.
Anyway. The sapphire glass up front should stop your scratches and it got through the day with my insane usage well enough. Beneath that glass is, as you can see, a fully round display. It's AMOLED and is 1.4″ with a 400×400 pixel display at 286ppi. The contrast on this always-on screen (you can turn it off if you wish via a "cinema mode") is brilliant, and it gave a colourful and crisp reproduction, even outside in the sunshine. That 400×400 pixel screen really is a joy to look at, whether you choose white or black watch faces.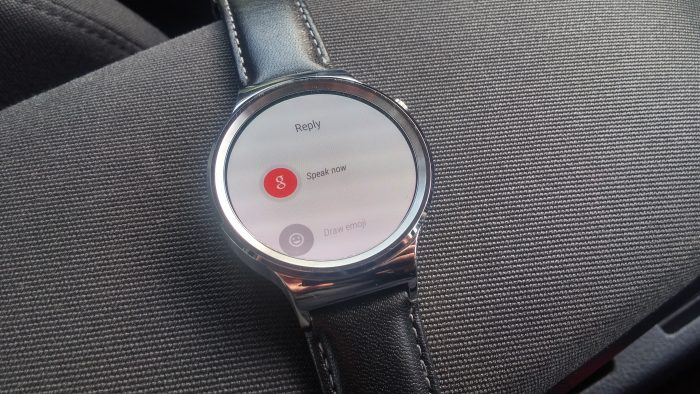 Ahh yes, those watch faces. There's a vast array to flick through and this'll track your fitness and calories burned through the Google Fit app. I didn't really take this as complete gospel, as on some gym equipment it told me that I'd done just a couple of steps despite the sweat on my face indicating a totally different story.
If you're doing some walking and you're not just holding your phone in front of you (which makes you keep your hands fairly stable and can cancel the step-count on the watch), then it can track steps but I'd just use it as a rough guide if I'm honest.

On the back there's something else that should help you keep fit – an optical heart rate checker. This is something I wanted to test in the gym as I'm never totally sure on the BPM readings of the machines in there. The result was, a bit fiddly. As I've found on other fitness bands and smartwatches, you have to tighten the strap quite a bit and hold your arm fairly flat. My first reading was 67 BPM, which didn't seem at all right after I'd been on the cross-trainer for 10 minutes, whilst the second and third attempts resulted in the watch telling me to "tighten the strap" and stand still. Now, I don't know about you, but after any level of exercise the last thing I want to do is make my watch strap tighter. I've got my blood pumping, I'm sweating, I don't want to restrict the bloody flow by strangling it up. So, I ended up pushing the watch down onto my wrist and trying to remain still (tricky when you're huffing and-a-puffing) for it to take a reading. Finally I got the 165BPM that I was expecting, but I doubt this is a feature I'm going to be using regularly. It's not the fault of Huawei, rather the use of this optical sensor which I've seen and had trouble with in the past.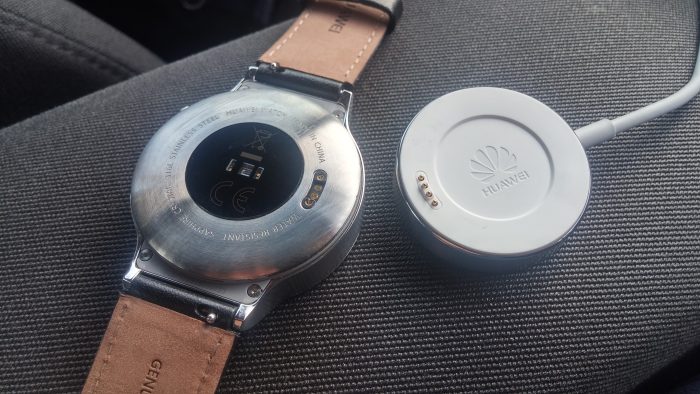 Despite my sweat, and me accidentally keeping the watch on in the shower, the device was OK because you can dunk it underwater for up to an hour. It's IP67, so is both dust resistant and can go up to one metre under the water.
On the side of the watch, at the 2 o'clock position, is a proudly chunky crown button which acts like a home button.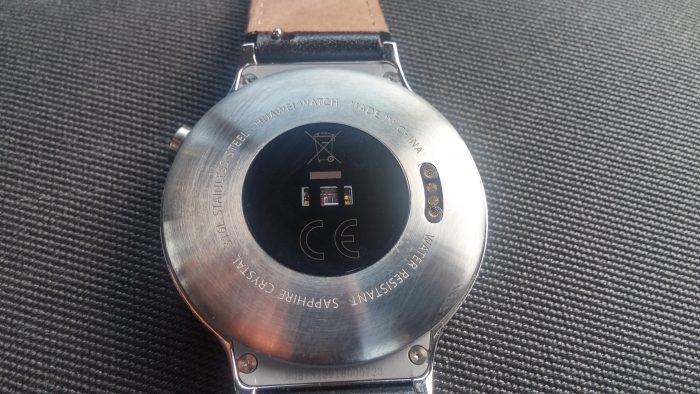 The battery, so Huawei tell me, should last a couple of days. I found this to actually be just over a day with my hefty use, however that was crazy usage and not anything like the "normal" use most people will have. I was testing absolutely everything. Charging, though, really isn't an issue. The small base "disc" you have provided plugs into any USB output and sucks itself onto the back of the watch, guided with magnets and hitting those connectors perfectly. A full charge from flat takes an hour, which is really good if you're just popping in to get changed.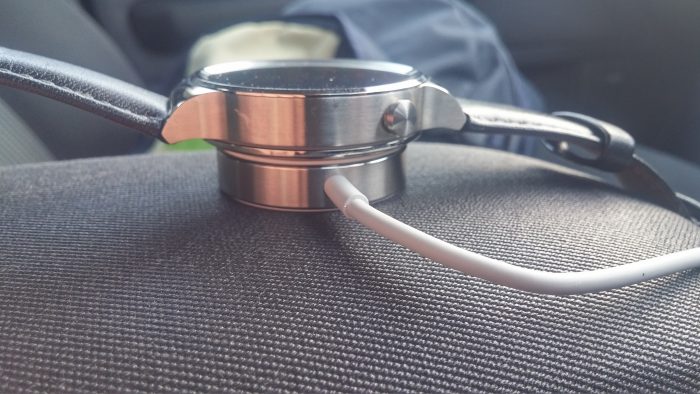 Android Wear, as an interface, is really building now. Indeed, there was an update while I was reviewing this and it's gone from a "plaything" to a properly useful bit of kit. There's all the latest additions here, including the watch-to-watch messaging, iPhone compatibility, WiFi and the gesture support that meant I could clear notifications with a quick wrist-flick.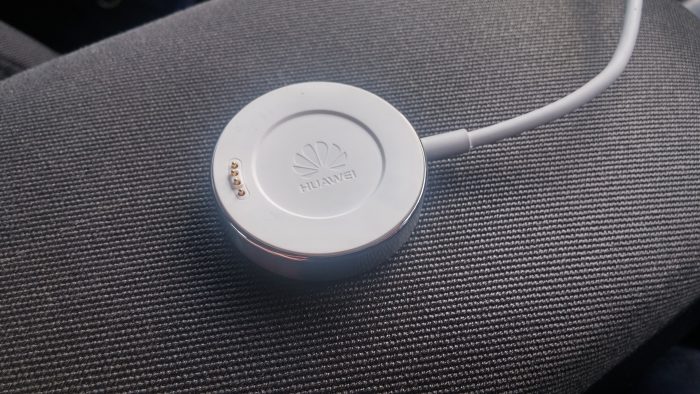 Swiping one way will get you additional information about a card, swiping the other will clear the card. Getting into and accessing the bits you need can still be a tad fiddly at times, even after using the Android Wear GUI for some time. Google Now, as it does on your phone,, will try and help here by predicting what you're looking for ahead of time – for example it'll fire up the navigation details to your house when you leave work. The navigation will then show up on your watch too, and you can select (just about) other local areas that you may want to head to.
Showing all this in action is probably best done with a video, so here it is.. 🙂
The voice command works really rather well and understood my accent. This is essential on a device this size – there's no other way of entering data and I'm quite impressed with it.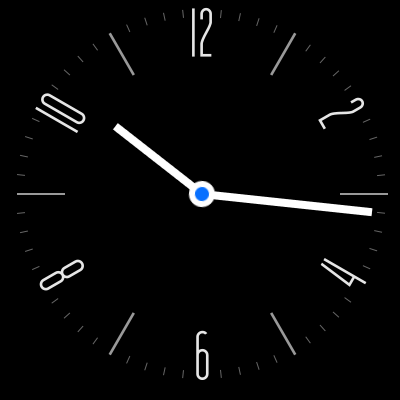 On board there's 4GB of storage and the OS works pretty well, with only a small amount of lag every now and then. The setup with your phone is easy and quick too – all done through the Android Wear Google Play app. The addition of WiFi on the watch means you can still get data and notifications without the phone. I had apps like Strava and WhatsApp that worked very well with the smartphone apps, plus there were pre-installed apps like Hangouts and Maps plus Google Fit which came out of the box.
If you've got an Android smartphone then this is a natural fit. However, if you have an iPhone and choose to break from the pack and have this (instead of the Apple Watch) then it'll give you most of the functionality, but not all. As an example you'll see the text messages but you won't be able to talk to your watch with a response.
Overall
I loved the sheer quality and class of this watch. It's the closest I've seen to a watch actually being a watch first and a smartwatch second. The screen and the experience was properly fantastic and it's a premium looking device. You can buy the watch for £289 for the leather band in silver, £329 for the watch in blank with the leather band and £369 for the link band version. It's pretty pricey. Yes, it's a beautiful and polished product, but there's other Android Wear watches that'll do the same functions as this.
That said, this is one of the best smartwatches using Android Wear. The circular screen and the build quality are very decent indeed.
Head to Huawei.com and choose your local country for more information.
Huawei Watch Review
A classy watch with brains and a seriously crisp screen. Perhaps one of the best Android Wear smartwatches out there.