I use a Chromebook. It's a Samsung Chromebook which is quite highly spec'd but, when it went on sale, it was priced too highly and didn't sell that well. I gave it a few years, and after swearing at my Windows laptop for the six millionth time, I finally ditched Microsoft in favour of this £100 Chromebook that has been everywhere with me.
Don't get me wrong, I use Windows on a daily basis for work-stuff, but I can use Windows through a Citrix Web Client on the Chromebook and I just love how simple and quick it is. Speed, simplicity and a long battery life. Sign me up.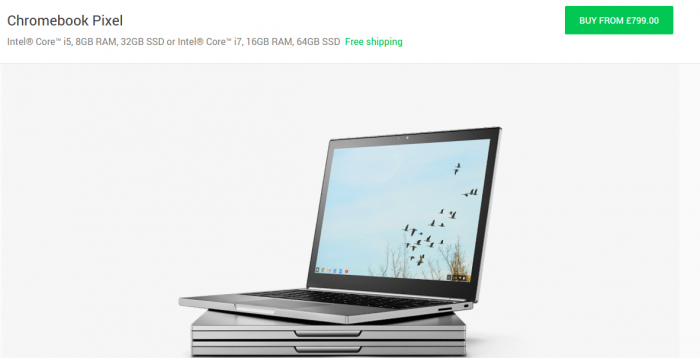 Today, the Chromebook Pixel has made it to the Google Store. It's a rather eye-watering £799. I say eye-watering because, compared to the other Chromebooks, it's a crazy-high price. I still want one though. It features an Intel Core i5 CPU which, with the Chrome OS, will fly along. There's also 8GB RAM and a 32GB SSD. Sure, that drive might not sound like much but you'll get used to using the Google Drive cloud storage fairly quickly.
Want more? Try the even-more-powerful (and £200 more expensive) Intel Core i7 version, which has more memory (16GB RAM) and a 64GB SSD. This is £999. Buy one and you'll get 3 movies on Google Play included too.
A 12-hour battery life? Excellent screen? Super-quick charging via the Universal Type-C charging cable? Tell me more..
Also, just to muddy the waters slightly, a tablet has gone on sale called the Pixel C. That might seem like nothing new, but this one is from Google themselves, and runs Android Marshmallow. It's £399 for the 32GB version and £479 for the 64GB one.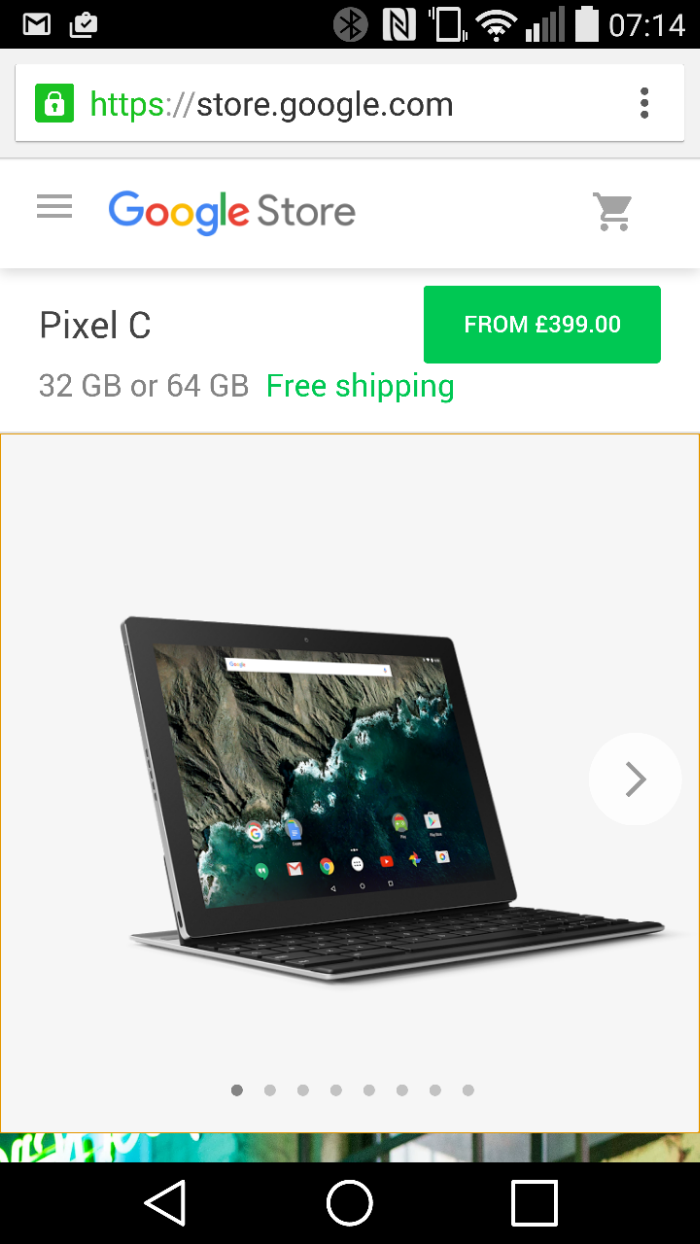 If you want the keyboard that's shown here (and we're all trying hard not to shout "Microsoft Surface" by the way), that's another £119… which is a lot – nearly Apple money.
It's thin and is made from aluminum so is light too. The screen is 10.2″ 2560 x 1800 at 308ppi and there's some stereo speakers up front.
Powered by a NVIDIA Tegra X1 CPU and a Maxwell GPU it's also equipped with 3 GB and either 32GB or 64GB of storage depending on which model you get.
At the back there's an 8 megapixel camera and up front a 2 megapixel one.
I'd love to know your thoughts on the Pixel C. I'm not sure what it is but, despite the good looks, it's just not lighting my candle.