This is the review of the Xiaomi Redmi Note 2, an affordable 5.5" smartphone which hails from the largest smartphone vendor in China (third largest smartphone vendor… in the World…). The Redmi Note 2 was announced and released in August 2015, and as with all other Redmi branded Xiaomi devices comes in at a very affordable price point for the specs: approximately £115 ($175) at time of writing. I purchased the device reviewed during a business trip to China for approximately £90 ($135) from our friends at Shenzhen Chigon Technology Co., Ltd and they very kindly waived the cost of shipping when I went to pick it up from their office in Shenzhen.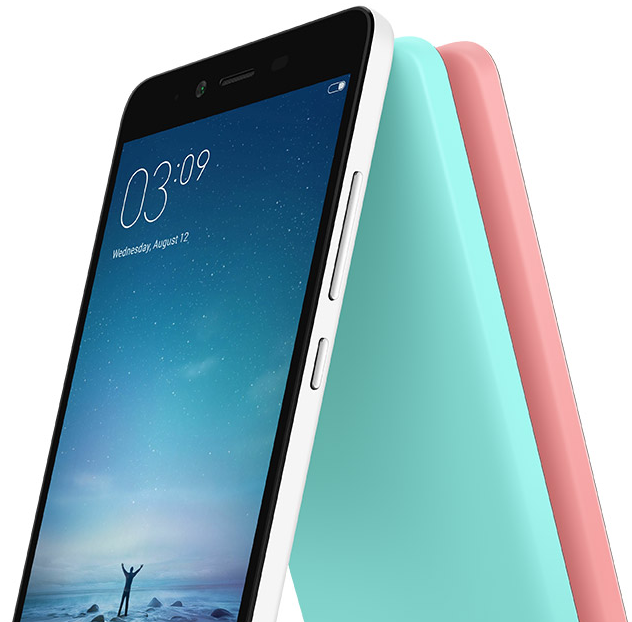 Full specifications:
5.5" 1080×1920 IPS LCD capacitive touchscreen, 16M colors (71.5% screen to body ratio)

Miui 7 Android-based OS based on Android 5.1.1

13 megapixel rear camera with LED flash

5 megapixel front facing camera

16GB or 32GB storage expandable via Micro SD (up to 32GB)

2GB RAM

Dual Micro-SIM

Octa-core CPU (Mediatek MT6795 Helio X10 – 2 GHz A53 or 2.2 GHz A53)

GPU PowerVR G6200

WiFi 802.11 b/g/n/ac, Bluetooth 4.0, A-GPS, GLONASS, BDS, Infrared port

Removeable 3060 mAh battery
Hardware
There are two variants of the Xiaomi Redmi Note 2. The device reviewed is the lower specced model which has 16GB internal storage and an octa-core 2 GHz A53 SoC. There is also a marginally more powerful SKU with a 2.2 GHz octa-core A53 processor and 32GB internal memory.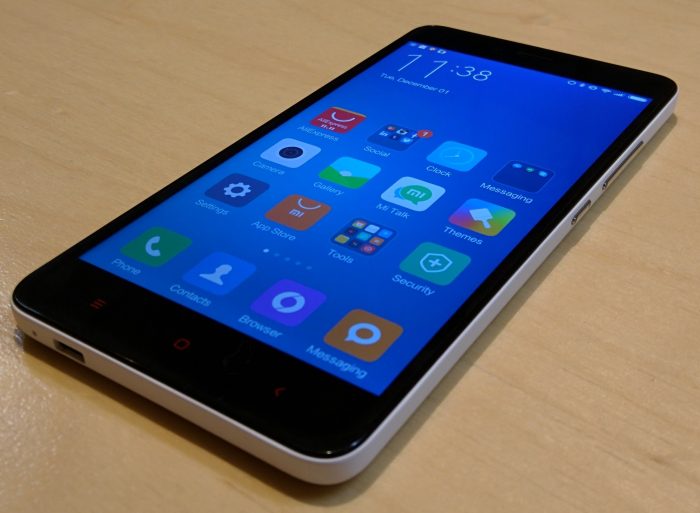 The front of the device is dominated by the 5.5" Full HD display, which has good colour reproduction, and great crispness. Above the screen there is a multi-coloured LED notification light, the usual array of sensors and the earpiece slit with a fine grille. A the bottom of the screen we find three capacitive backlit capacitive red buttons in multitask/home/back left to right order.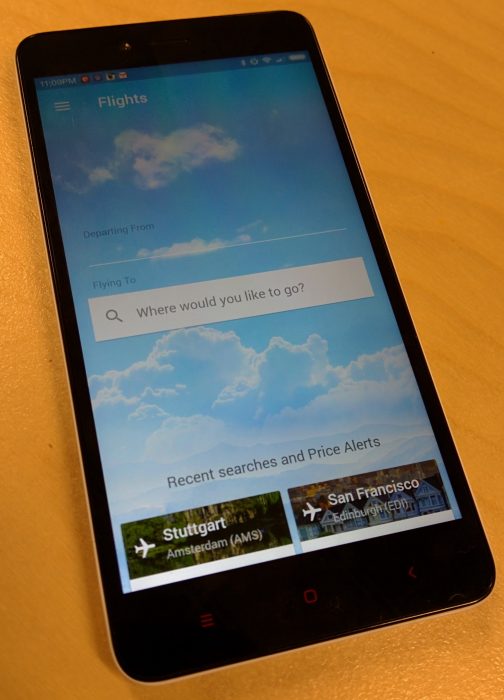 The bottom edge of the Xiaomi Redmi Note 2 has a microphone hole and a microUSB data/charging port offset to the left.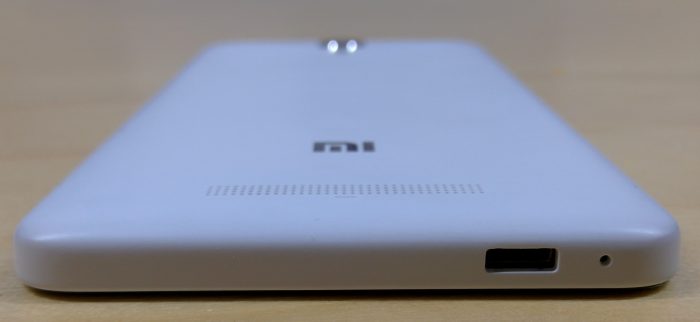 The top edge of the device has 3.5mm headphone jack, secondary noise cancelling microphone hole and an infrared port.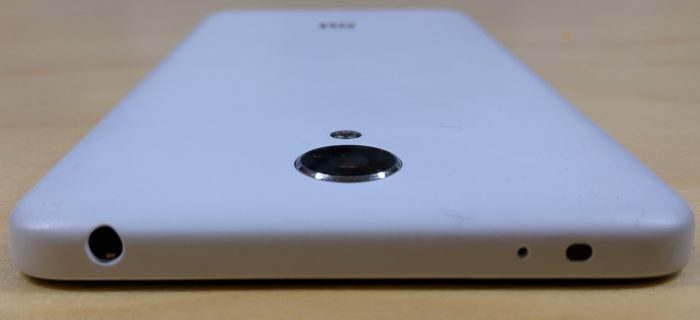 While the left edge has no features, the right edge is home to the volume rocker which is placed above the power button.


The back of the device, which is made of matte finish plastic, homes the 13MP camera, the LED flash, the Mi Xiaomi logo and the mono speaker grille.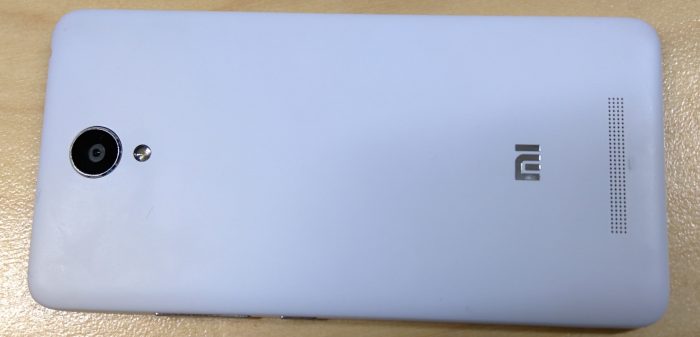 The back panel is removable, and under it you will find the removable 3060 mAh battery, two Micro SIM slots and a Micro SD slot which supports up to 32GB cards.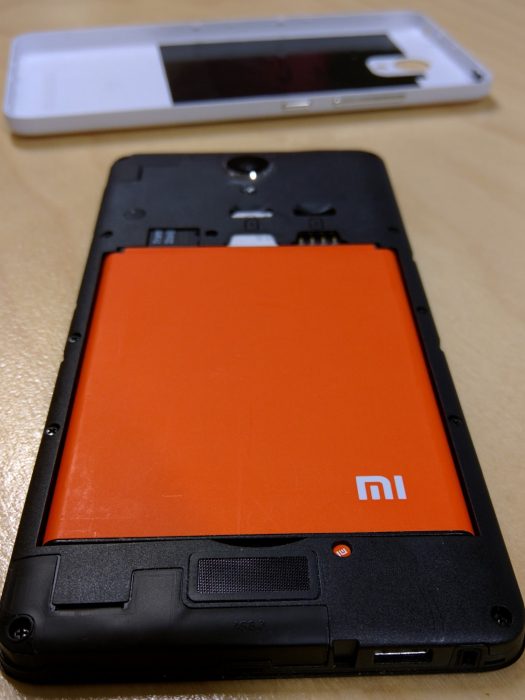 The hardware is an iteration which builds on the design of the original Xiaomi Redmi Note, with all round improvements. The Redmi Note 2 feels light, thin and easy to hold for long periods of time. I particularly enjoyed using it in portrait orientation and typing with two thumbs.
Software
Xiaomi is often referred to as the Apple of China in Western media. I personally don't like that comparison. Xiaomi were making an Android distribution called MIUI optimised for the China market before they started making hardware. In my view iOS 7 borrowed heavily from MIUI back in 2013, especially in the menu structure and colouring schemes. As many fanpeople (fanny-people in Scotland) engage in online discussions on the matter, the comparison has been partially embraced in a tongue in-cheek way by Xiaomi who love to ape some of Apple's marketing techniques or presentation styles.
As with all other Xiaomi devices, the Redmi Note 2 is powered by an Android-based OS called MIUI. Now in version 7, based on Android 5.1, the Note 2 is tuned to work best with MIUI. The system launcher, of the flat type with no app drawer just like the Meizu one, is organised in horizontal left to right order. On the flat drawerless launcher apps can be grouped into folders just like in the majority of Android launchers. The reviewed device came with Google Play services and Store pre-installed.
The main system apps (dialler, contacts, messaging, browser, settings, etc.) and the rest of the OS can be themed with Xiaomi's own personalisation store, which can change icons, wallpapers and colour schemes. The Themes Store offers both paid and free themes and personalisation options which are paid for threough Mi Account payments.
The default MIUI 7 theme has simple flat icons and a pastel-like colour theme with transparency in the notification and quick-settings curtain. Simple and easy to get around. The default MIUI messaging app is simple, light and flat. Xiaomi also has its own Mi Talk messaging app (similar to WeChat) which also allows users to make VOIP voice calls as well as text and multimedia messaging.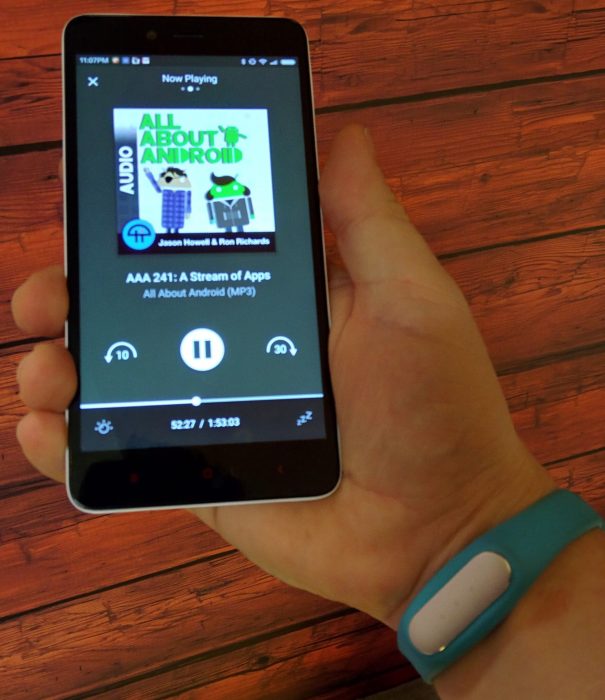 Xiaomi bundles quite a selection of Chinese apps, including their own lifestyle ones used to control Xiaomi products. As a user of a Xiaomi Mi Band, I was able to take advantage of the screen unlock through Mi Band, which waives the need to enter a passcode or pattern if you are wearing your Mi Band.
As we saw in the Meizu M2 Note, the Xiaomi Redmi Note 2 has a selection of power and performance modes. Since purchasing the device I have left the Balanced mode on and the device has comfortably made it through a day of medium use, which is a mix of messaging, browsing and music streaming (through Amazon Prime Music, because I have run out of Google Play Music device slots…). The 3060 mAh battery suits my use case, and I see the Redmi Note 2 as my "safety device". Being my last remaining device with a removable back and replaceable battery, I purchased a spare battery or two on AliExpress and that makes it my favourite device for podcast and audiobook consumption while travelling. If the battery does ever run out, I can swap battery and resume whatever I was doing.
Camera
The Redmi Note 2 has a 13MP Phase Detection Autofocus camera with LED on the back. The camera performs reasonably well in good lighting conditions, and has a simple interface with options to select advanced options such as Panorama, Timer, Gradient, Manual and Beautify.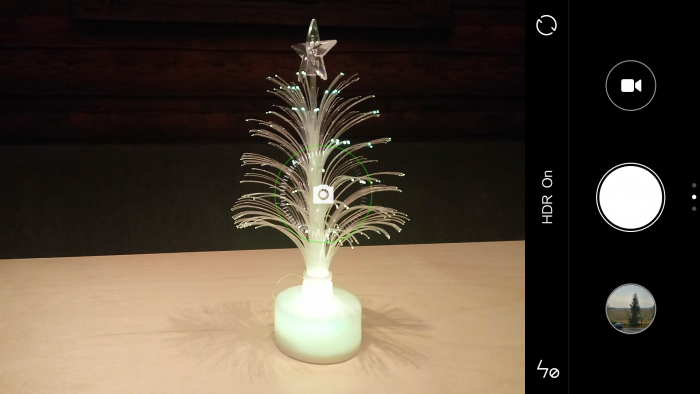 The Rear camera can record 1080p video which is great in good lighting but struggles in low light and can be a bit too noisy for my liking.
The 5MP selfie camera on the front is good, and the software includes face-recognition and age/gender guessing. Either Xiaomi knows something about me I don't know or it's guess of my age is off by a few decades…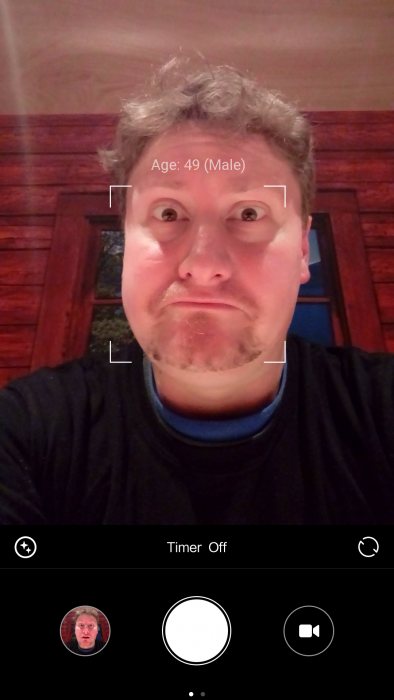 Conclusion
The Xiaomi Redmi Note 2 is a leader in the affordable 5.5" Android smartphone segment. With amazing bang for buck specs, a strong performance and pleasant overall user experience this is a winner in my view. When looking at this type of device it is important to remember price is always an element in purchase decision making.
In day to day use the Redmi Note 2 is great. I seldom noticed any slow-downs, even when playing taxing games such as Goat Simulator MMO. As a portable media player it excels and battery life is commendable. Having a replaceable battery and full dual SIM functionality and memory expandability is also a step up from most of the competition who have to forgo a SIM slot to expand memory.
Looking for an inexpensive smartphone for you or a family member? If you don't mind getting used to some occasional Chinese OS messaging, I would recommend this device as a definite buy.
Xiaomi Redmi Note 2
Value for money - 99%
Build quality - 80%
Camera quality - 85%
Battery life - 85%
UI and software - 95%
Amazing bang for buck, a very good phone.