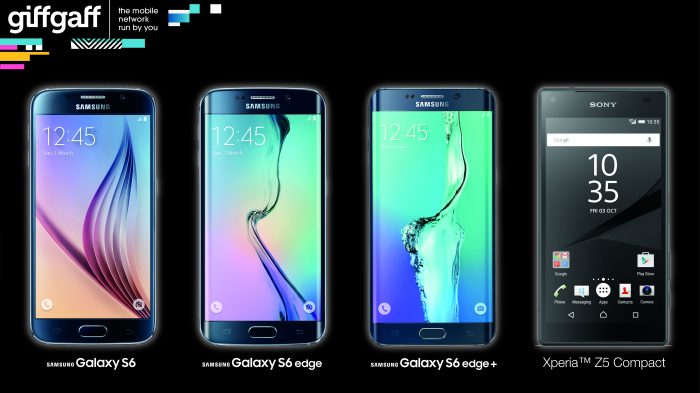 It's time for the Black Friday madness, so this weekend giffgaff have let us know about their offers and it's a massive £100 off a selection of their best-selling phones. These deals go live at 8AM today. Here's the run-down…
– Samsung S6 – was £399 but during Black Friday it's £299
– Samsung S6 Edge – Was £499, now £399 during Black Friday
– Samsung Edge+ – £579 usually, now £479
– Sony Z5 Compact – £429 but £329 during Black Friday
These offers are for 6 days and you then just need to grab yourself a monthly giffgaff "goodybag" to suit your needs and that's it. No long contracts or any faff like that.
Oh, and don't forget – all these phones are supplied network unlocked, so you can even slap another SIM card in if you fancy. An ideal Christmas present if you've got the dosh.
Full details below, or head to the giffgaff Black Friday page for more info.
Update – Here's the direct links..
[blockquote]
BLACK FRIDAY BONANZA
giffgaff slashes price of hero handsets
giffgaff is knocking £100 off its four best-selling smartphones as part of its 6-day sale
starting this Thursday
giffgaff, the contract-free mobile network is slashing £100 off its best-selling Samsung and Sony smartphones one day before the UK's Black Friday mega-sale begins.
All unlocked, and SIM-free, giffgaff will sell the featured phones at £100 less than the normal sale price for a six day period, starting at 08:00 on Thursday 26th November 2015. The following handsets will be included*:
· Samsung S6
· Samsung S6 Edge
· Samsung S6 Edge+
· Sony Z5 Compact
*Each model except the Sony Z5 Compact is available in multiple colours and sizes (Samsung S6 Edge+ only in 32GB size).
The selected smartphones are only available until stocks last – see the phones on sale here: https://www.giffgaff.com/phones?gg_campaign=BlackFriday_2015
Kim Faura, giffgaff Commercial Director comments on the price drop: "We know phones are often high up on people's Christmas lists, so it's a good time of year to make the best-selling smartphones more accessible and affordable.
"Our mobile phones are all unlocked, and sim-free so that everyone can benefit from the best deals without being tied in to a long contract."
Since late 2013, giffgaff has worked with the leading phone manufacturers to negotiate the best offers on the latest Smartphones, to help its members avoid the hefty price tag. To make life even easier, giffgaff partners with the peer-to-peer lending service RateSetter, to offer pay monthly plans for all phone sales.
[/showhide]