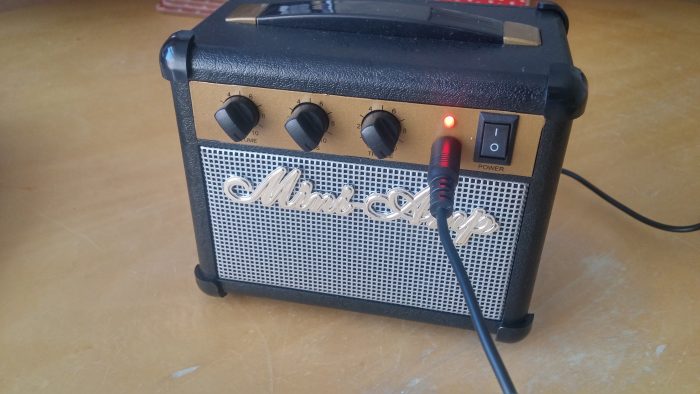 Simple one this. It's a small speaker which you can attach to anything with a 3.5mm audio port and amplify your tunes. It's shaped just like an amplifier too, so should prove popular with anyone who like rock 'n roll or guitars.
There's no Bluetooth here, no FM radio either. Just a 3.5mm line-in. A USB-to-USB cable is provided (for powering the device from your laptop, wall-charger or anything else with a USB output) and a 3.5mm-to-3.5mm audio cable. You can either power the device (there's no internal battery) via the USB socket or you can stick 3xAA batteries in.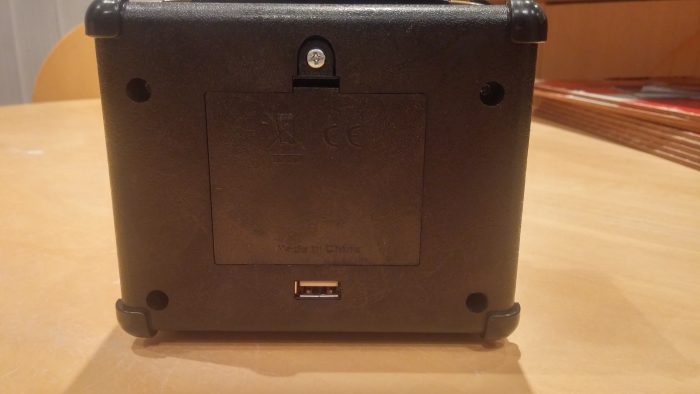 Up front, a realistic-looking grille and "Mini Amp" wording adds to the effects and you get three knobs to twiddle – volume, bass and treble controls. On the right, your 3.5mm input and a switch for operating the power.
The handle you see on the top isn't a "real" handle and is just a piece of plastic shaped that way. That said, it's only 11 x 10.5 x 15cm so you can carry it around without a handle. The unit is made from fairly light-weight plastic and the only weight is really from the batteries (if you choose to use them) and the speaker inside. It's also got four rubber feet on the bottom so it won't scratch any surfaces.
Trouble is, when you plug something in, the sound really isn't loud enough. It really doesn't amplify your audio a great deal, and perhaps is somewhere between the external speakers on your phone and a standard kitchen radio. Although the bass and treble controls work well enough, there's really not a great deal going on volume-wise, as you can see from our hands-on video..
Overall, for £13.95 from PrezzyBox it's priced about right. This isn't that loud, pure and simple.
Mini Amp Speaker Review
Design - 8.8
Sound - 5.8
7.3
Good looks and great to see bass and treble controls here, but sadly the volume is somewhat lacking.