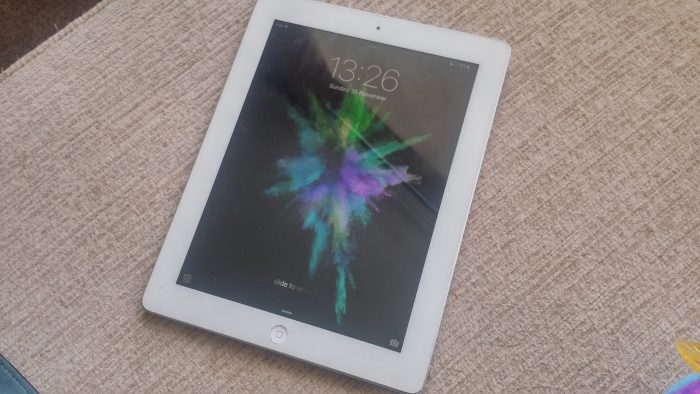 This is my iPad 2. It's quite old now and it's pretty heavy. It has a 9.7″ LED IPS screen at 1024×768 and 132 ppi. It has a 1GHz dual-core Apple A5 CPU and there's 16GB of storage on board. You can get one for about £150 on eBay.
The iPad Pro is a far better spec. It has a 12.9″ LED screen at 2732×2048 with a 264 ppi. It has a A9X chip with 64-bit architecture and, for £679, you get 32GB of storage.
It goes without saying that the iPad Pro is far superior, and – for another £139 you can have the Smart Keyboard. However, it's a combined cost of £818, and that's a lot of money. Not only that, but the keyboard is going to take at least a month to arrive as it won't be despatched for 4-5 weeks.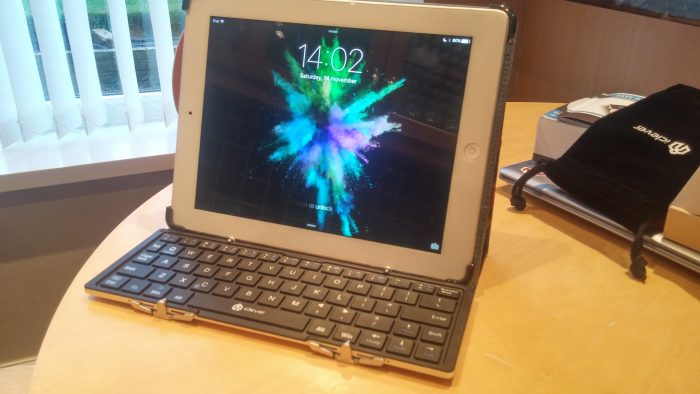 So, if you want a slightly cheaper option, here's my setup. It's that iPad 2 with a cover that props it up. In front is an iClever Bluetooth Keyboard. It's similar to that Smart Keyboard in the sense that there's the US keyboard layout only however, it's a lot cheaper at $29.99 (£19.67). This particular gadget connects to the iPad via Bluetooth and lets you type just as fast as you would on an other keyboard. Perhaps best of all, it matches the width of the iPad perfectly.
Total cost for my cheap version of an iPad Pro ? £150 for the iPad 2. £19.67 (let's call it £20) for the keyboard and £16 for the cover. That's a total of £186 compared to £818 for the actual iPad Pro. That's a £632 difference.
Yes, the iPad Pro has far better specs and a bigger screen. It's far faster and thinner, but really… is it worth the extra £632 ?
It's up to you, but if you want to save a bit of cash this Christmas and increase your productivity on an iPad, perhaps just whack a Bluetooth keyboard on your existing one instead of splashing out on a brand new iPad Pro.
Edit – Ah, just found this 32GB WiFi-only iPad 2 for a total of £148.74.