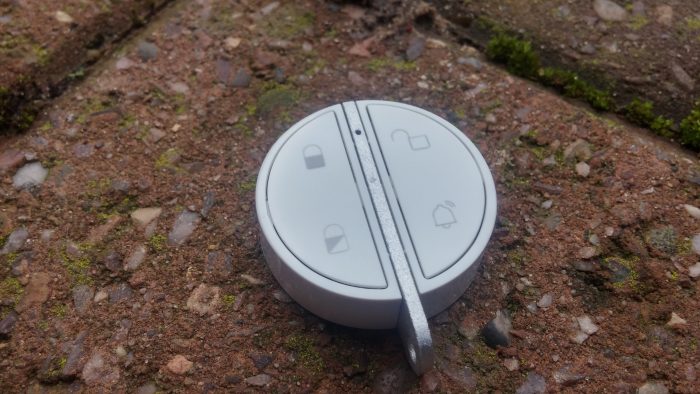 An alarm system, fitted, can cost you around £500. However, for £249 you could try this Myfox Home Alarm and set it up yourself. It's got bags of extra goodies for us smartphone lovers.
It'll work with Nest too, because this has a key fob and smartphone app enabling you to tell the system when you're out of the house. Once you arm the system it can switch your Nest thermostat to "Away" mode so that you don't waste any heat. Good idea that.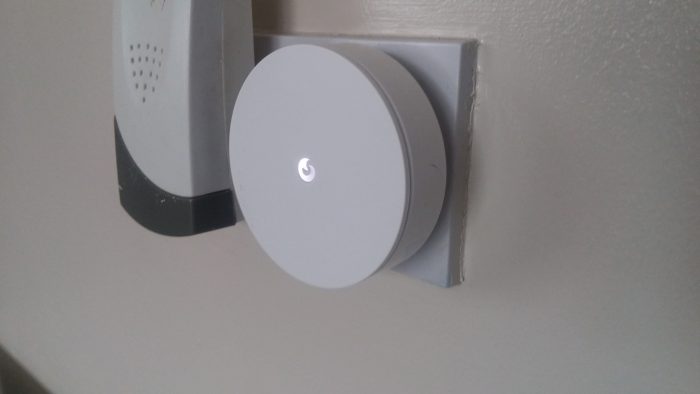 In the box you get four bits of kit. A "link" plugs into the wall, although it can work for a certain length of time on in-built batteries. This does all the clever work and keeps in touch with the siren, which is the large circular unit with a pretty LED light coming from it when you do something. In this package we also get an IntelliTAG sensor for sticking to doors or windows and that key fob, although sadly there's only one. For those of us with multiple occupants, that means that someone needs to use the smartphone app to arm the system rather than the fob. As the slightly more "geeky" person in the house, that'll no doubt be me then.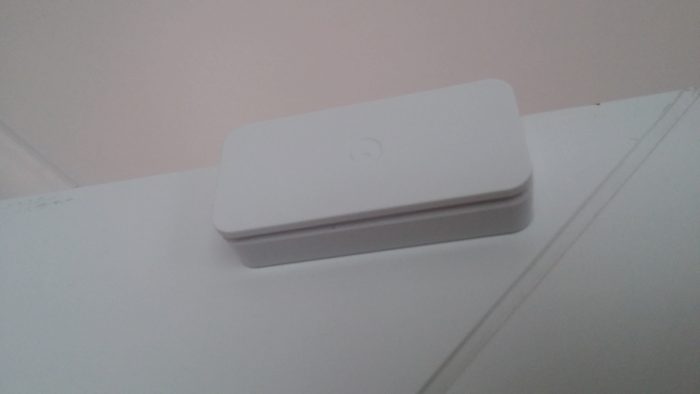 Before we get to the setup, I should just mention that siren. It's not designed to sit outside but you can mount it on a wall and it plays a lovely "arm" and "disarm" melody when you hit the corresponding buttons on your key fob. It kinda lulls you into a false sense of security. When you come into the house it'll play a lovely tune, but if you dare ever let the actual siren kick in then… believe me, it's VERY loud. 110dB apparently, which is…. L O U D.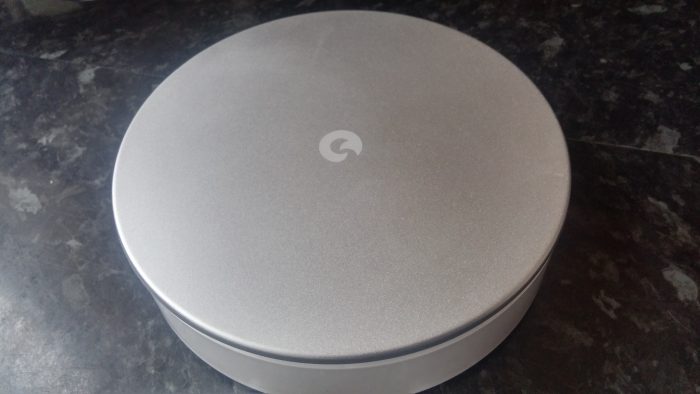 In this review we've also got a camera because you can actually continue to build out your system as you go. There's no need to pay all in one go – just add to it and build it up over time. It'll detect movement, it'll also work in the dark too.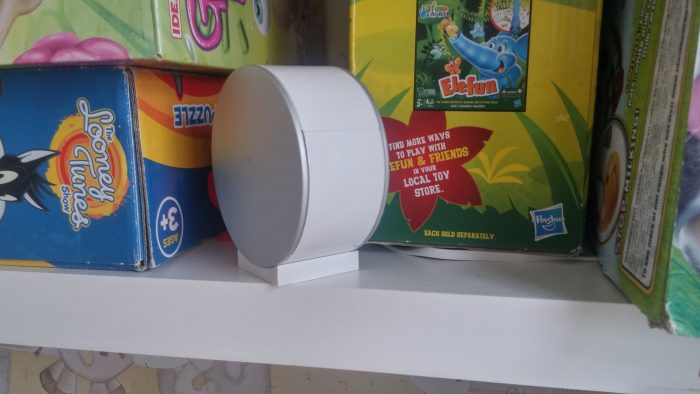 First though, let's get setup. The instructions, as is usual with my reviews, are bypassed completely. A card, which sits on the very top of the packaging, tells me to download the "Myfox Security" app on my phone. So I do. Be careful at this point to ensure that you're downloading the right one, because Myfox do some home control gadgets too and there's a very similar app on the app stores which – as I found – doesn't let you choose "UK" from the list of countries. Basically, that was my own stupid fault for downloading the wrong app, so make sure you get "Myfox Security" and all will be well.
The setup is RIDICULOUSLY EASY. The app does EVERYTHING. It'll flash up step-by-step instructions, which I've included below. Basically the app connects to the WiFi access point that gets pumped out by the "Link", which is plugged into the wall. You can probably ignore my location for this particular bit of kit here – in theory I'd probably place the "Link" into a socket up in the loft after setting all this up, then perhaps put the siren up there too.
The siren is powered by four rather larger batteries. These will last up to two years according to Myfox, and the app will tell you if they're running low anyway. I'm advising putting that up in the loft because both you and the entire street will be able to hear the noise when the alarm goes off.
Anyhow, where was I? Oh yes, so you've got the app, you've opened it, you've followed to the on-screen prompts. It's as easy as that. It'll guide you through getting the "Link" connected to your own home WiFi, and then connected to the siren, the IntelliTAG, key fob, maybe a camera and any other additional components you may have purchased with the system.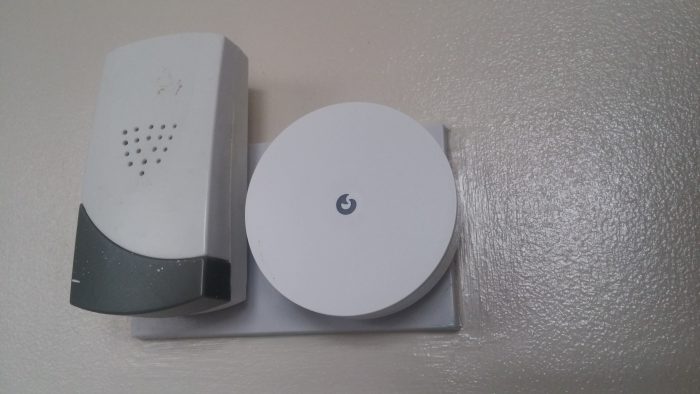 Honestly, I could go on about the setup if you want, but there really is nothing else to mention. I've never seen such a painless and easy setup process. It's simple, effective and oh-so-friendly.
Even if things go off the rails a bit (like, say, you left that little bit of plastic jammed between the batteries), it's helpfully suggest that "Hey, did you leave the plastic in?". Love that.
At this point though, you'll notice that this wire-free setup relies on batteries quite a bit. The siren is battery powered. The key fob is obviously battery powered and the IntelliTAG is battery powered. Well, again. Myfox tell me that you'll be informed about battery life through the app, and that the key fob should last for up to 18 months with about the same for the IntelliTAG.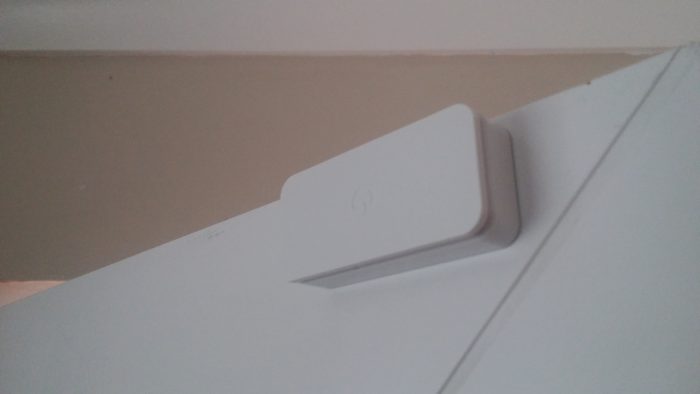 Those tags, by the way, really are clever. I stuck one to the top of my back door, and you can get extra ones to stick onto other doors. They'll obviously detect if someone is breaking in while the system is armed, but they're actually more clever than that. See, this is a system which advertises itself as being able to detect and prevent break-ins BEFORE they happen.
How the flip does that work?
Well, these IntelliTAGs can tell the difference between "ordinary" events, such as someone kicking a ball against your door or knocking really hard on your front door. It'll "detect the unique vibrations" of break-in attempts, which basically means it can tell the difference between the kids next door accidentally kicking their ball at your windows and a burglar trying to crow-bar it open. Then, by doing that, it can sound your alarm before they break in and start mucking your house up. Now that is clever.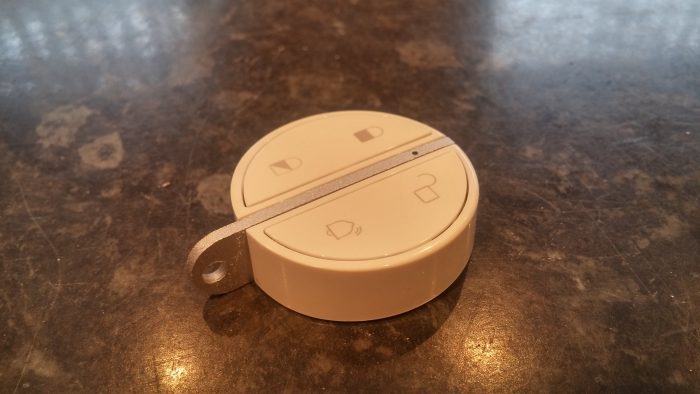 The key fob has four buttons on it, however, you don't really need to do anything. Carry the key fob with you and, merely by having the thing on your person, it'll activate and deactivate the system. This is excelent. Just leave the house and – when the Myfox system can't see the key fob any longer, it'll arm your property and start looking for any potential threats. When you come back into range, it'll disarm. No fumbling around, no accidental alarms and your neighbours ignoring your house because "that daft plonker has forgotten to turn it off in time" when you get home.
If you leave your key fob at home, don't worry – you can arm it from the phone, and you can also create "trusted users" by getting more key fobs, connecting them to your system, and giving them to friends or loved ones who may need to access your house. If you don't want to do that, just ask them to download the app and you can even setup what level of access they have and share notifications to them. Ideal if you work far from home and you perhaps want someone more local to be notified when the alarm is going off.
Wait though, I know what you might be thinking. "How much is this service in the long run?" It's a decent question. You've got an online system which is managing your house and lots of additional settings. However, there's no contract and no fees here. Once you've bought the system, it's yours. No monitoring or subscription fees at all.
As I type, the Home Alarm system is £249. That gets you the "Link", the siren, one IntelliTAG, one key fob and some handy stickers to place on your doors or windows. If you want to expand the system, you can buy ….
– One IntelliTAG for £39.99 or a 5-pack for £169.99
– An additional key fob for £24.99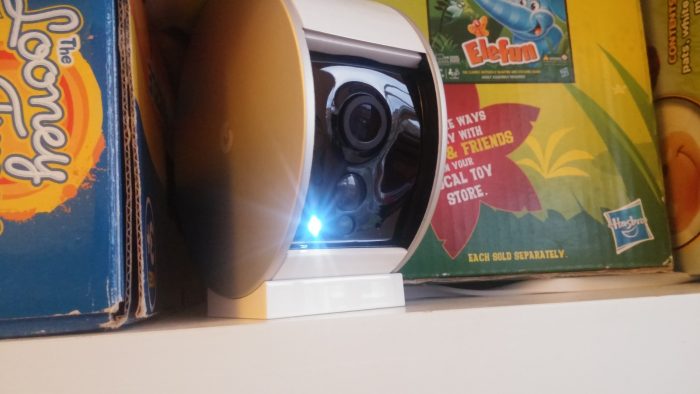 I'd love to put the tags on big windows and all the doors in our house, so that would be my next purchase. However, what we've also got here is the Myfox Security Camera. This is £169 and you can get a wall mount for it for £24.99 if you need one.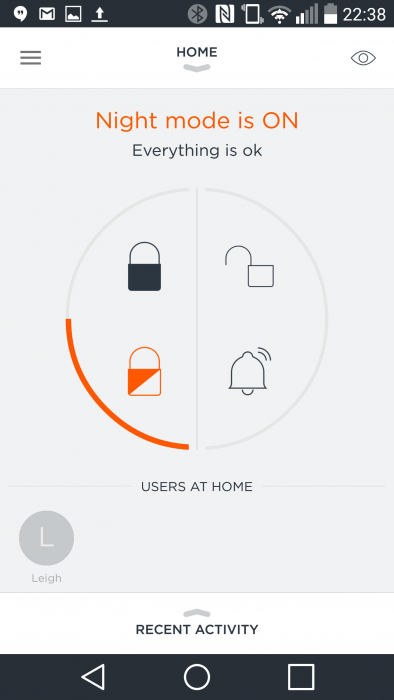 Again, the setup is easy and – simply by telling the app that you want to add the camera – it'll tell you how to do it. I should mention, though, that there are some charges for using the online video recording option – you can get a 24-hour storage service for £3.99 per month or a full 7 days of video recording for £7.99 monthly.
Having a camera pointing INTO your house isn't always something people like, so the camera has a motorized shutter for total privacy. This ensures that, when you're home, there's no chance of anybody seeing you through it. Again, controlled and viewable through the app, you get night vision, automatic recording and alerts through your smartphone thanks to a motion detection system. There's also two-way communication, so you can shout at intruders or just listen and talk to your pets if you wish. Although this is powered from the mains there's a battery backup and you get it hooked onto your WiFi with the aid of a QR code that pops up on the Myfox app – meaning that the camera is up, running and communicating in minutes.
You can also set it up to use IFTTT (If This Then That) recipes, to perhaps auto-close that camera shutter when you arrive home and auto-open it when every registered key fob holder is out of your house.
Add to all this an easy-to-use app which lets you track the comings and goings of your kids, the status (battery life, WiFi connectivity, connectivity settings) plus it can do all the things your key fob can do, such as activating / deactivating the alarm and switching on night mode. It can also activate the SOS mode or set the alarm to activate immediately.
The app will, of course, also let you watch and zoom in on video you've recorded or your live footage. It all works very well, I must say. You also get to see who is at home, your recent activity and much more.
Overall
Provided that you put the siren somewhere fairly inaccessible, such as in your loft, and the link is in a socket that you don't need to use that often, this really is a great system. I found myself wanting to add to the system pretty much immediately and I liked the cleverness of the system – with the IntelliTAGs working very well and not giving me any accidental alarms or anything like that.
To be able to setup the system how you want, and control it yourself, is a very powerful thing. I also loved the fact that this could talk to my Nest Thermostat and tell it to turn off my heating whilst activating the house alarm – without me ever thinking about it. Brilliant.
If you want to find out more. Head to the myfox website.
Myfox Home Alarm Review
Overall - 9.1
9.1
An advanced but simple alarm system which is stupidly easy to setup and quick to get going.