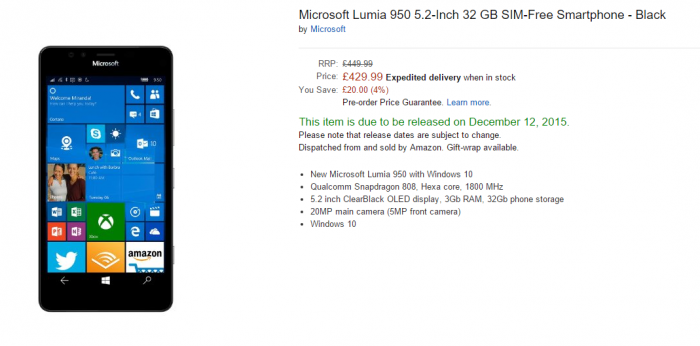 All I ever seem to write about these days are price reductions to Microsoft products.  I'm not complaining mind; I can't wait to get my hands on one of the new phones, it just leaves me wondering why the cost keeps dropping given that nothing has actually been released yet. The latest update to this evolving saga is the imminent release of the flagship Lumia 950 and 950XL handsets.  Amazon has now got them listed and although the delivery date is a week or so later than that listed on Microsoft's site, the phones are significantly cheaper:
Lumia 950 £429.99 (Microsoft £449.99)
Lumia 950XL £479.99 (Microsoft £529.99)
Both phones are due to be released on 12 December (Microsoft suggests a 3 December delivery date) and are available unlocked and sim-free.
Is this enough to tempt readers to try Windows 10 Mobile?