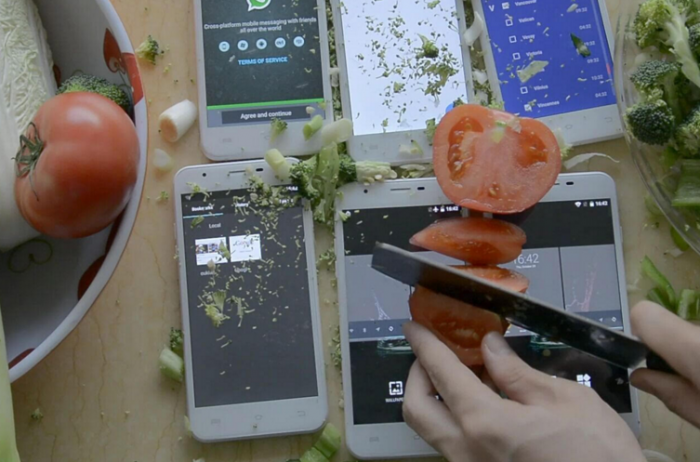 When you're looking for a new smartphone, just what is it that appeals? What is it that draws you in and makes you want to buy it? Is it the quality of the screen? The construction? The camera quality? Just what is it that you're looking for from an advanced smartphone?
Oo, ooh! I know! I've always wanted my smartphone to double up as a chopping board. Haven't you?
NO.
No. Because that. Would. Be. MENTAL.
However, there's no stopping the boys at OUKITEL, who are random Chinese smartphone manufacturer number 38758289. Not only do they insist in using BLOCK CAPITALS for their company name, but they also think that chopping tomatoes on their latest OUKITEL U7 Pro is something you should be doing. They even sent us this YouTube video, where someone starts cracking off their big weapon over a pile of vegetables …
..disgusting…
If I'm to switch to "semi-serious" mode for a while, I should obviously point out that this is to demonstrate their sensitive touch screens which are also anti-scratch.
The handset itself has a quad-core MediaTek 1.3GHz CPU and 1GB RAM. It also has 8GB on-board storage and a microSD card for another 32GB. It runs Android 5.1 and has a 5.5″ 1280 x 720 screen with an 8 megapixel and 1.3 megapixel camera setup. Basically, it's mid-low range and you can probably get more information on the product page provided that their server – which appears to be in a shed somewhere and connected with wet string – can display the rather insane highlights of the phone, such as…


Yeah, the beautiful thing. Also, if you head over to GearBest to perhaps buy one, you'll notice that they're only $69.99, which is less than £46. As the images on the slightly-broken product page state, that's..