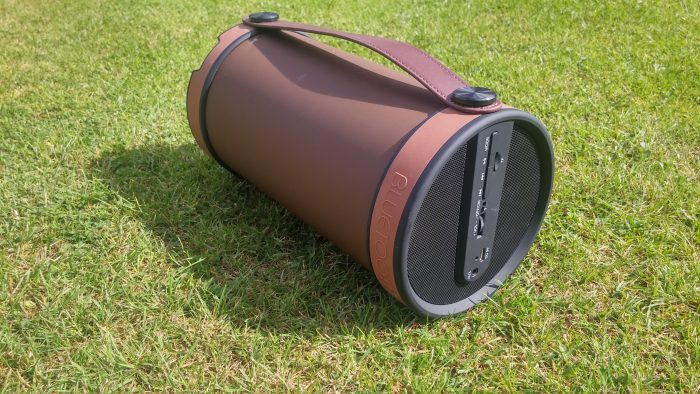 The Boomtube speaker is definitely larger than the majority of units we get here at Coolsmartphone, although it does pack a 4″ subwoofer and looks like a proper piece of camping equipment.
Inside there's actually a few speakers, including a "horn" which kicks out 2W and the subwoofer at the other end putting out 7W. In the picture below you should be able to see the two smaller speakers through the front grille.
Inside the box you'll get a USB charging cable and an AUX cable should you want to plug into a non-Bluetooth device. The Boomtube also has a few other options for music, including an FM radio and a microSD card slot so that you can play music that way too.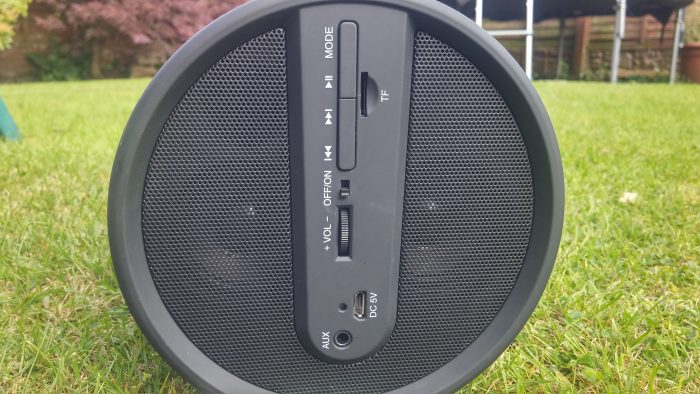 Up front, a number of controls. Firstly, that AUX or "line in" port which allows any old-school devices to be plugged in. If you've got a DAB radio or something with a weedy speaker, this will give it an instant boost. Next to that, by an LED which tells you what's happening, the microUSB port. This charges the device, and that LED will tell you when the in-built 1000mAh battery is running low. You'll get around 1.5 hours of constant playback.
To the right, a classic volume control. This is a wheel / volume knob of old and will let you crank up the tunes quickly without having to constantly tap a volume "up" button.
A small on/off switch sits next to this, then there's the main music controls for navigating around tracks on your microSD card. These buttons do other things in different modes which I'll get onto in a moment. You can also play and pause music here, and below you'll see that very slot for popping in the microSD card itself.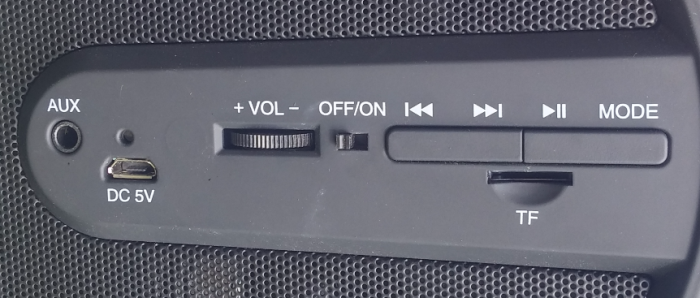 Finally, the "mode" button is to switch through the various inputs you have available.
Firstly though, we need to get connected via Bluetooth. Once you turn on the speaker that LED light will turn blue, flash and the speaker will beep twice. You then need to just do a search on your phone or tablet and find "BOOMTUBE" to get paired up. It'll beep three times to indicate a successful connection and will remember you next time.
Once you've done this, you can either control music on your phone or use the buttons on the front of the unit (next or previous) to skip tracks and pause / play etc.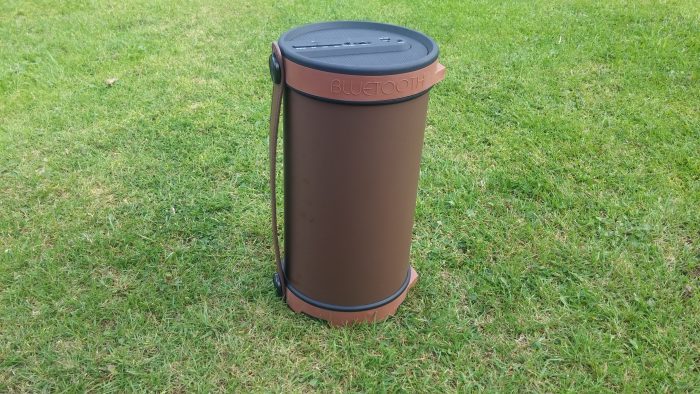 Switch modes and you can go into the microSD playback option. You can, if you wish, simply insert a microSD card and the speaker will begin playing from it. The play / pause and track control does exactly what you'd expect.
The FM radio is OK, and you can switch to it with the mode button, but you may need to use the AUX / line-in cable as your antenna. When you're in this mode, the play / pause button will do an "auto search" of available FM channels, then they get saved. The next and previous buttons then flick between the auto-stored stations.
Here's a look at the unit in video 🙂
A full charge of the speaker takes around 3-5 hours and, although that carry handle does look a little flimsy, it's not broken on me yet. The sound from the speaker is very decent too, with no sign of distortion. You can place the speaker on end or flat – either way seems to sound good although I did want a touch extra bass.
Other points is the fact that I had to keep turning it off. There didn't seem to be an auto-shutdown function that I could see. However, the rubberised outer edges give this a sturdy and strong appearance plus it's the ideal gadget if you're going camping. This certainly won't get lost and it's beefy enough to play out tunes for everyone on your camping trip.
Despite the size, it's only £30.21 from Buy4Less.
Boomtube Review
Overall - 9
9
A rugged tubular musical solution which delivers FM radio plus microSD card support, audio input and Bluetooth connectivity.