If you've ever wanted to completely destroy your data allowance and find out how fast your mobile network is, you could download the Ookla Speedtest or browse to Speedtest.net. It will, if you do it enough, give you a rough idea of just how quick your connection is.
Speed testing is always a bit of a dodgy science, with traffic management perhaps playing it's part along the way both on your network and further up the pipe too. However, EE appears to have completely destroyed the opposition in the resulting speed charts.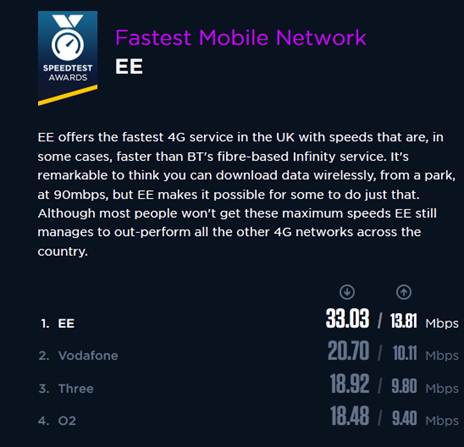 It's no huge surprise really. EE had a big head start with 4G and they probably have a stack more people using 4G for these tests than the other networks
You can read more about it in the new Ookla UK mobile network awards, with results based on their crowdsourcing app. EE managed to get a 33.03 Mbps download speed result, compared to 18-20Mbps for the other mobile networks.
The results, which can be filtered down to city level, can vary a little, with EE getting 34.45 Mbps in Birmingham and 31.42 Mbps in Belfast. However, EE's mobile network was ranked #1 in the UK, and in all 26 cities and towns that Ookla analysed.
For fixed-line broadband, Virgin took the speed trophy.
Head to their awards website for all the details.