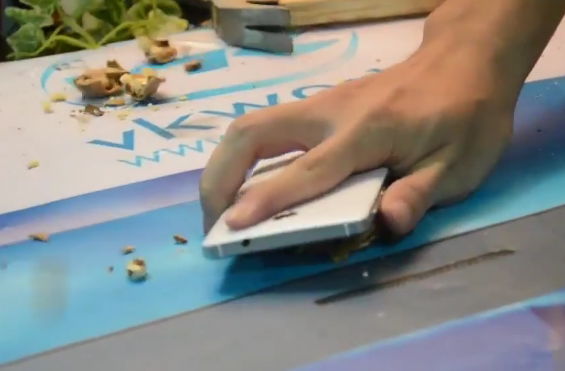 I've decided, after receiving quite a lot of "random" email, to start a new feature which includes some of the strange, slightly confusing and usually part-Chinese emails that I receive. What exactly I'm going to call this feature, I'm not sure, so for now it's, "Weird Weekend". It usually involves a company I've never heard of telling me about a phone or accessory that I've never heard of.
Today, it's a company called VKWorld who start their pitch pretty badly. Their website is properly broken as I type and their introduction to the new VK700x handset is somewhat strange…
The back cover of the VK700x is made out of dumb rubber, and as you can see, the device design is really nothing to write home about, but it looks alright.
Ohh bravo. That's going down in my little book. What next? "Our new phone is butt-ugly, but you can lay bricks with it"?
Anyway, they also go on to tell us where the perhaps the weirdest thing is what you can do with the rather "uninteresting" phone.
The back might be made from "dumb rubber" but the front is made from 3.0D Gorilla Corning Glass" which makes it the "drill phone" apparently because, err.. you can do this..
Not only that, but you can also use this particular smartphone as a hammer replacement..
Perhaps you're out and about and happen to have a bag of walnuts. Eating them is going to be tricky, and you don't have your trusty nutcracker. Oh dear. What to do eh? How the heck are we going to open up these walnuts?
It's a problem we've all faced if I'm honest, so now here's a smartphone that'll let you update Facebook, Twitter and smash your walnuts too. Bonus..
This particular phone can do all these tricks but, perhaps the very best bit, it only costs $59.99. We can't find it for sale anywhere just yet, however this is a newer version of the previous VK700 and VK700 Pro. It'll apparently have Android 5.1, 5″ 720P screen, quad-core 1.5GHz CPU, 1GB RAM, 8GB storage and a microSD slot. There's an 8 megapixel rear shooter and 5 megapixel front one.