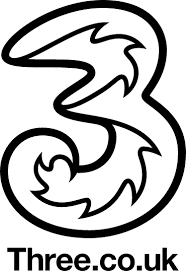 We here at Coolsmartphone towers love UK mobile operator Three. They were the first operator to roll out a 3G network here in the UK, plus they rolled out unlimited data and 4G for no extra cost etc.
I think nearly all our writers have a least one Three SIM card in a device, but lately Three have been falling behind the other operators in terms of data speed. However, Three have announced that the company is going to increase the 4G data speeds of is network nationwide by up to 50%. They're going to do this by switching on additional spectrum – 5MHz of their 1800MHz. All sites in Northern England, West Midlands, Scotland and Northern Ireland have now got this.
Three tell us..
This will definitely come in handy as we've recently learned that we carried 42% of UK mobile data traffic in the year-ending March 2015. With average data use per customer reaching 4.65GB per month in June 2015. Wowsers.
Also, echoing our WhatsApp feature, Three have found that this one app has proved incredibly popular. Some 215 million WhatsApp messages are sent by Three customers every day.
Does all this sound familiar? Well, it should. We had the exclusive info early last month about this new speed boost, so if you're looking for all the latest gossip, follow us on Twitter.