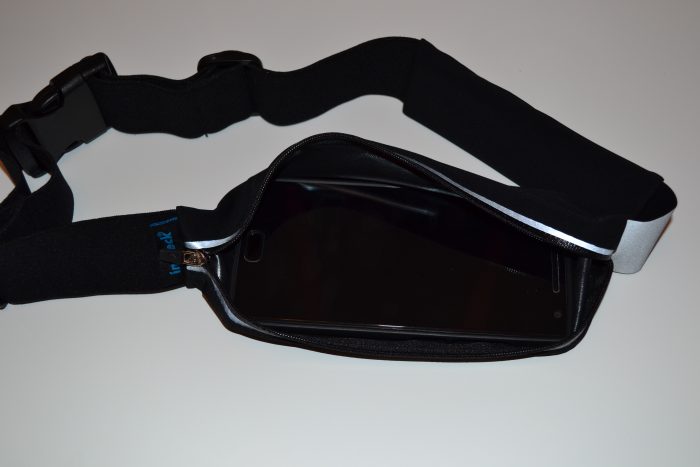 Let's just get this right out in the open from the off… I'm not a runner… so having been sent through the Inateck sweat-proof running waist pack belt with expanding pockets, I thought this wasn't the product for me, but I found it was. It certainly didn't turn me in into a super athlete. I did however, find numerous uses for the belt. 
Design:
Made from high quality spandex-lycra material, this is a elasticated lightweight belt with two water resistant zipper pockets, one small and one large to keep your "to hand" items in. The belt also has a reflective strip on it for night use.
Good Points:
Elasticated waist band to fit numerous sizes.
2 different sized pockets.
Strong clip fastener, little chance of it coming undone whilst in use.
Bad Points:
Pockets wont fit todays larger phablet device sizes.
The pockets are strangely shaped and slightly difficult to open.
In Use:
As I said at the start of this review, I'm not a runner, but I was able to use this belt. Whilst riding on a bicycle and my motorbike, I was just about able to fit my OnePlus 2 in the larger of the two pockets. Admittedly, it was without any case on it, so 5.5 inches is about the limit for device size. But the smaller pocket was perfect for my wallet and keys. The pockets are classed as sweat proof, so I would imagine that they would keep your gear dry in a rain shower or two.
Conclusion:
To be honest, I never would have thought of purchasing this belt. But now having reviewed it, I can see many uses; in the gym (I personally don't like those arm bands), out walking and you don't want to carry a bag. And definitely if you're out in a big city and you don't want your valuable smartphone/cash/wallet easy accessible to people – well, this belt could easily be worn under a coat etc.
The belt is currently available from Amazon for £11.99.