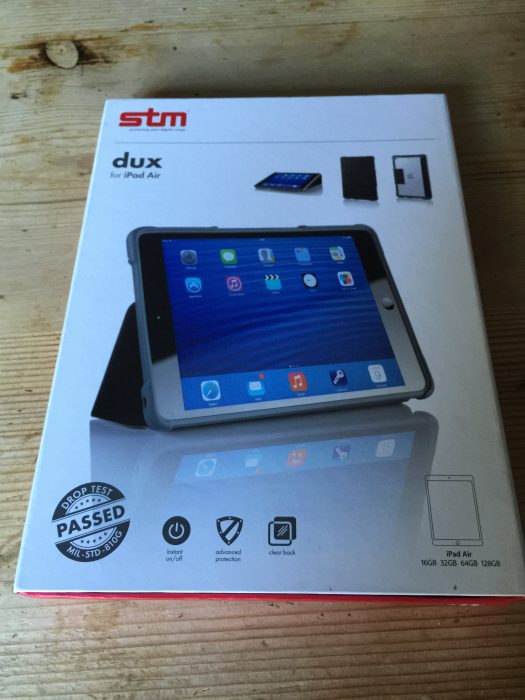 Cases are ten a penny these days so it takes something special to make them stand out. First impressions count, even if we're always told not to judge a book by its cover! The STM Dux case for the first generation iPad Air is marketed on the basis of its strength and toughness:
'This has passed the US Department of Defense Standard 810F/G durability tests, having been dropped from a height of 122cm over and over again, as well as dropped from 200cm.  The tough reinforced corners protects from inadvertent drops.'
It might be good enough for the US military, but impressively it  also managed to survive several days of battering courtesy of my two small children!
The case is well packaged in an attractive box: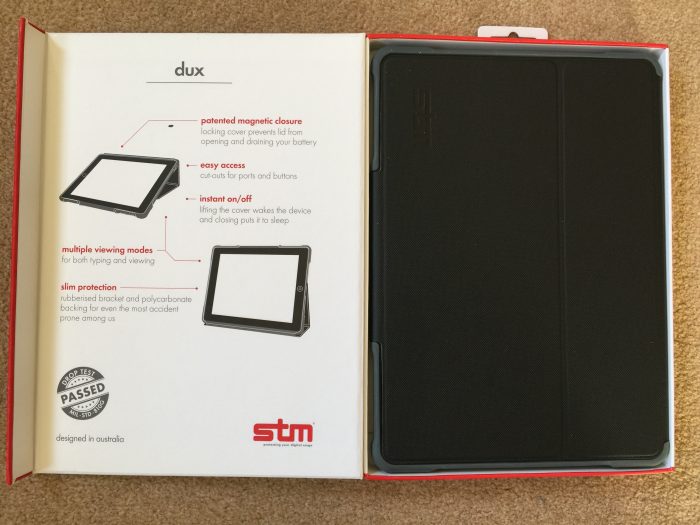 As you can see from the image below, the case has a magnetic lid. This is actually a flap that seals around the back of the case. The magnet is impressively strong and there should be absolutely no way that it will come undone unintentionally. Opening and closing the lid automatically turns the screen on and off: a very useful feature for someone like my wife, who seems to think that mobile devices today should be able to tell if they're being used or not and react accordingly. The front of the cover has a fold about 1/3rd of the way across, and this enables the device to be viewed in a variety of landscape angles; there is no way to stand the iPad up in portrait mode though. The case has cutouts for all the usual ports and buttons.

The case itself is nicely made. The material feels tough and durable. The front has a slightly felt-like interior, with a rubbery exterior. Both are tactile and feel pleasingly solid. The rear is a tough and quite thick plastic, while the surround that the tablet sits into is rubber with a little give to squeeze the thing in. Overall I think that this is a cracking case. It fits the iPad nicely, feels like a premium case and certainly should be long-lasting.
The case is available in blue, black and red and costs approximately £45.  It is also available for the Ipad Air 2 and other devices – more details can be found on the STM website.  It isn't the cheapest of cases, but for anyone looking for something strong to protect their tablet, I'd certainly recommend it.
Thanks to our friends at KL Associates for providing the case.