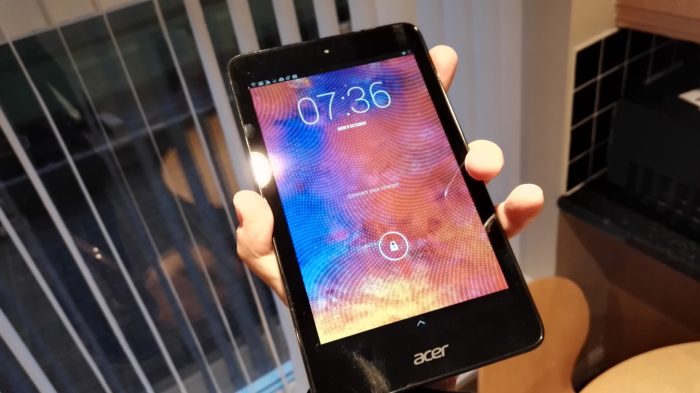 There's a raft of 7″ tablets out there. Just have a look down your local supermarket and you'll see a stack of them. Here we've got the Acer Icon is One 7.
Around back, a very grippy rear panel which has a rather funky pattern on it. The bottom of the rear houses the external speaker and, up on the top right, there's a microSD card slot. Good for boosting the on-board 16GB, which is already enough at this price-point if we're honest. It's just £79 from Tesco but you can probably get it cheaper elsewhere.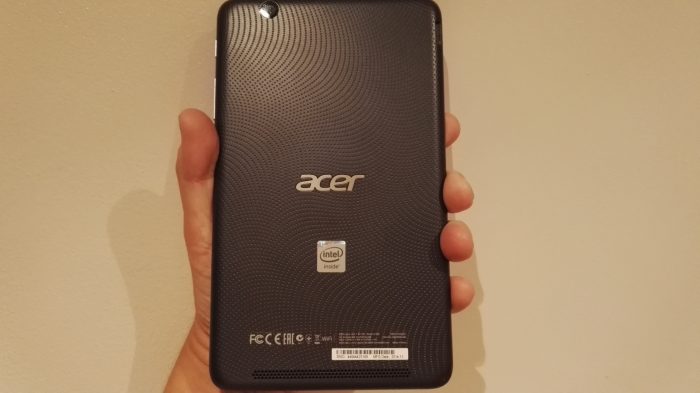 Specs here include that 7″ front panel running at 1280 x 800 pixels. It looks pretty decent and the tablet itself works well in one hand. Up front there's a VGA camera, whilst around back there's a 2 megapixel shooter but neither have a flash and I doubt you'd use either for taking really artistic shots. Both are OK for the odd shots and perhaps your Skype video calls, but nothing more.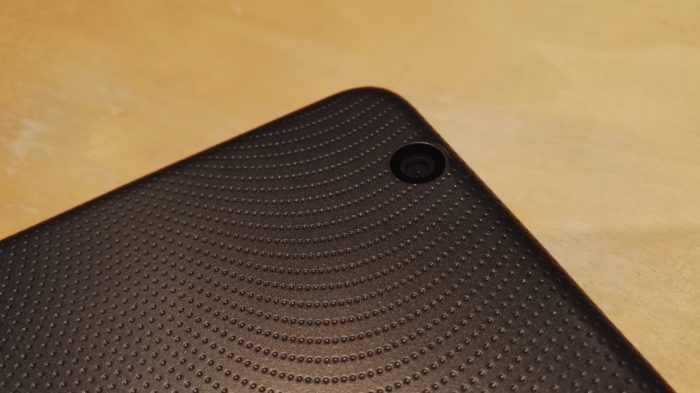 Powered by Android 4.4.4 there's 1GB of RAM and a 1.6GHz dual-core CPU. Bluetooth, WiFi and a 3.5mm audio port are also here. There's also a feature called "Acer Touch Wakeup" which lets you fire your tablet up by performing a five-finger tap on-screen. It's a cool idea and something similar to the LG "double-tap to wake" system.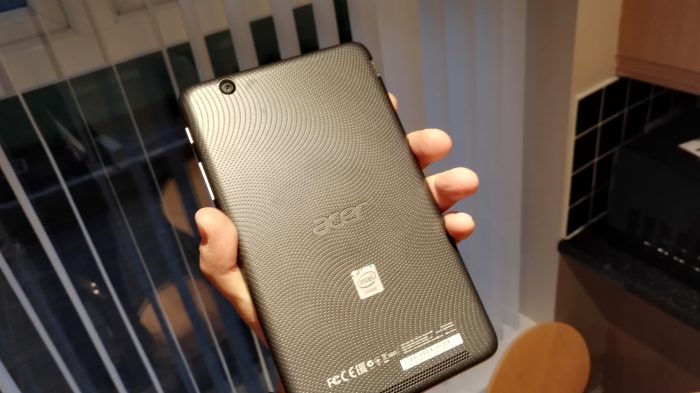 Up top, the micro USB charging point, 3.5mm audio port.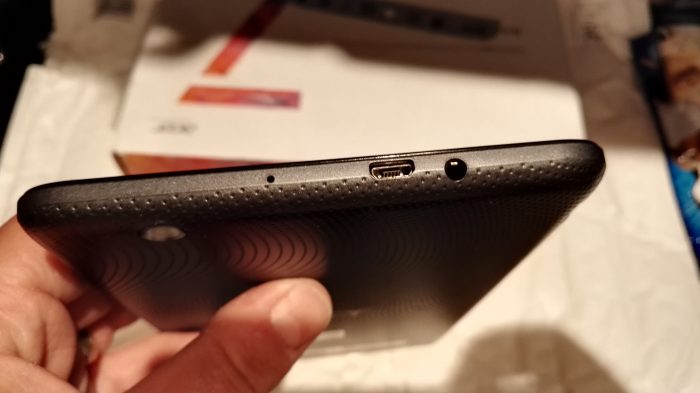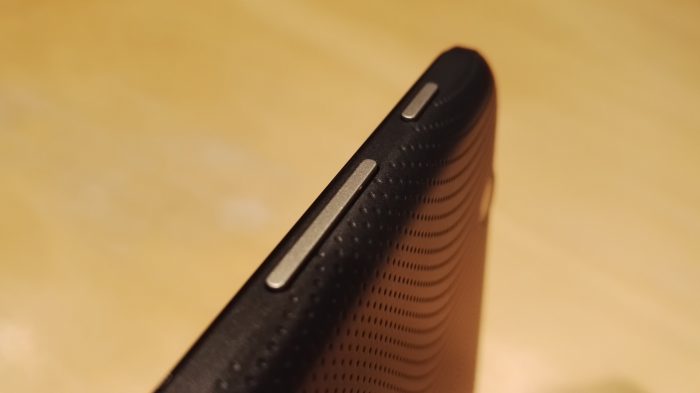 On the right, a volume control and a power button. All of these are easy to locate but there's a certain amount of "creak" as you use the device.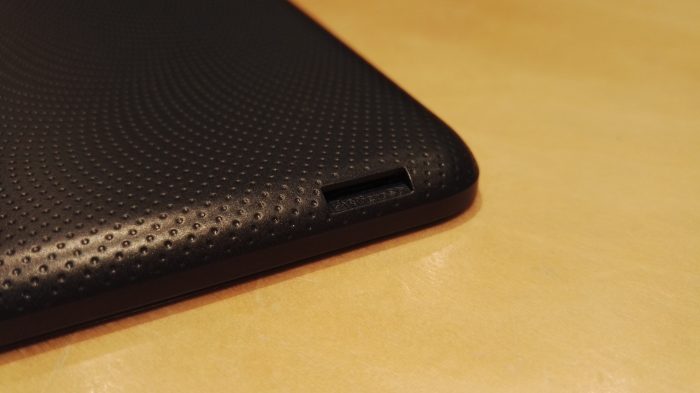 Inside
Inside the OS may not be the latest but it does perform well and supports the Play Store. There's also a wealth of Acer apps included to help you along. abDocs and abFiles let you edit Office documents on the move and rename / copy files around your device. There's also Acer music for downloading or streaming music from your very own home PC. Kinda cool that.
A similar system is in the abPhoto application, which will store all the photos you take on your device with your desktop PC. Both of these are pretty good ideas and they work well but things have moved on a little since they were probably made.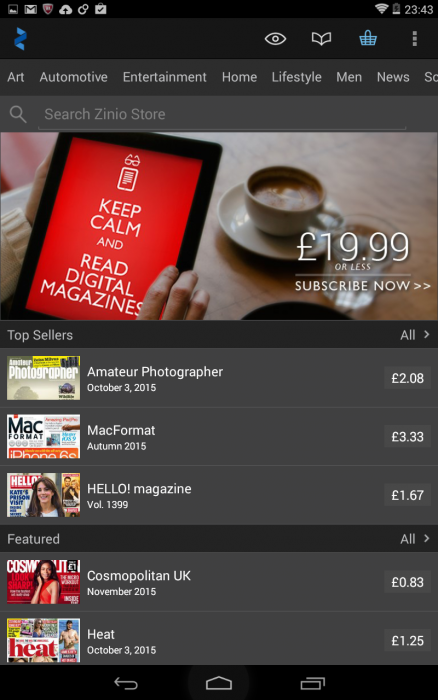 Now there's cloud storage and you can back up your photos there instead. However, apps like abVideo and abPhoto will at least let you watch those "special" videos and media footage that you'd perhaps like to keep on your own PC.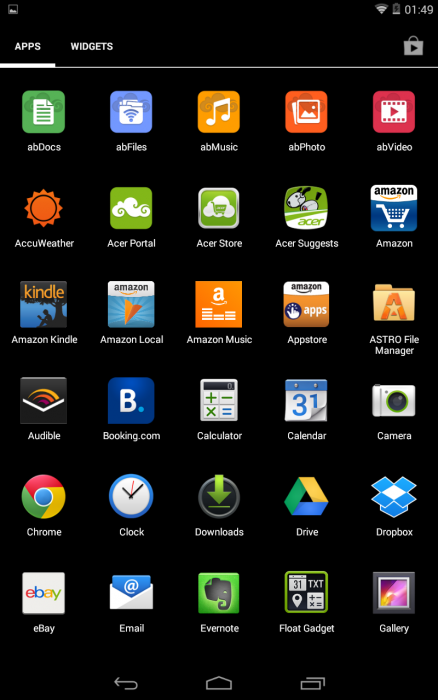 An Acer Portal collates all the Acer apps in one place and, using an Acer account, you can hook into all of these relatively easily once you've setup the corresponding PC application. abDocs will let you connect to the documents on your PC and edit those too.
Other Acer apps include a suggestions app to recommend certain apps, plus another store which is slightly confusing given the fact that Google Play is there already. Apart from that, there's Amazon Kindle for reading your books (relatively easy and comfortable on a device of this size, I can tell you) and every other Amazon-based app you can shake a stick at – Amazon Music, Amazon Appstore, Amazon Local and Audible. This is all on top of the usual Android apps you'd expect plus a "Float Widget" which lets you put your calendar, calculator, a memo and more – all over the top of existing content on your screen.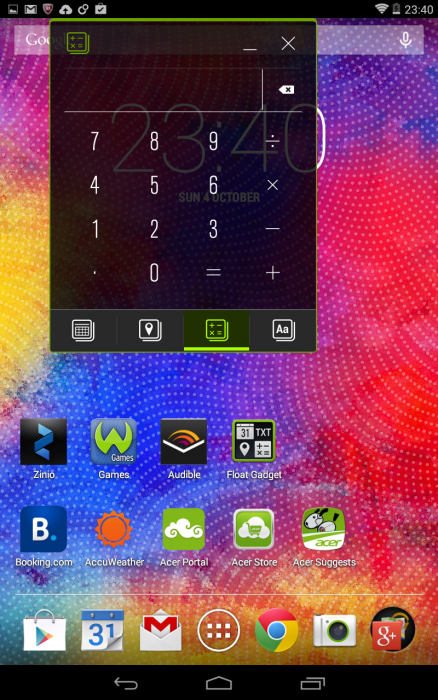 McAfee Security comes on-board, giving you the safety and anti-virus protection, plus Zinio for reading magazines on the move and a selection of games. This being Android, everything is sync'd with your Google account, meaning that email and contacts are all pulled down from the cloud automatically. Every Google app is here too, including YouTube, Maps, Photos, Books, Movies, Newsstand, Music, Drive and Chrome – which renders sites well.
Camera
Here's a few example shots from the rear camera. The shots were reasonable considering the resolution available, but not overly brilliant.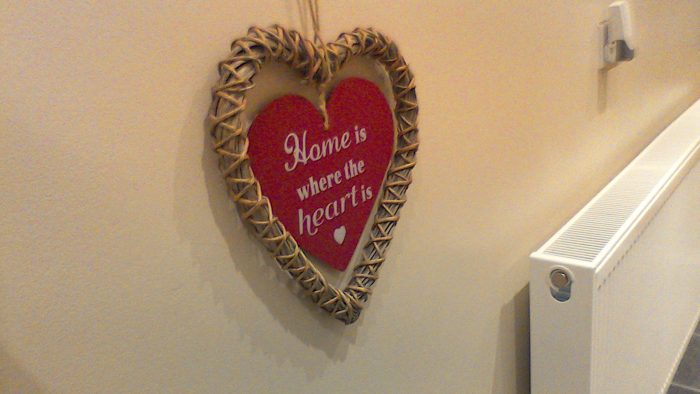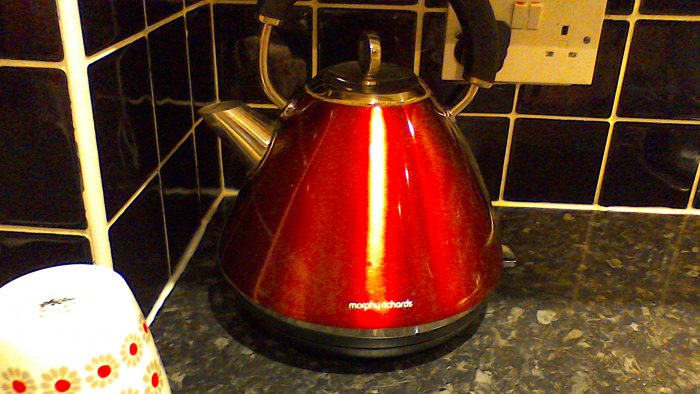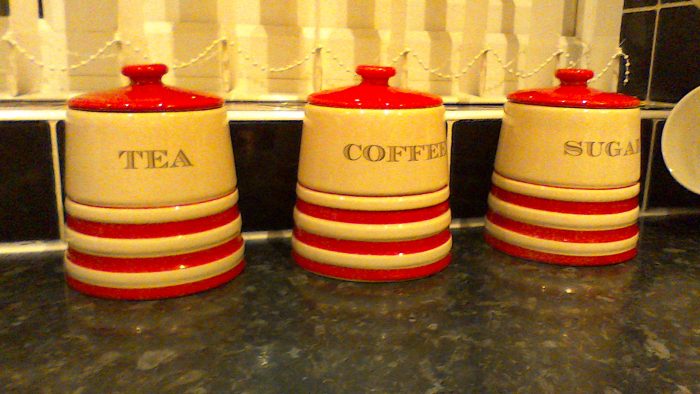 Overall
A fairly average contender within the 7″ tablet category this. There were a few too many creaks from the chassis and it twisted all too easily – making the screen produce some strange colours. My main gripes are the sheer amount of apps pre-installed. Sure, I can understand one or two apps, but the entire Amazon suite? This isn't a Kindle, why is it all here? And why do I need all the other additions too?
It delivered all the apps and widgets fairly trouble-free without any real hint of a struggle, despite only having 1GB of RAM. The on-screen keyboard was responsive and it was light enough to hold in one hand.
As for the cameras, they were really just for show and you wouldn't want to use them in anger.
It left me with a feeling that this is a tablet within a low price-range that'll get bought for kids. Those kids will just throw it around and play Angry Birds on it. They're not going to use the many, many Acer apps or the many, many Amazon apps or the many, many other apps – so why are they really there?
If you'd like to get yourself one, head to Tesco or eBay, where there's plenty listed there too.
Acer Iconia One 7 Review
Build quality - 6.7
Cameras - 7
OS Speed - 8.5
UI - 8
7.6
Nice screen, brisk OS and a lightweight tablet. However, it comes with a creaky chassis, substantial bloatware and low-res cameras.