Bluetooth headsets. There's lots of them out there and you'll usually notice that they're usually bulkier than normal headsets, especially around the ears. A lot also have a cable attaching the two.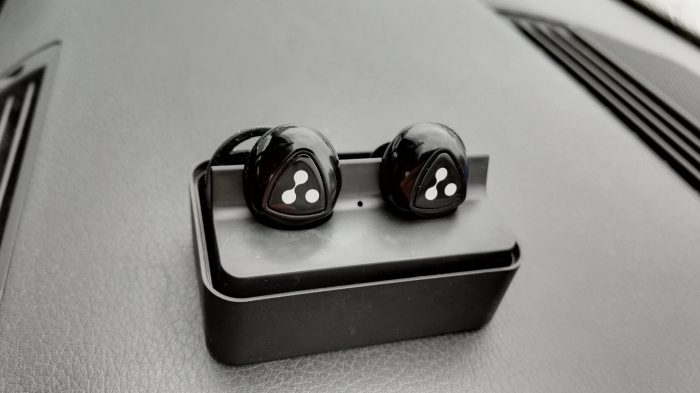 Here, the D900 headsets from Syllable arrive in a rather clever box which doubles as a cradle and charging unit. You plop the headphones into the cradle and, via some tiny connectors on the bottom, it'll charge via the micro USB lead which is supplied in the box. There's no cable connecting them to each other and in the box there's no charger, but to be honest everyone has something with a USB port anyway.
First up, I took them out of the box and totally messed up the pairing process. It's my normal behaviour to completely ignore the instructions. I usually explain this away as some sort of mad method to see just how easy they are to operate, but in truth I'm quite lazy and perhaps think that I can work stuff out myself.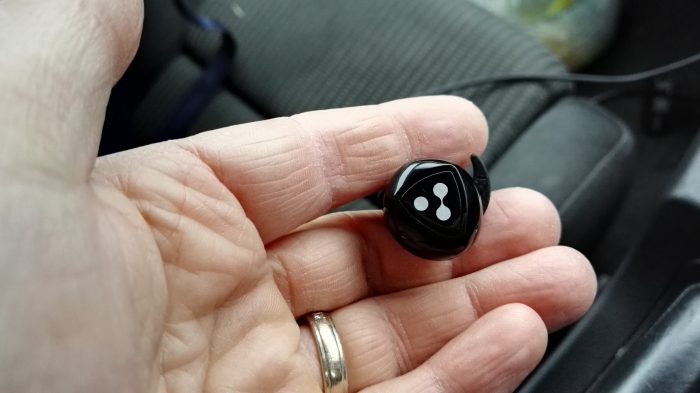 The result, after me pressing and holding the main button – positioned on the outside of each earpiece – was me pairing my phone up with just one of the headsets. I got into a world of pain when I then somehow cleared down the magical connection between both earpieces and connected my phone with the other earpiece only. Sure, having one earpiece connected to Bluetooth is fine, but after all these years I've grown to like the stereo effect. Luckily there's a way to rebuild the connection between the two earpieces by tapping that magical button four times in a row, post-pairing.
Sound quality is very good, although there was a distinct lack of bass. You could help this a little by ensuring that the earpieces were comfortably placed into your ears. An additional set of those magical earplugs come with an earhook which holds the two earpieces inside your ear without sliding out – even when running.
Pressing the main button on either headset would control the play / pause of music through the headsets. The earpieces also play a little warning when the batteries are getting low, plus there's LED's on each one to let you know what's happening. A slow, pulsating blue LED usually means that everything is OK, whilst a blue and red one means it's pairing and a flashing red one means your batteries are running low.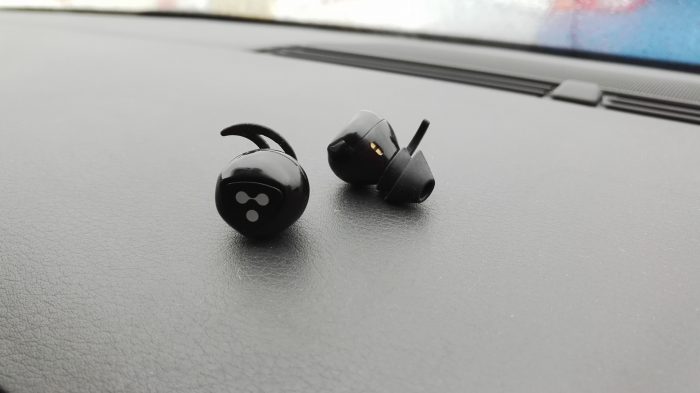 Placing both earpieces on the charging cradle is simple enough and they both slotted in slickly enough. An LED on the base of the cradle shows when the earpieces are charging.
I found that these worked rather well and, of course, if you only want to pop one it at work then you can do that too. They're comfortable, light and, although they do stick out of your ears just slightly, once you've confused a few people with the blue flashing LED from both ears you'll find that they're really rather good. The lack of wires was a really freeing experience, and you quickly forget that they're actually in your ears in a way. The charging cradle is simple but stylish. Although it can be mistaken for a packaging case, it's easy to get the headphones to locate their small metallic charging connectors onto the base.
The only down points were the slight lack of bass and the occasional skip from one headset or another, which I assume was my head blocking the Bluetooth signal between the two devices.
That said, I got around 3 solid hours of listening time after around 6 hours of charging. Overall, very good.
If you'd like these, they're $79.99 on Amazon.com or you can get them for £58.99 on Amazon UK.
Syllable D900 Review
0
Cordless Bluetooth earbuds which operate well and come with big-button functionality.