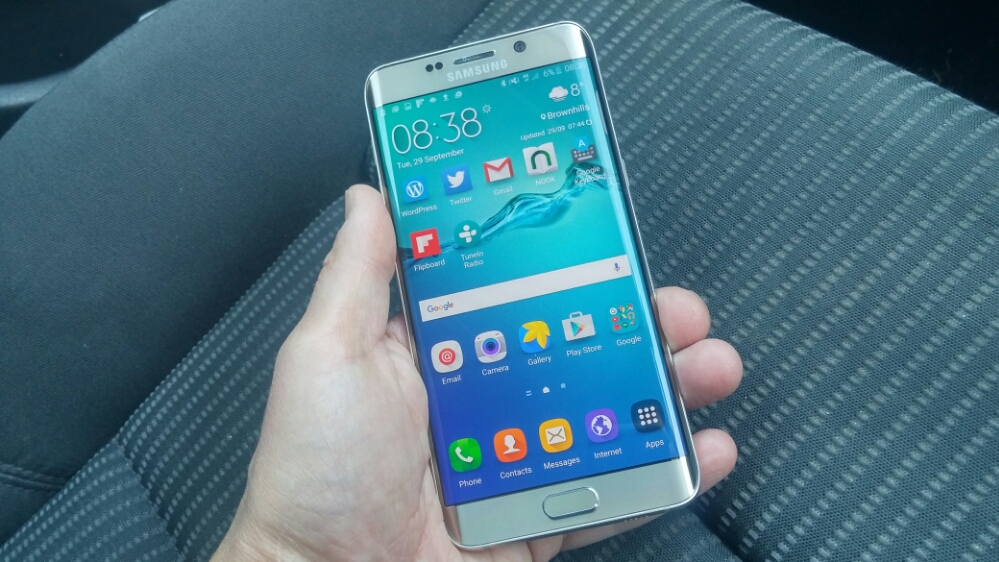 Well isn't this a beautiful looking thing? Everytime I show this to somebody there is an audible "wow". You could perhaps put the slowest, cheapest CPU and memory in here and people would still be amazed by looks alone.
I have the gold version here from giffgaff and, whichever way you look at this phone, it looks just stunning. Up front the extra screen real-estate gained from those curves on the edge may not seem like much, but it does make a huge impact the look of the thing and pages come alive.
I remember the first time I saw this particular type of screen. It wasn't until I saw a large photo which curved all the way around that it all really made sense. At the end of the day you don't really need a curvy screen – nobody really needs a curvy screen – but it just looks very very nice and it does have some useful additions too.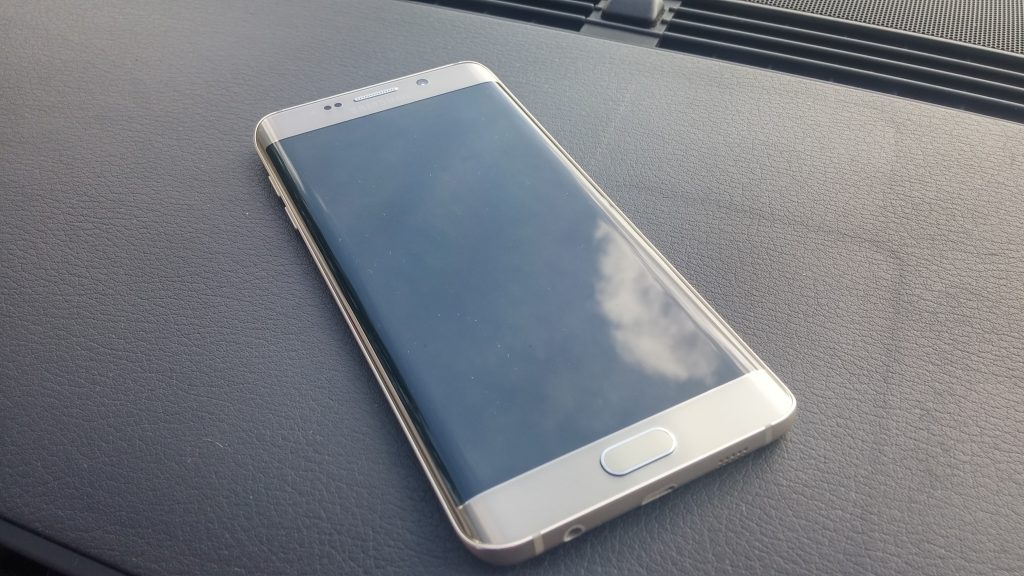 Using the thing is definitely a two-handed operation, and the on-screen keyboard (which I rapidly changed from the Samsung one to the Google keyboard) manages somehow to keep the letters just in the cusp of the curve whilst still being usable. The same can be said for menu buttons near the top of the screen, and even when you do feel your finger falling over the edge, it feels nice in a way.
That screen, I should just say, is bright, clear and sharp. It's nothing short of a delight and, in a world where Android handsets can get a bit "samey", it's designs and innovations like this that grab the attention.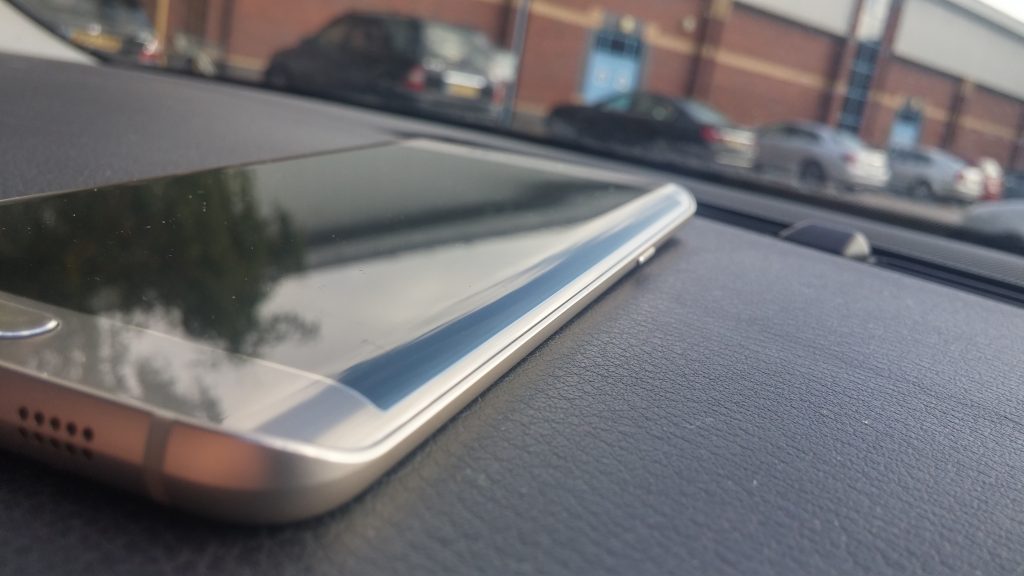 Specs
The Galaxy S6 edge+ has a fairly sizeable 5.7″ screen which you will need to take into account. Although it is possible to use one-handed every now and then (plus there's a mini-screen mode which helps with one-handed operation), you'll end up using both hands just so you don't drop the thing. The screen is a 1440×2560 pixel unit at 518 ppi and, as I've mentioned several times already, it's a beauty. It's Quad HD Super AMOLED which, in tradesmans language, is "bloody stunning".
Inside it runs Android 5.1.1 (Lollipop) on a 64-bit octa-core CPU – four cores running at 1.5GHz and four at 2.1GHz when you need that extra grunt.
This one, from giffgaff, has 32GB of storage. The 3000mAh battery copes admirably and charges in double-quick time thanks to the super-quick charging system. Honestly, you can go from completely flat to 100% full in 90 minutes. That's proper decent.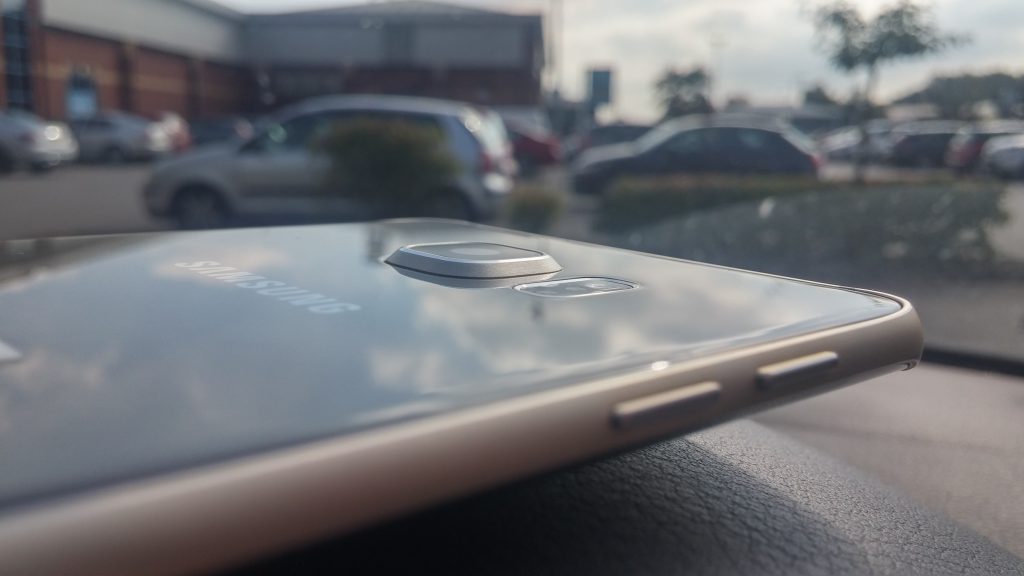 Around back, the 16 megapixel camera with OIS does an utterly amazing job in both low-light and interior conditions. I whacked it up to full-zoom to try and take a photo of the moon, and you can really see the stabilisation kicking in – wave the phone around and it'll float graciously around your subject. Lovely stuff, really lovely, and that front-mounted 5 megapixel unit is equally smart. It comes with a range of filters to ensure that you look your best.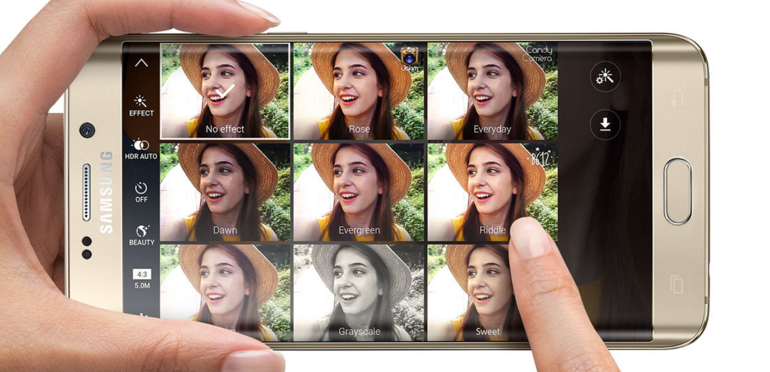 Other specs include 4GB RAM and up top you slot in a Nano SIM. I've been testing it out on the giffgaff 4G network and it's not missed a beat, but you've also got WiFi, NFC, GPS and Bluetooth 4.2.
Tour
This gold version attracts people. Remember when Charlie got the Golden Ticket in "Charlie and Chocolate Factory" ? It shines like that.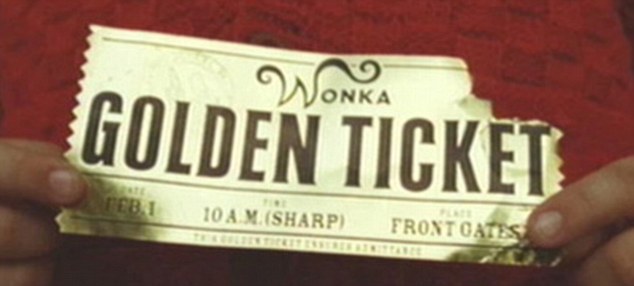 Up top, the 5 megapixel selfie camera, sensors, earpiece and – just to the left (not that you can see it here) you get a notification LED which magically appears from the golden cover. This top section slips down to the curved edging in a smooth and graceful fashion with the matt gold top section just appearing above it.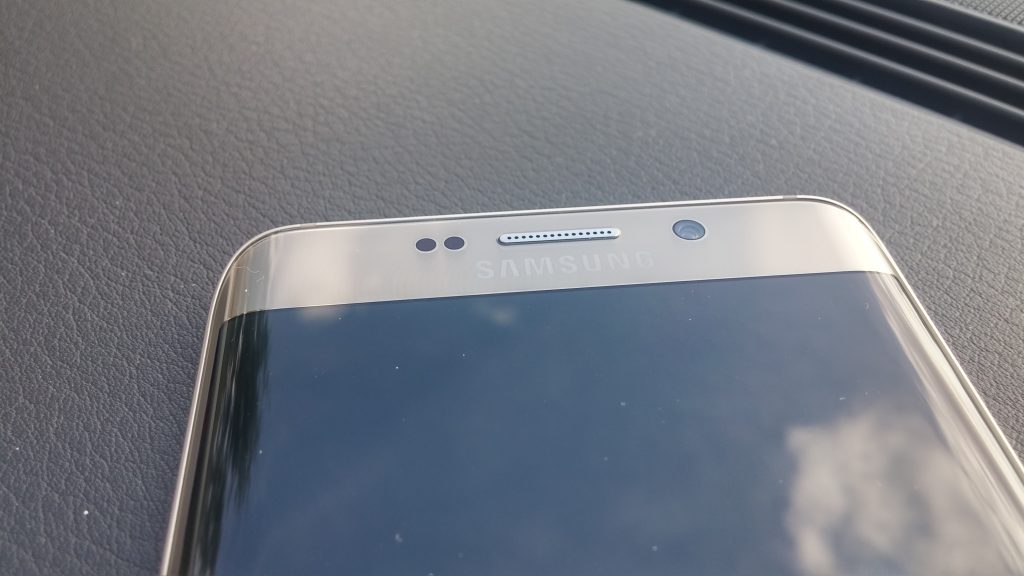 Down below, a single action key is easy to find and is flanked by the menu and back capacitive keys either side. They light up when required. The main key here is also your fingerprint sensor, and it works very well indeed when you want to unlock your phone.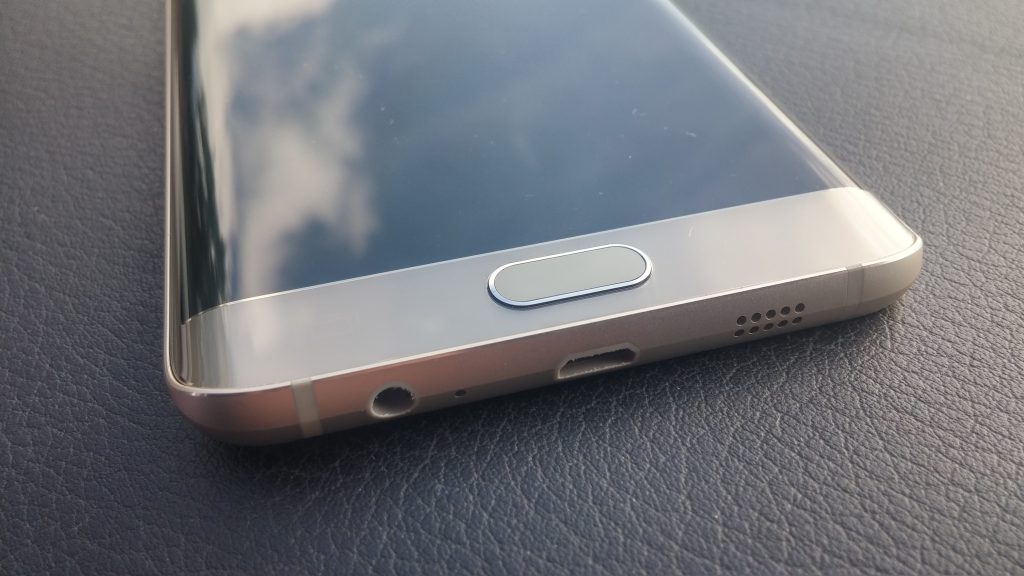 Despite those curves, there's still enough room for the power key on the right side. You don't necessarily have to use this, you can tap the main button at the base of the screen, but it's there.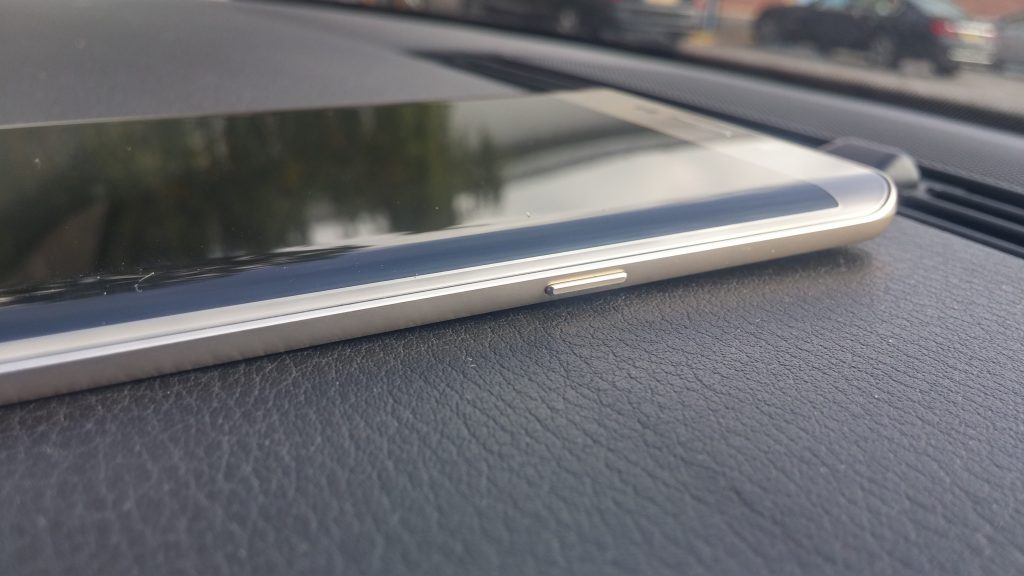 On the opposite side, the volume adjustment keys sneak in. Despite the slenderness of these two sections, the phone doesn't lose any of its' grippiness.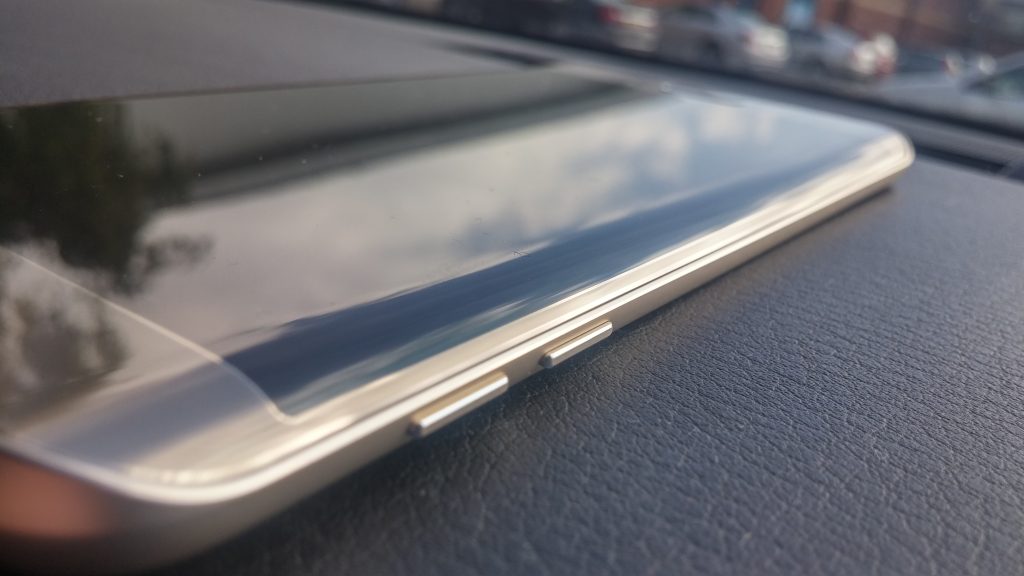 The top only has the additional noise-cancelling microphone and the nano SIM tray, which pops out with the supplied pin. The front and rear meet in the middle here in a soft ridge.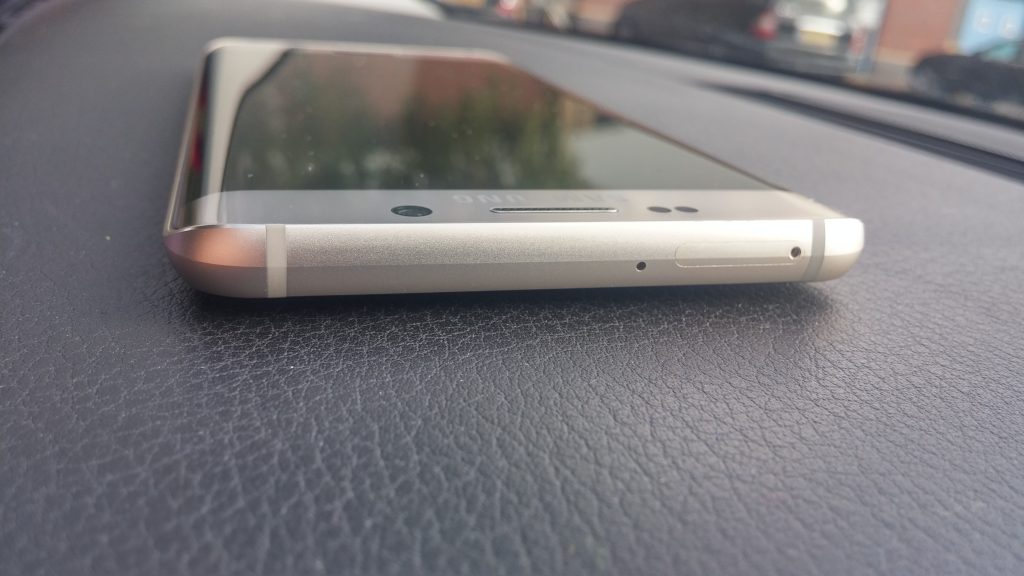 At the bottom, a 3.5mm audio port, micro USB and the external speaker. That speaker is really quite decent and you can hear the depth of the music and more bass.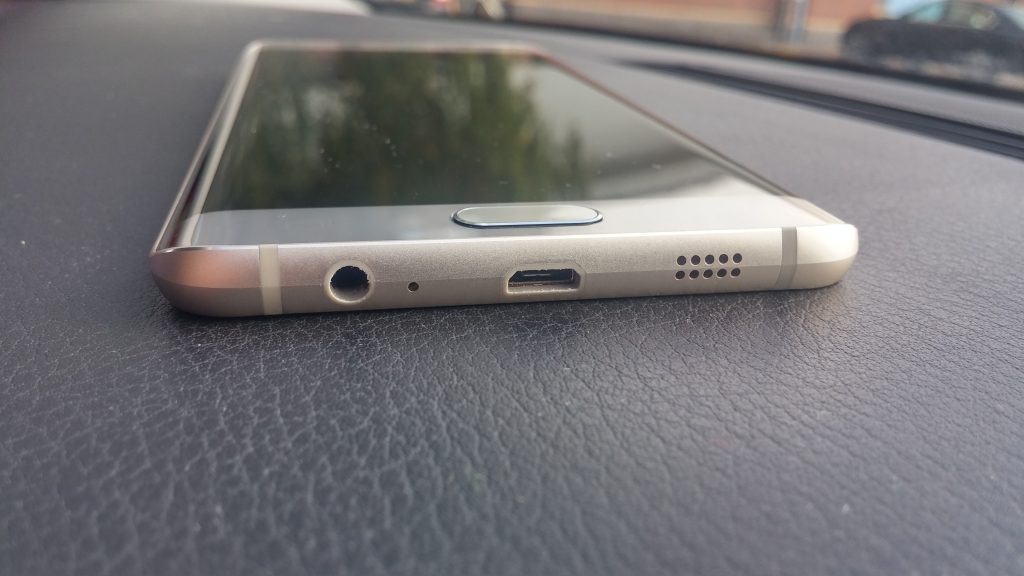 The rear section, which again is amazing, is flat and super-glossy. Despite the camera and flash unit protruding there's still a premium feel to this and it looks fantastic.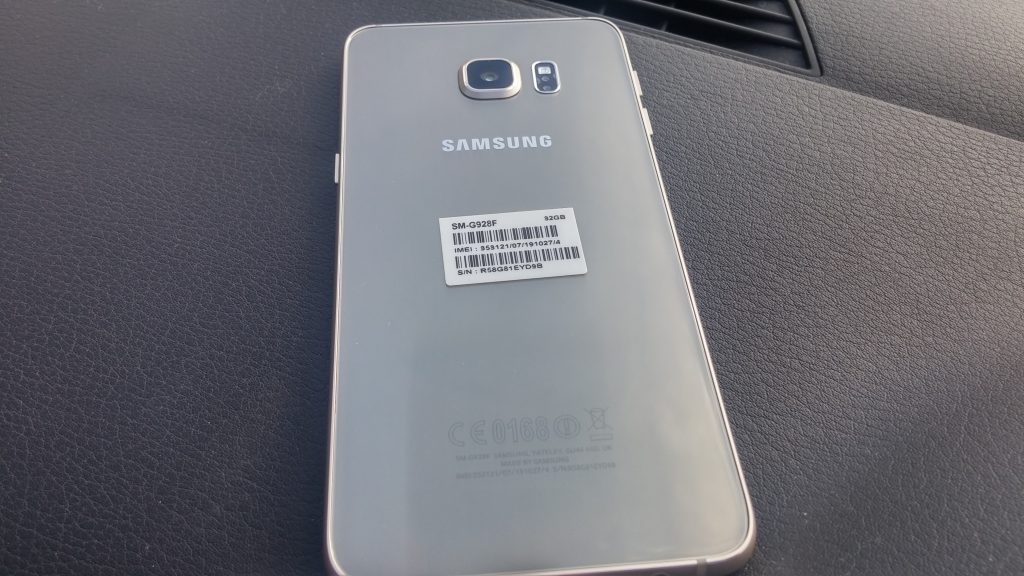 Inside
Despite what you might think, the lack of a microSD card shouldn't be too scary, but we need to factor in the infamous bloatware which I'll get to in a moment. Microsoft have waded in and will throw 100GB of free online storage at you thanks to their Samsung partnership (they've also added OneNote, PowerPoint, Excel and Skype into the pre-installed app list too). So you at least get that as cloud storage.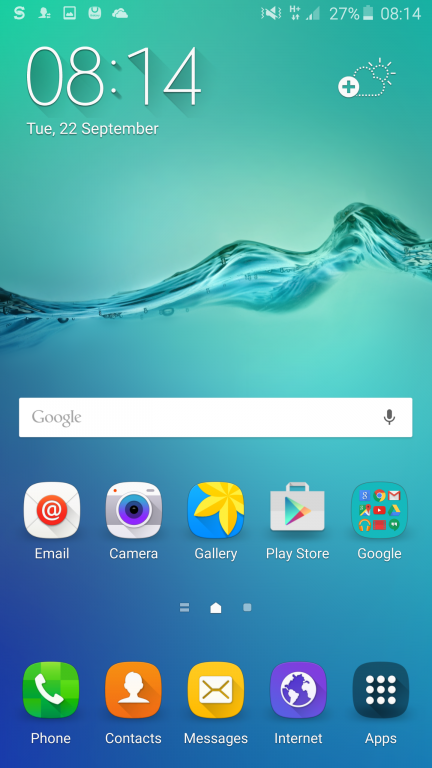 Oh, and while we're talking about pre-installed apps, I went quite "skinny" with the install and skipped as many setup screens and additional components as I could. The result, after I'd put a few of my own apps on and taken some snaps, was a device with 22GB remaining from the 32GB. Word, which is also here (and not removable), takes around 250MB alone. Chrome is another 140MB (ish), OneNote is around 95MB and so on… None of these can be removed but you can keep clearing the cache and temporary data to keep on top of it.
Samsung have also dropped in a number of apps, including their calendar app – S Planner. S Voice, the audio assistant, is here too. Likewise you'll find S Health, My Galaxy and there's Flipboard for checking up on your latest news and gossip in a lovely magazine format.
The Samsung keyboard is the default, but I preferred the Google keyboard so switched it out via a Google Play install.
Although there's slight less in the "bloatware" category, you'll still find about 8-9GB of space consumed before you start.
Samsung are keen to point to their "Edge handle", which floats on the top right of the screen and, when you pull it, shows your favourite contacts or apps. This, if I'm honest, is perhaps the only use I had from the curved screen.
Yes, it displayed a clock and showed some news updates along the one edge of the phone. OK, it was nice to have it pop up at the scheduled time I'd set too, but in reality the slick slopes are more for appearance than anything else. I don't think that they're actually going to add a huge amount of functionality to your life, even if you do see it glowing when you have it face-down. Let's face it, this is to look pretty, and yes – it's very pretty.
Looking at websites, viewing pictures you've taken, watching videos – there's a certain something about that extra bit of screen either side.

Inside, especially within the settings, there's pots of options. You can switch from a stack of wallpapers, themes (downloadable from a theme store), tweak audio settings, alter screen brightness, lock-screens and more.
There's a stack of motions and gestures to do tricks like making calls when you lift the handsets plus there's an on-board manual too. An "easy mode" is great if you'd prefer the more simple interface and there's a data counter, battery saver and fairly pain-free setup process.
This being an Android device, all of your contacts are stored in the cloud along with calendar appointments and emails. You can use standard POP3 email too, plus there's the option to share your contact via YouTube or any other social channel you care to shake a stick at.
Camera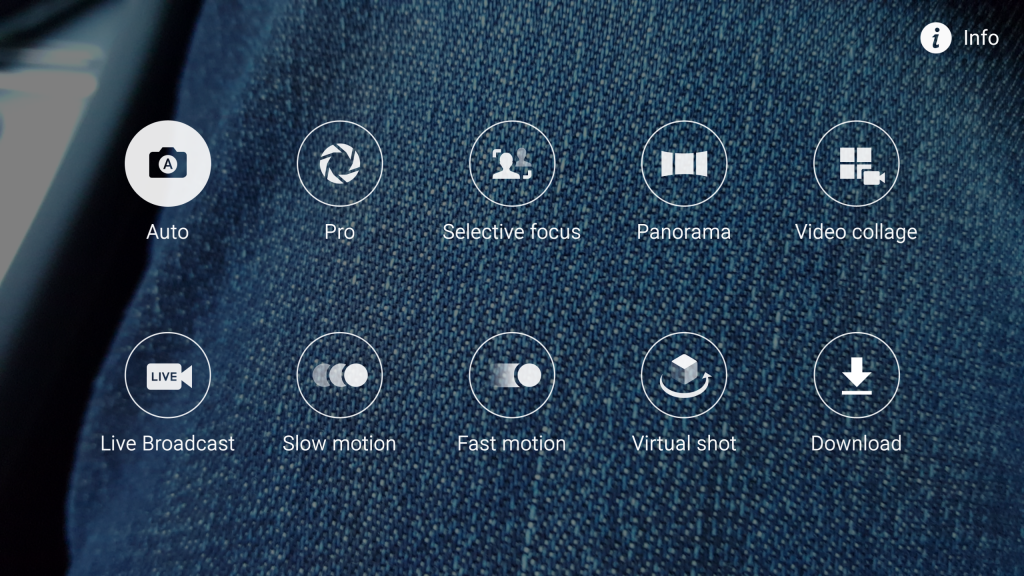 Stunning. Absolutely stunning. Can't fault it. Just brilliant. You can lift the handset, access the camera through the lock screen and fire off a quick shot with "auto" mode. It'll look brilliant. Likewise, you can switch to "Pro" mode and faff about with "Kelvin", ISO, exposure and filters to your heart's content.
Switch to video mode and you can do a live broadcast, slow-mo video, fast-motion video, virtual shot or download additional types of footage. There's also a "video collage" option which lets you combine 6-second clips into a fun film. You can add music to it too…
A selective focus mode on the camera will let you alter the focus of a shot after snapping. This means you can choose to keep the foreground clear or the background – perhaps even both if you want to confuse things. Here's an example..
These other shots show just how good the photos are. I was really impressed. I've not bothered to frame these at all – they're completely ad-hoc snaps. The first one below was taken whilst I was rather drunk, and it still came out brilliantly.
Overall
I've grown used to having a microSD card which has my stuff on. There's nothing I don't want on that microSD. Just my stuff. Here though, a sizable chunk of storage is removed thanks to pre-installed apps that I may not necessarily want. Sure, the Microsoft apps are good and it's understandable on a phablet like this, but I should be the one making the decision, and although 100GB is available online it's my local storage that I'd like to take charge of.
You can buy this out-right on giffgaff for £579.99 or you can pay for it over two years for £25.37 and then put your goodybag on. To be honest it's expensive, but there's more expensive devices out there, and this is a premium device which looks and feels premium. Sure, those tapered edges might not be adding huge amounts of added functionality, but the screen alone is perhaps one of the best I've ever seen. Samsung really shine here. The basics are spot on – a great camera, a battery which charges quickly, a sharp and bright screen, great sound, fun video options, lots of functionality and bags of fun.
The S6 edge+ is available on giffgaff, and we thank them for the loan of this handset.
Samsung Galaxy S6 edge+
Camera - 9.8
Screen - 9.5
Build quality - 9.4
OS and storage - 8.1
9.2
A top quality product which oozes class and style. Great camera, fast charging and stunning looks. Sadly some of the Samsung bloat is now replaced with Microsoft bloat.