The time has come to have a good hard look at the second outing from this underdog from the Far East. While I'm aware that these are very limited in supply and trying to get hold of one of these phones is very tricky, we at CSP Towers were somehow able to wangle one (well, I bought it). Of course, I'm talking about the OnePlus 2.
We finally have one here, so let's have a look under its skin and see what makes it tick.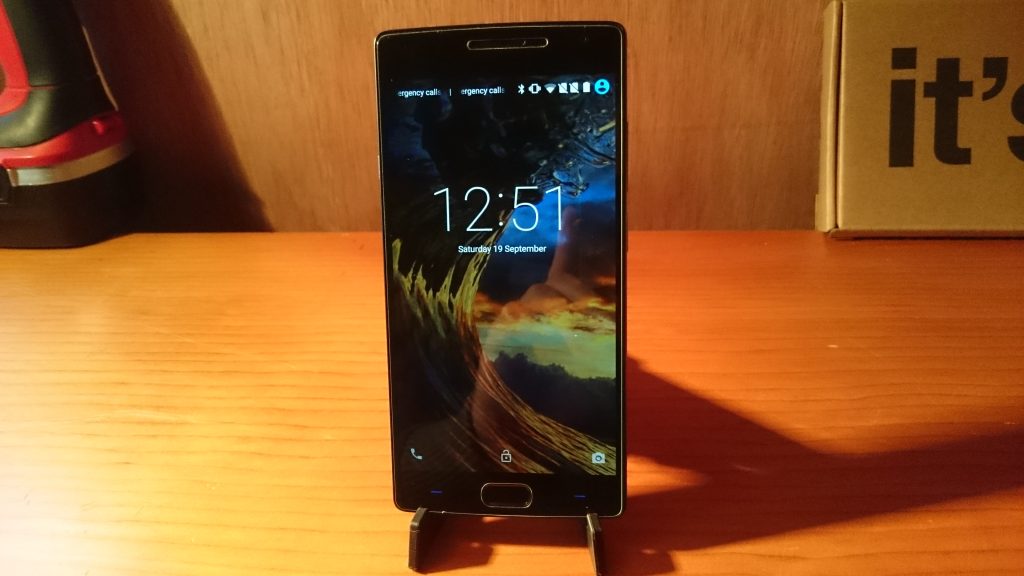 Design
Like most modern touch screens, the front is dominated by a large pane of glass. Embedded into the glass the screen measures 5.5″ with a 1080p resolution. The LCD screen itself is really well-made and it is crystal clear. It has very good viewing angles and with the appropriate brightness levels, it's readable in sunlight without too much concern.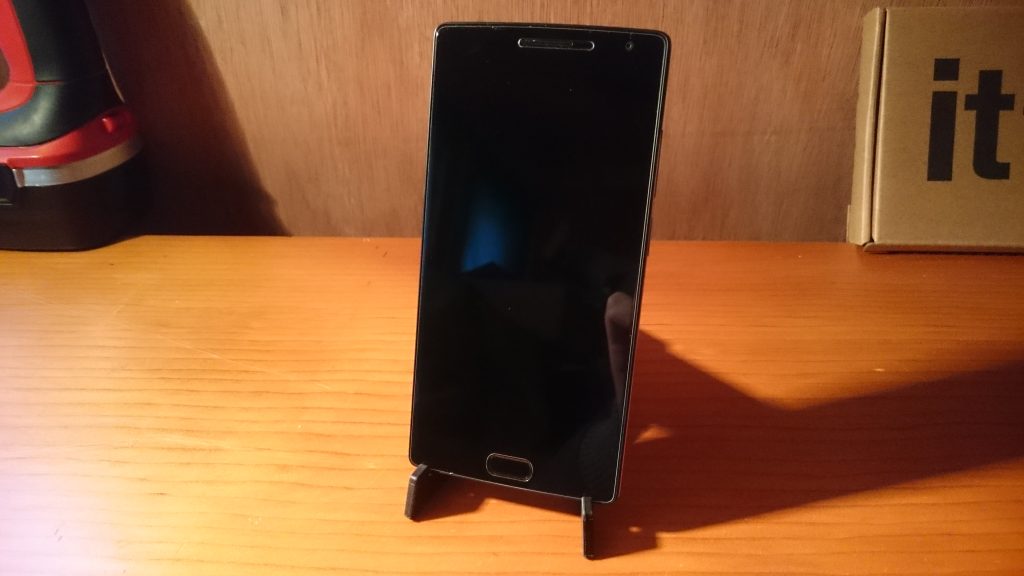 Above the screen is where you will find your usual array of sensors and camera modules etc. In this case, we have a front facing camera of 5 MP which will also capture 1080p video for Skype and Google Hangouts, etc. We also have the earpiece, which is loud and clear, and it has a programmable LED for notifications (the LED's colour can be changed from within the settings menu).
At the bottom of the screen, and in the now traditional position, we have one of the key features of the OnePlus 2 over its predecessor: the fingerprint reader/home key. Flanking these are the capacitive back and multitasking buttons. These can be used on either side depending on your preference and they can also be programmed to perform other tasks if you enable them in the settings menu.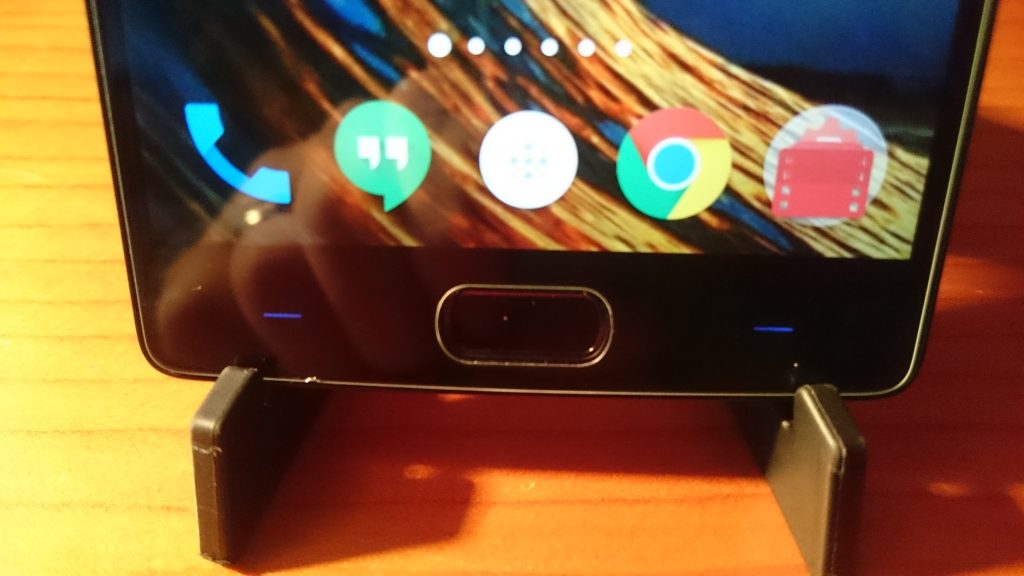 At first, I found that the fingerprint reader was a bit patchy when trying to register my finger to unlock the device. It has improved but it still needs some more work I feel. It is not as fast as say, the Huawei Mate S, at recognising your fingerprint. The reader also doubles as the home key, but again this is capacitive and not a physical button. It's slightly recessed into the screen, making it easy to find unsighted.
Around the edges we have a lot going on. Starting from the right, this is where you will find the power key and the volume rocker. They're nicely placed and just falls under the finger pretty well. The keys are smooth, and it would be nice if they had made the power textured again to aid locating it unsighted.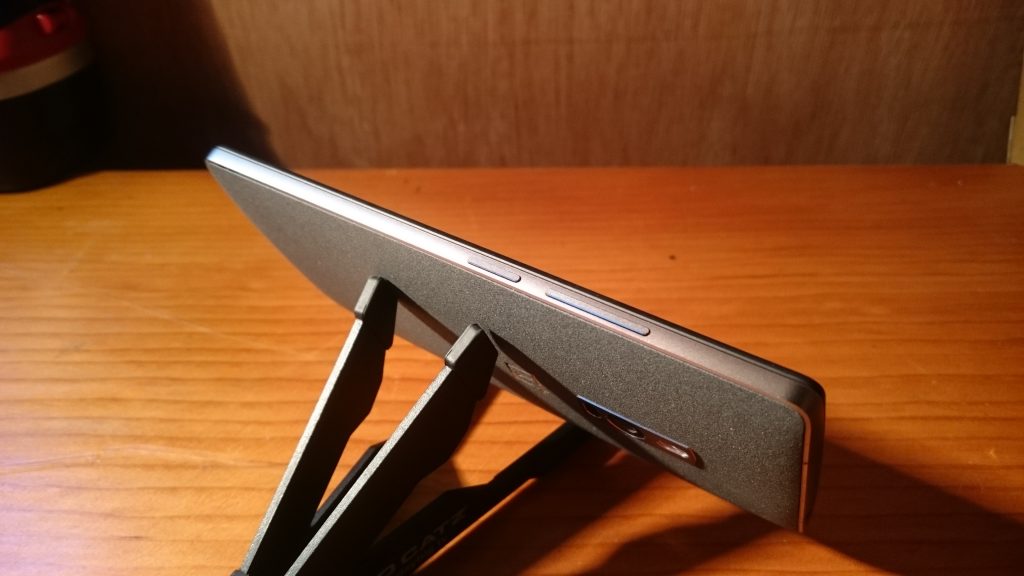 On the left, we have what turns out to be a very handy switch for controlling notifications. The idea works very well, and those used to using an iPhone will be at home here. You have three positions that correspond to the three states of Android's notification systems. The bottom most position is all notifications, the middle one is priority notifications only and switching it to the top setting is for no alerts at all. Very handy and convenient for when you are attending meetings, or if you work somewhere that means you need to silence your phone.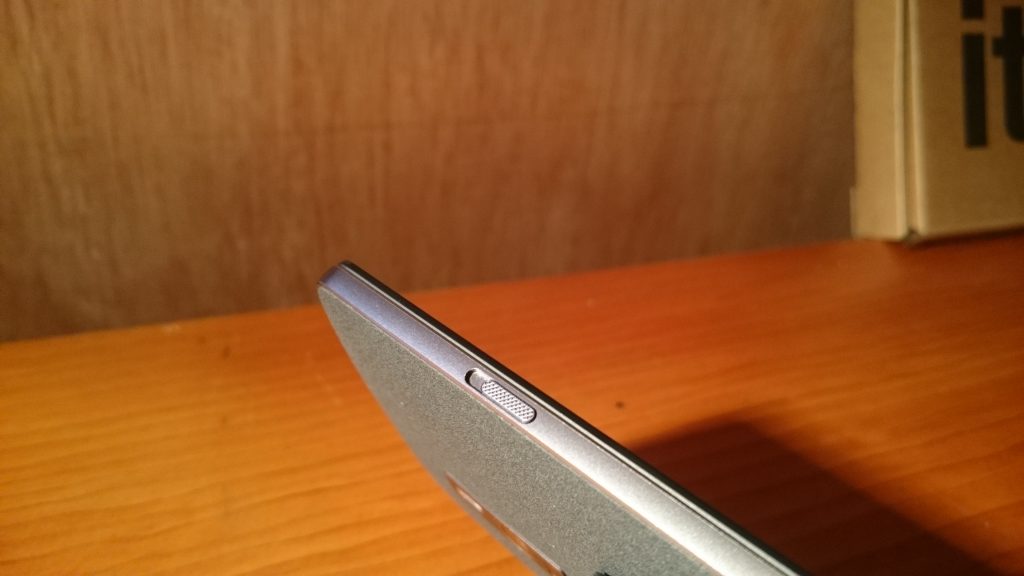 On the bottom edge, you'll find another distinguishing feature. and one that made the phone unique for a brief period of time (until Chinese firms caught up). In the centre of the base, you have a USB type C connector which is flanked by two speaker grills. As is normally the way, these grills don't mean dual speakers; one of them is the microphone, and the other being the single speaker.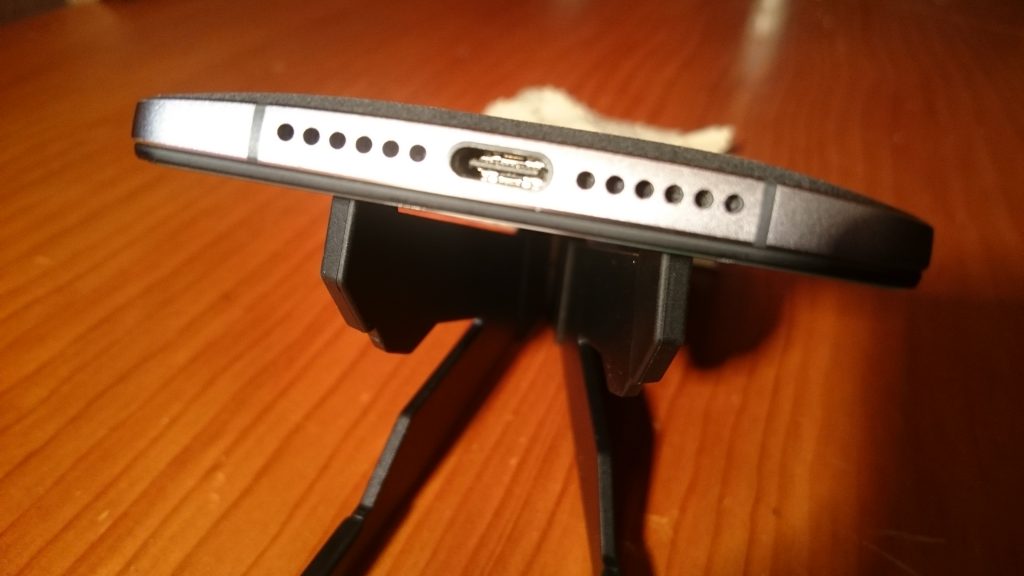 The output sound is still reasonable, though just gets a bit tinny on the high end with little to no base. This is par for the course on most smartphones these days though, so no big shakes really. What is disappointing is that the phone does not use USB 3 with the type C connector. The connection speed is still using USB 2. Also, there is no fast charging and no enhanced MHL capabilities beyond what is already possible on the USB 2 standard.
Lastly the top edge contains the 3.5 mm headset jack and the noise cancellation microphone. You'll also see the antenna breaks here as well, and these are also visible on the bottom edge.


Around the back of the phone is a removable cover allowing you to swap covers using OnePlus's Styleswap covers. The covers come in various different finishes and add some personality to the phone, which is a fantastic little touch that's still missing on most modern smartphones outside of the Windows Lumia range. Under this cover, the phone is sealed and you will only find a slot for the dual nano Sims, both of which will support 4G*.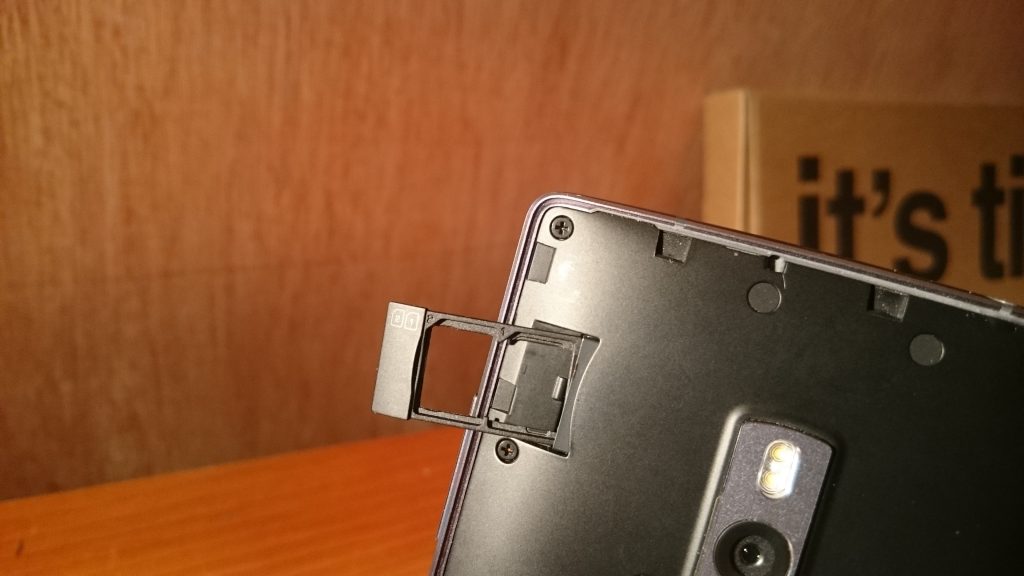 As this is an unlocked handset, you will be able to use a variety of different sims with all UK networks being supported.*
You will also find the 13 MP camera here, along with Dual LED flash and the laser auto-focus lens/receiver.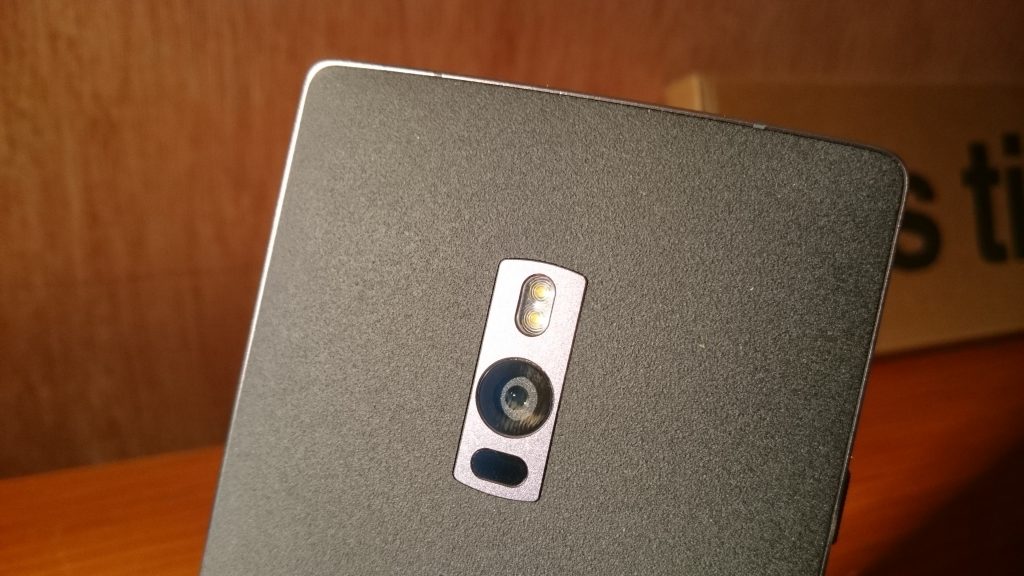 The phone feels really nice in the hand, however it does have a bit of heft to it and this may be un-nerving for the typical ex-Samsung owner. If you are someone coming from a Sony, HTC or iPhone. it is similar in weight to what you are already used to. The metal edges are really to grip and gives it a premium type of feeling that we're much more used to seeing on high end devices like the iPhone 6 and Samsung Galaxy S6. Overall, the build quality is very good and I didn't find any creaks or groans on my phone when checking for them.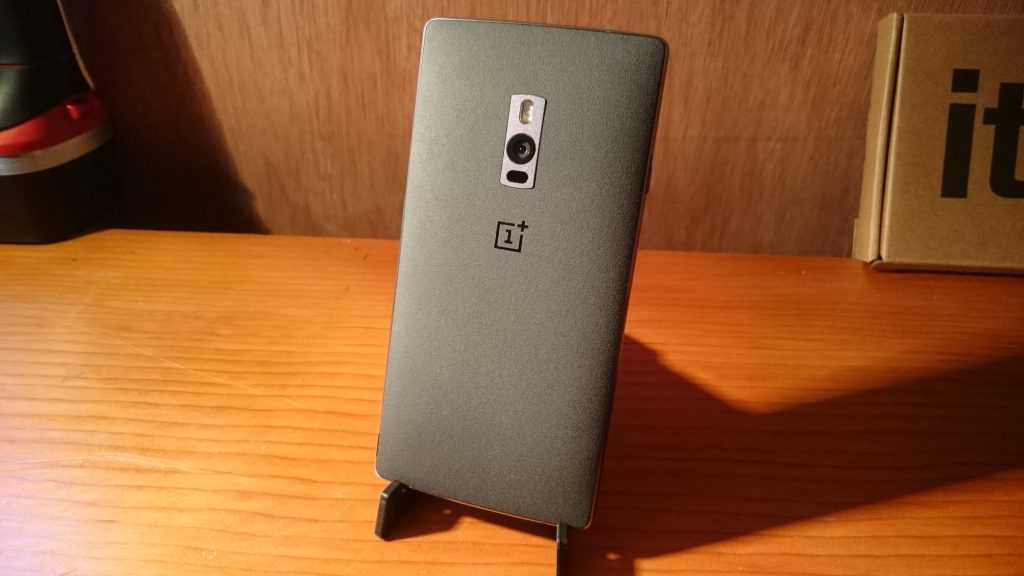 Hardware
Before we get into the nitty gritty of the hardware, let's have a little look at the specs that power this beast.
Specifications
Dimensions: 151.8 x 74.9 x 9.85 mm
Weight: 175 g
Battery size: 3300 mAh
Screen size: 5.5 inches
Display technology: LCD
Screen: 1920 x 1080 pixels (401 ppi)
Front camera: 5 megapixels
Rear camera: 13 megapixels
Flashlight: Dual-LED
Android version: 5.1 – Lollipop with Oxygen OS customisations
RAM: 3 GB/4 GB
Internal storage: 16 GB/64 GB
Removable storage: Not available
Chipset: Qualcomm Snapdragon 810
Number of cores: 8
Max. clock speed: 1.8 GHz
Connectivity: HSPA, LTE, Dual-SIM, Bluetooth 4.1
Some pretty good hardware on board here, however there are a few things that worried me when I was setting the phone up. The first one is the lack of NFC on the phone. Now this is a puzzling one, and I can only speculate as to why they have not been included here this time around. I have two theories here.
One Plus don't the think that NFC is a relevant means of making the connection from one device to another and there fore when they were trying to figure out where cost could be saved
OnePlus have had the foresight to see that NFC is going to get very big very quickly and they are going to offer it built into one of their Stylecovers, this means those who want NFC on their phones can have it those who don't needn't worry about it.
They are going to release a watch/band accessory that uses the data stored on the watch to then pay for things in a similar manner to how Apple watch does it.
Those were the only reasons that I can see why they would have left it out. It turns out that a spokesman from OnePlus mentioned this lack of NFC some time ago.
 "While NFC acceptance is growing, it is not as widespread as originally thought. We built the best device focusing on what users really need and use.

"We heard from a lot of users of the OnePlus One and saw most of our users weren't using NFC."
Only time will tell on this one really, and whether you're particularly wedded to the idea of using Android Pay for every purchase possible. The other major concern going into buying this device was of course, the processor. A lot has been said about the Snapdragon 810 processor and naturally some of what was said was true and some was complete and utter folklore. The true part is that this chip can run hot. But how hot is too hot? I have never found that the OnePlus 2 gets too hot to handle comfortably and as far as I am concerned, that means for me there isn't an issue.
The phone also has either 3 GB or 4 GB RAM, depending on which version of the phone you go for, and with the 4 GB as we have here, the phone flies. It is a tricky one to actually represent on testing as nothing is really optimised to push that much RAM, but it does help when you're loading up large apps such as Asphalt 8. I've done a load speed test on the Xperia Z3 and Huawei Mate S, pitching them against the OnePlus 2 to try and quantify things for you a bit more. Here is the video.

I have heard some rumours to suggest using an alternate launcher may speed this up. As yet this is untested as I am sticking to the stock launcher for now
How does this benchmark against some of the other players? Again, I have done these tests against the Huawei and Xperia as they are the phones I have to hand at the moment.
Sunspider 1.0.2
Quadrant
Antutu
Ice Storm Extreme
Xperia Z3
1279
24836
41610
17329
Huawei Mate S
1387
5053
46960
9563
OnePlus 2
1544
29608
49985
22643
As you can see, the OnePlus is top trumps across things here, but it's not as far ahead of the pack as I would have initially anticipated. One thing that be should noted here is that we are testing 3 different processors, and all with slightly different chipsets. The common theme is that they all have large amounts of RAM.
One thing I did notice is that the Huawei is not in any way optimised for benchmarking, and therefore is scoring very poorly on these tests.
The Sunspider results were also surprising with the Xperia Z3 out performing the two newer devices. I have to put that down to the newer devices running older software in the form of Android 5.0.2 whereas the Xperia is running 5.1.1.
So what is it like to use this as a phone? To be honest, I was pretty pleased with it I had very few issues with calls being dropped and the call handling was very easy to use (this is to be expected as it is virtually stock Android). I was able to get signal in locations that I wasn't able to get with other phones. It also picked up my voice clearly when being used handsfree, which was nice to see as I find that can be a problems with some phones. The earpiece speaker is loud and very crisp and the actually speaker volume is pretty good for voice, I would not recommend using this for media playback unless you like tinny music though. It coped with headset of choice perfectly and paired really easily with my Pebble Time. This was a concern as I have had some bad experience's with setting up my Pebble Time with other phone's from Asia.
Software
The OnePlus 2 takes a different approach to is predecessor when it comes to software. The OnePlus One used a CyanogenMod Rom as its software which did make it very popular with the hacking community. It did bring some stability, however this time around OnePlus wanted to make it more aligned with their own vision. The result is Oxygen OS 2. This is actually a really nice UI that has been derived from Android 5.0.2. It has features in it that Google are only just starting to test in Android M preview build's. One of my favourite touches is the ability to have a dark theme in all the menu's it makes it much nicer to look at in bright lighting as the contrast is better for my old eyes. This is something Google actually pulled from the developer preview after the first version, so I am glad to see it here. Another nice touch is if you swipe down from anywhere on the screen that doesn't have an icon, then it will pull down the notification tray.
I've done a small video showing the new Oxygen OS below, so sit back and enjoy while I take you through it.

Here is a gallery of some screen shots from the phone.
Camera
OnePlus talked at great length about the camera on the phone during their VR Launch of the handset. Now it seems that a lot of the things they were mentioning in the launch event were not quite ready for launch. At the time of writing this the Camera UI is very similar to that of the Google one, which is as we are all-too-aware, slightly limited. However even with these limits, the quality of the pictures it output are still very reasonable. Let me put that into context for you. We are not talking about LG G4 standards here, but the pictures are as good as the ones I have been able to get from my Xperia Z3 and my Huawei Mate S. That is by no means a bad thing. Here is a gallery comparing a few pictures from the three phones. I have concentrated on the main areas of camera usage as I see them: Low light, Distance, Selfie and Macro.
Obviously everyones needs are going to be different but this is more than good enough to replace your cheap compact. I actually used it at IFA to capture some of the picture's during the few days I was there with no issues to speak of. It's shot to shot time is fast and the focusing is quick with the addition of the laser auto focus helping quite a bit. Video recording is taken care of in 720p, 1080p and 4K, meaning that you are future-proofed for the time when you can afford to have a 4K TV without having to re-mortgage your house!
The camera is due a major update when Oxygen OS v 2.1 hits and this rolling out as I write this review. It will add manual controls with love previews. Very like what can be seen on the Lumia range.
Conclusion
Let's get the glaringly obvious thing out of the way. First, that this is a flagship spec phone for less than flagship money. Is it going to complete with the newcomers announced by the big boys around IFA time? Yes and no. To put this phone up against things like the Samsung S6+, Sony Xperia Z5 Premium and the iPhone 6S Plus is not really a fair comparison. However that is exactly what will happen to those who are looking to own this phone. There is one simple reason for this, and that is price. I have deliberately not pitched it against these devices as that would be silly. However I have put it up against a six month old Xperia which you can now buy for around £350, and the new Huawei Mate S which is £450 (on pre-order).
Against these devices, the OnePlus 2 is a much more interesting proposal as it has them beaten in terms of raw specs in most areas, and all for a bank friendly price. It also looks like this will be a competitor to the other Chinese upstarts such as Xiaomi and Honor, with the big difference being limited availability and some support out from China.
For me though, I haven't really fallen for this phone as it has missing something. I am not sure what, as I cant quite place my finger on it. It could be the lack of NFC, or the issues with the fingerprint reader. There is just something not quite right.
I think if you are looking for pure bang for your buck with very few compromises, you can't go wrong with the OnePlus 2. The only gotcha here is trying to get hold of one.
* This is true of the worldwide version bought via invite. If you buy as a grey import, check your network frequencies carefully.
OnePlus 2 - Review
A good phone for the price with some relatively small compromises. it just seems to be missing a certain something that would make if great.