Running out of power on our expensive smartphones is something that we have sadly grown to expect. Battery packs and mobile charges do help this situation, but you have to remember to keep charging THEM too.
This is a very different sort of battery pack. It'll will charge from your wall charger as they all do, but this will also let you top up from the power of the sun.
It is made from a black soft rubber which makes it solid and drop-friendly. There's just one control button as well, which means even I can use it.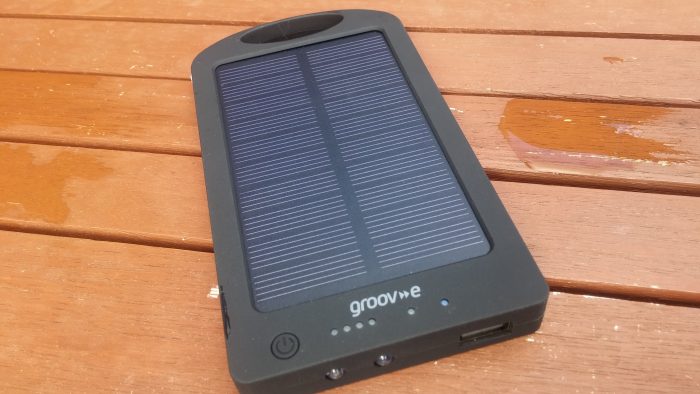 Up front, a few LED's. The blue one on the right indicates that the solar panel is receiving some light. The light next to that shows whether it's putting out 1A or 2A. Then, via four LED's you can see just how charged that 3600mAh battery is.

The unit comes pre-charged, and there's a pop-out microUSB cable on the side which tucks neatly into the groove in the casing. It's matched by a similar cable on the other side, but this one is to put charge into the battery itself. Sure, the solar panel will do that too, but you can use this like any ordinary mobile charger and top up the battery from any USB port.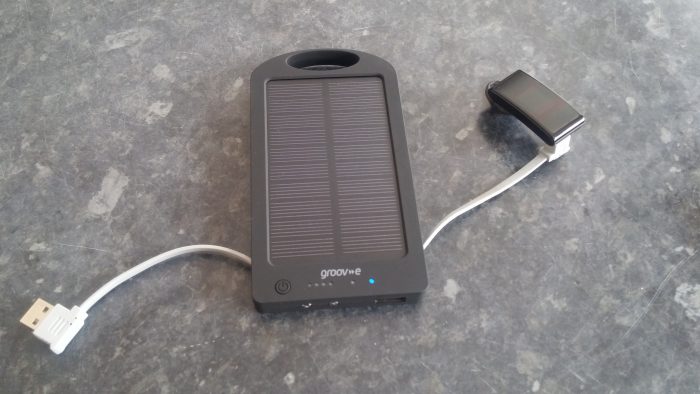 This is where that standard USB cable comes into play and that too pops out from the groove on the other side. It takes around 4 hours to charge from the mains, but you can use that solar panel. They tell me that, in direct sunlight, it takes a slightly longer 35 hours to do this.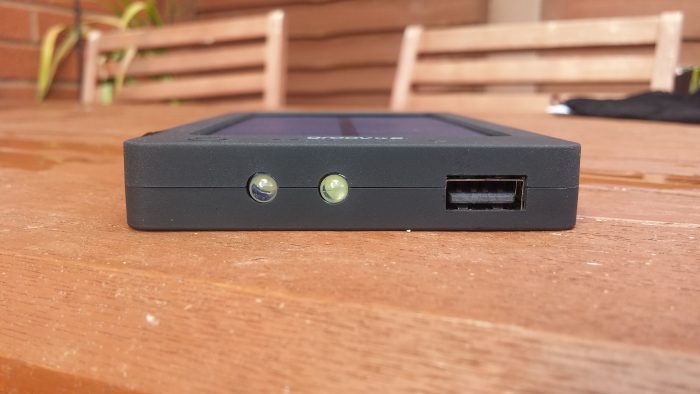 Got a device that doesn't have a microUSB port? No problems. There's a set of adaptors which plug into a standard USB port in the bottom, or you can use your own cable if you wish. There's a miniUSB, Nokia cable and another microUSB. This port is a 2A output but it's not waterproofed by a cover, so if you intend on hanging this device from a bag or belt, be wary of rainstorms.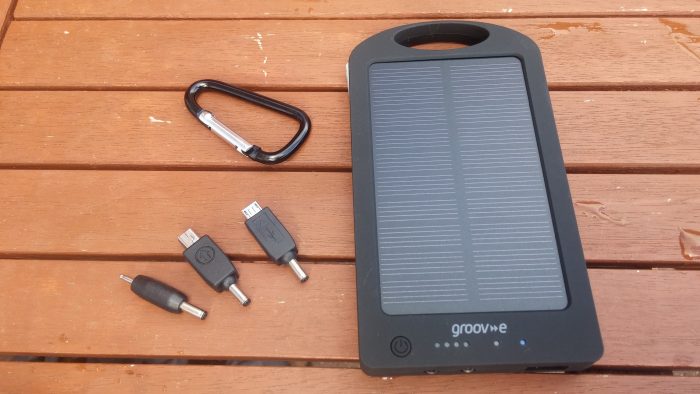 To start charging, you press the one and only button on the front. This also fires up the battery indicator LED's so that you can see just how much charge remains. If one LED is flashing then there's less than 15%. If that one isn't flashing, then it's between 16%-25%. Two LED's is 26%-50%, three is 51%-75% and four is 76%-100%.
Here's our regular video overview so that you can get a better look at the device in action. Note the LED light, which also flashes, at the bottom of the unit. Good for finding your way around a dark campsite.
The Groov-e charger definitely looks the part, and you can be quite rough with the thing due to the tough rubberised exterior. However I did struggle somewhat with the whole solar charging thing. I don't doubt the claims that 35 hours of direct sunlight will indeed charge this battery, but having left this on the dashboard of my car for a good couple of days in fairly overcast weather it only increased by one LED – going from flat to around 26% at best. Using solar alone will work best if you're going somewhere hot. If you've got your trekking poles out for a hike across a rather overcast Britain then it's going to charge very, very slowly.
You still really need to be near an electrical socket at some point if you're going to need it for any great length of time.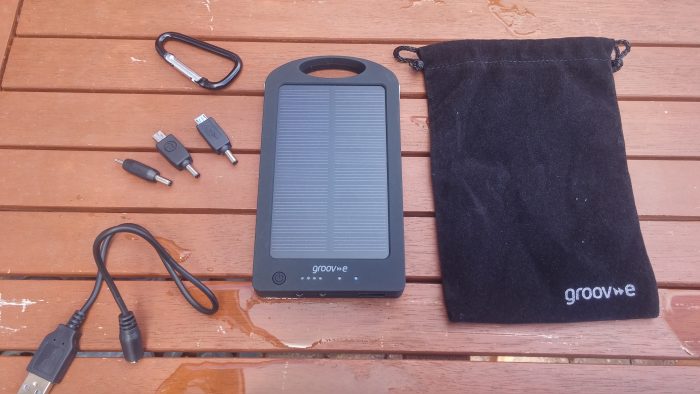 Overall
A well-built and very useful portable charger, but one where the solar panel will only partially help you unless you're going somewhere with quite a bit of sunlight. A solar charge alone will perhaps not top up the battery fully unless you're out trekking for an entire week in overcast weather and you're not using it at all. I also had problems with the fact that the button on the front had to be pressed to begin charging. Sometimes I'd forget to do this and sometimes I'd find that it had stopped charging as I'd somehow accidentally pressed it again.
That said, for a little over £25 on Amazon it's not that much more expensive than standard portable chargers, so why not add on the solar panel and leave it in your car as a just-in case battery? It can't hurt.
Build quality - 8.7
Value for money - 8.8
Solar panel - 7.6
8.4
Groov-e Portable Solar Charger Review
Well put-together, a good design and several extras. Sadly the solar panel, unless you're in the Caribbean, is going to take a very long time to charge this battery