Asus were at IFA, and they asked me to head over and see them to see what they had on their booth this year. I had high hopes that I would see the long awaited Asus Zenfone Zoom alongside some other products. I was not expecting to see the "dropped" T90 Chi at all but would be pleasantly surprised if I did.
After negotiating various trams and underground stations, I arrived at the Asus media centre. It was in a rather swanky looking venue and I was provided much needed caffeine upon entrance and told I could stay as long as I liked.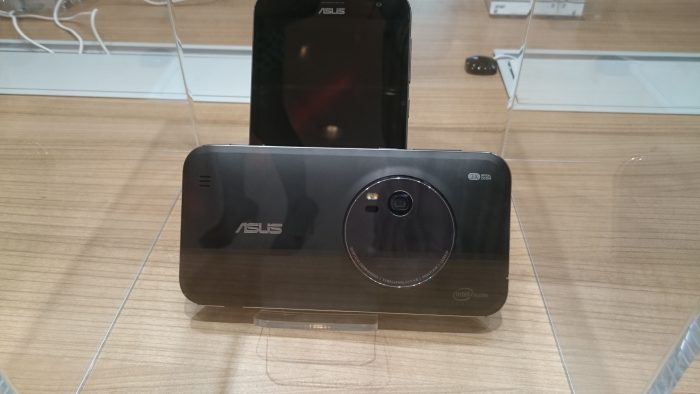 After some light refreshment I made a bee-line toward the phones on display, and I found various different devices that were all derivations of the Zenfone2. Now whist these were pretty cool it was not what I was here to see. I then spotted it out of the corner of my eye. It was here, but it was hiding under some perspex again. AAAARRRRGGGHHHH.
I took some pictures through the perspex and then I asked if I could hold the device. I was, but I couldn't turn it on as the software was not complete. I was glad I asked as when you are holding this you can feel the quality of the fit and finish that Asus have worked into the phone.
Here are some the specifications:
2.3GHz GHz 64-Bit Intel Atom Z3580 Quad Core Processor
2GB/4GB LPDDR3 RAM
5.5 inch 1080p Display
Dual Micro SIM
13MP Camera with 3X Optical Zoom Laser Auto-Focus and Dual-Color Real Tone Flash
5MP Front Camera
GPRS, 3G, 4G
WiFi 802.11ac
3000mAh Battery
158.9×78.84×11.95 mm
185 g
Android 5.0 at launch
The design of the phone is lovely and the feel of that camera: they have done some really good work to get the module to sit so low to the back of the phone, especially given the 3x optical zoom that's onboard. Here are some pictures of the device free from its perspex box.
So that was the Zenfone Zoom, but that was not all they were showcasing this year. Asus also used IFA as the springboard for their new ZenPad range which has come into its own in the past few years. Now I did not get much time with the Zenpads, but they are very nice. They come in 3 different sizes – the Zenpad 7, Zenpad 8 and Zenpad 10. They also come with some pretty cool cases and accessories for a very low and reasonable price. Here are some more pics of them:
So that wraps up my booth tour at Asus, and I can only look forward to seeing what they have in store with regard to the Zenfone Zoom when it comes to market later this year. Alas, I didn't see the Chi T90, which gives me no hope of ever seeing this device come to fruition.