Acer didn't just have phones to release at the their event during IFA, they also unveiled the Predator Gaming Tablet…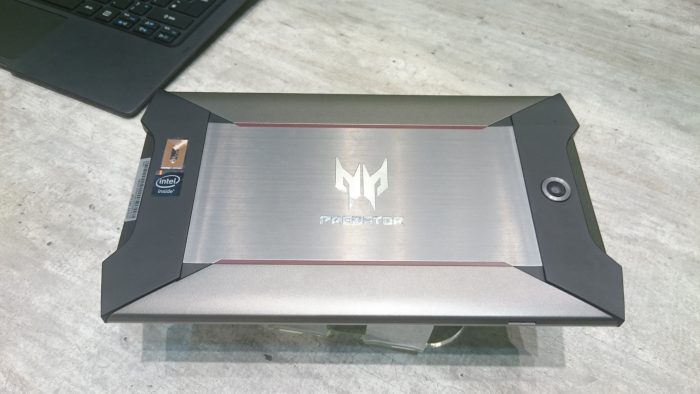 This is a very unique proposition. It is a tablet that has been designed primarily for gaming. It runs Android 5.1 on an Intel Atom X7 and is supported by 4GB of RAM with 16GB storage. The screen is only a 1080p resolution but this was chosen in order to allow decent framerates during gaming. This is something that is important for gamers.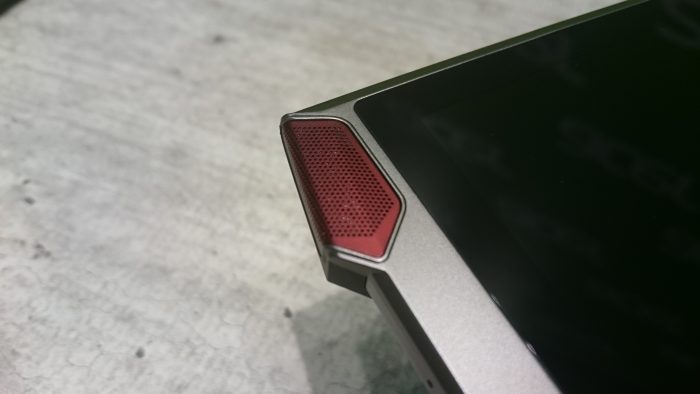 The tablet also has 4 speakers – one on each corner. Although they are powerful, the sound is not the greatest from them. It becomes disorted at high volume and, as they dont have much physical depth, they vibrate the whole device. This can be irritating for the user. I had a brief play with the device to test the sound and I did find it slightly annoying, but this problem is negated as soon as you plug in some headphones.
The other gaming feature on here is haptic feedback. It is also very similar to the force feedback you get on console controllers. It will provide vibration to correspond to what is going on in the game.
Here is a video showing you aroud the device with one of the Acer team..
Here are the specs for the tablet…
SoC Intel Atom x7
Storage Up to 64 GB eMMC
Display 8″ 1920×1200 IPS LCD with enhanced touch
Speakers 4 Front Facing with Virtual Surround Sound
OS Android 5.1
Price £249.99
Availability 06-Nov
Want more pictures? Here you go ..
I am looking forward to getting some more time with this device and I have asked for a review unit so we can show it to you in more detail. I have also asked to get more info on the other gaming-focused device that was spoken about but was not shown.
That device being the Predator 6 Smartphone….
[showpress]
Acer Introduces its First Dedicated Gaming Tablet with the Powerful Predator 8
Editors' Summary
· Game play comes to life with Predator Quadio, a combination of four front-facing speakers and virtual surround sound, while tactile feedback is delivered through Predator TacSense
· Exceptionally realistic visuals are delivered on the 8-inch FHD display (1920 x 1200) featuring Predator ColourBlast technology.
· Immersive and graphically rich gaming is powered by the newest Intel® Atom™ x7 processor, Android 5.1, and 2×2 MIMO wireless technology for blazing-fast Internet connections
· Extremely thin and lightweight, the dark grey brushed aluminium design is just 8.7mm thin and 350 grams light
BERLIN, GERMANY (September 2, 2015) Today Acer announced its new Predator 8 GT-810 gaming tablet, one of several new gaming devices in Acer's high-octane Predator gaming series. The sleek brushed aluminium GT-810 is powered by the newest Intel® Atom™ x7 processor, Android 5.1 and the latest 2×2 MIMO wireless technology, taking portable gaming to a new level of fun and immersion.
Making games, movies and videos thrilling and immersive, the Predator 8 GT 810 includes a high-quality FHD display (1920 x 1200) for crystal clear viewing and incredible graphics, while Predator Quadio, four array front-facing speakers with virtual surround sound and red stainless steel mesh, deliver exceptionally realistic stereo audio. In addition, Predator TacSense makes gaming more enjoyable and memorable, enhancing game play with tactile feedback[3].
Thin and lightweight, the Predator 8 is just 8.7mm thin (11⁄32 inches) and weighs only 350 grams (12.35 ounces), making it highly portable and easy to hold with either one or two hands. In addition, soft texturized panels on the back make it comfortable to hold and carry.
High-Octane Performance Keeps it Real
Gamers will appreciate the raw power found on the Predator 8. The newest generation Intel Atom x7-z8700 Processor with Intel HD Graphics (Gen 8 –LP) deliver extraordinary graphics and performance, while 802.11a/b/g/n wireless with 2×2 MIMO supports fast connection speeds, processing data at up to twice the speed[4] of traditional 1×1 solutions. Predator TacSense provides tactile feedback which makes the gaming experience more engaging and enjoyable with a real sense of vibration. And with up to 64GB of on-board storage and expansion capabilities via a microSD card of up to 128GB, gamers have room to take their games, videos and music with them wherever they go.
Designed For Gaming
Acer has collaborated with Gameloft since the design stage of the Predator 8 to fine-tune the gaming experience. As a result, Gameloft's Asphalt 8 racing game works seamlessly with Predator TacSense to bring a realistic and immersive experience for gamers. The Predator 8 GT 810 will be preloaded[5] with Asphalt 8 and 320,000 game credits (approximately US$50 value).
Top-Notch Visuals and Audio Engage the Senses
In addition to the tablet's 8-inch full high-definition display (1920 x 1200), it uses Zero Air Gap and IPS technology to deliver superior colour saturation, making details easily seen from all angles, and movies crisp and clear. Taking the visuals up a notch even further, Predator ColourBlast technology brings high-quality colour from professional monitors to the tablet, supporting 100% of the NTSC colour gamut.
Extraordinarily powerful sound is delivered via Predator Quadio — four front-facing speakers that deliver virtual surround sound and amazingly realistic and dynamic audio and accurate tones that are never distorted. Quadio's special algorithm distributes sound intelligently between each of the speakers for maximum clarity and volume, resulting in an audio experience that's perfect for personal enjoyment or can easily fill a room for larger gatherings or social events. In addition, Dolby® Audio™ greatly enhances the overall sound quality by intelligently optimizing the audio for various situations — streaming a movie or playing music, connected to external speakers or listening through headphones, it delivers clear dialogue, clean highs, solid midrange tones and powerful bass.
Lastly, Predator MediaMaster is a unique Acer application that allows the audio and video set up to be customized for standard, album, movie and game use. For example, in game mode the radius of the surround sound, colour saturation, and global contrast are increased, while in movie mode the bass is set to median level and the dark levels of the display are enhanced for more detail.
Highly Precise Touchscreen plays well with Fingertip, Pencil or Stylus
Providing one of the best touch experiences available, the Predator 8 features Predator Precision Plus technology, which incorporates touch sensors that are smaller and more densely arranged than the industry standard. With a higher density of touch sensors, greater control accuracy can be achieved, which is especially beneficial in FPS games. Also ideal for sketching or writing, the tablet can be used with any 2mm fine tip writing implement such as a graphite pencil or an optional Acer Accurate Stylus.
Accessories
Acer will offer a number of optional accessories for its Predator 8 gaming tablet, including covers, carrying cases, a stylus, travel adapter, SlimPort adapter dongle and gaming headset.
Pricing and Availability
The Acer Predator 8 GT-810 will be available in the UK in mid-October with prices starting at £249.-.
Exact specifications, prices, and availability will vary by region. To find out about availability, product specifications and prices in specific markets, please contact your nearest Acer office or retailer via www.acer.com.
The new products were unveiled today at the [email protected] press event at IFA Berlin in Germany, where the company announced its latest devices and solutions for gamers and consumers for the holiday season. Visit Acer's booth at IFA 2015 in Messe Berlin (Hall 12/101) or learn about the new product range on acer.com/nextatacer.
About Acer
Established in 1976, Acer is a hardware + software + services company dedicated to the research, design, marketing, sale, and support of innovative products that enhance people's lives. Acer's product offerings include PCs, displays, projectors, servers, tablets, smartphones, and wearables. The company is also developing cloud solutions to bring together the Internet of Things. Acer employs 7,000 people and ranks No. 4 for total PCs globally (IDC 2014). Revenues for 2014 reached US$10.39 billion. Please visit www.acer.com for more information.
© 2015 Acer Inc. All rights reserved. Acer and the Acer logo are registered trademarks of Acer Inc. Other trademarks, registered trademarks, and/or service marks, indicated or otherwise, are the property of their respective owners.
[/showpress]