I am sitting writing this whilst waiting for my flight to board to go out to Berlin and I thought I would update you on what kit I am going to be using to bring you coverage of the event's over the next few days.
Here is an overview of my Kit that I will be taking.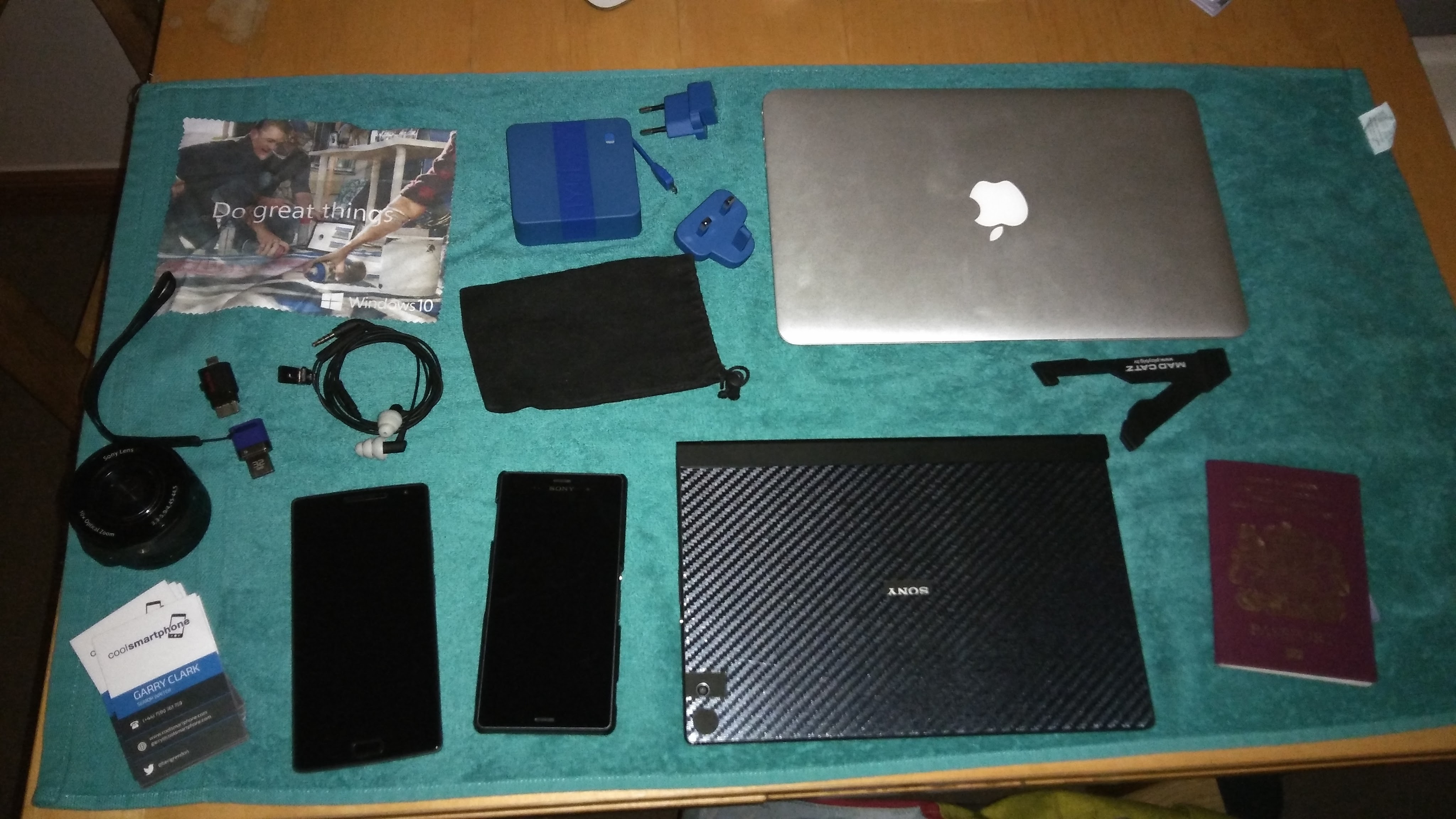 Computers
I will be using a Macbook Air and my Xperia Z4 Tablet as my computers for the event. My main workhorse will be the Xperia Z4 and for doing video work I will be using the Macbook as that requires some more heavy lifting. The Z4 Tablet is an LTE version and will be used with a local data sim to minimise my roaming charges.
Camera
For my camera I will be using my trusty Xperia Z3 that i used on my last international soujourn to Barcelona. It is more than good enough for getting the picture I need. If I need more performance then I have the QX10 add on lense which also works with my Z4 tablet. This has an optical zoom option allowing my get close in for macro shots.
Phones
As I have mentioned I will be taking my Xperia Z3 as my main phone and this will be my main way of keeping in touch with the team back home. I find it ticks all the boxes for me and it just last's and last's. This time around I am also taking a backup phone with my in the form of the infamous OnePlus Two. Yes I was able to get hold of one and this will be more than suitable if I find I need a second device but will also be useful as a comparison tool.
Battery packs
I have 3 of these now from Samsung, Tylt and Enerplex. these have become invaluable to me as a traveller and i carry one on me pretty much all the time. It is also handy that the only thing that wont charge off them is my Macbook Air, but as I mentioned earlier that is my back up machine so will be used where plug's are close by.
Smartwatch
The Pebble Time will be accompying me to Berlin as I just love this thing feel free to check out my review that I wrote recently for this.
Other
Cleaning cloths, Micro USb to USb flash drive of varying sizes,
Thats it guys that is what I will be suing to bring you all the stories from IFA 2015. Now to get on the flight. Where my plane at????