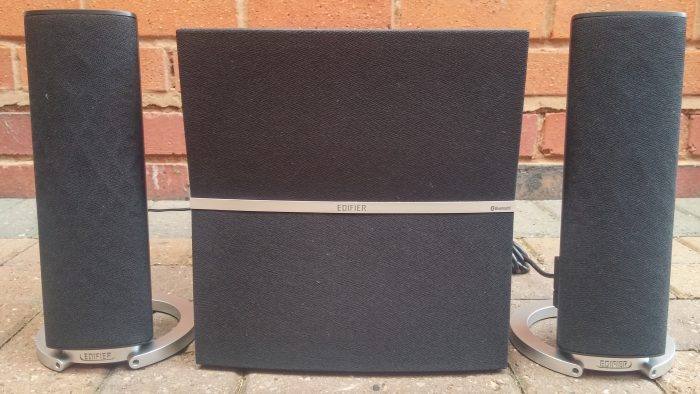 This aren't your usual Bluetooth speakers. You can't carry them around in your pocket for a starter – they're just too big. The box alone weighs in at 7KG when it arrives, so these are definitely home speakers which will take up space on a table, cupboard or cabinet.
This is the Edifier M3280BT, a rather meaty device which will, let me tell you, rattle your windows.
This has a 6.5-inch bass driver which kicks out a massive 20 watts RMS. Either side, as you can see above, there's two satellite speakers which pump out 8 watts RMS. The speakers don't just do Bluetooth, there's also dual RCA inputs too.
The sub-woofer in the centre is around 23cm x 24cm x 29 cm and the satellite speakers are 12cm x 25cm x 12cm.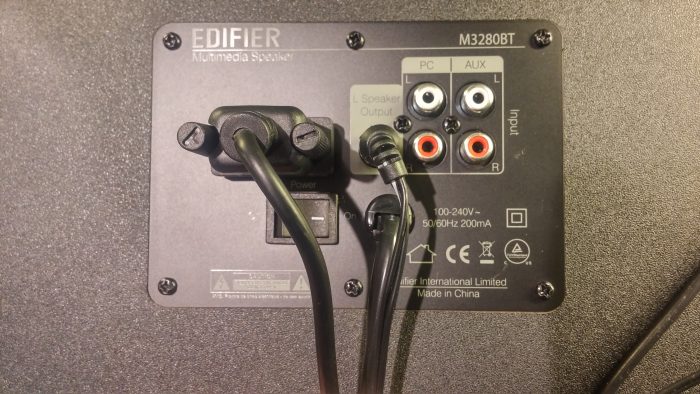 If you don't intend on using the RCA ports, I'll show you how to get setup. First, this is powered from the mains, and there's a pretty long power lead which goes directly into the subwoofer. There's then a VGA-style connector which hooks up the subwoofer to the right satellite speaker. This right speaker also has a number of controls – volume up / down, mute and two knobs at the back for bass and treble. You can also plug in your headphones if you wish.

After plugging in the right satellite speaker I plugged in the left one, which is in another RCA port. To get my phone connected, I merely turned on the speaker using the power switch at the back of the subwoofer. A red LED will show on the right speaker and, when you've got your phone set to discoverable and you're scanning for Bluetooth. Once you connect, you'll see that little red LED turn blue. Once you've done that you can simply play music and it'll come out of the rather ample speaker system.
Then the magic happens. You can probably tell by the size and the presence of these speakers that it's going to be loud, but you'll find the sound filling your house instead of just your home. Loud, yet crisp and a great balance between bass and the higher notes. Very well done it sounded very impressive.
The rubber volume buttons (and mute) weren't overly used during my testing and I'd tend to adjust the volume on my phone. You're either going to stand over the other side of the room and control the music and sound from there, or you'll leave your phone and perhaps adjust the volume on the speakers as you walk past. Either way, there was no remote control with the speaker.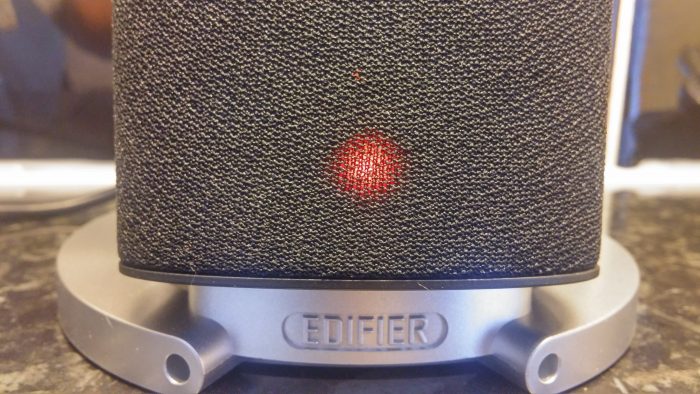 Crank the speakers up and, believe me, you'll be annoying most of the neighbourhood. There's no distortion even at high volume and it was easy to switch inputs.
The design lends itself to a dining room, sitting room or office and you can position the two satellite speakers much further away from the main subwoofer. I've only put them fairly close together here so that I can fit them into the lens.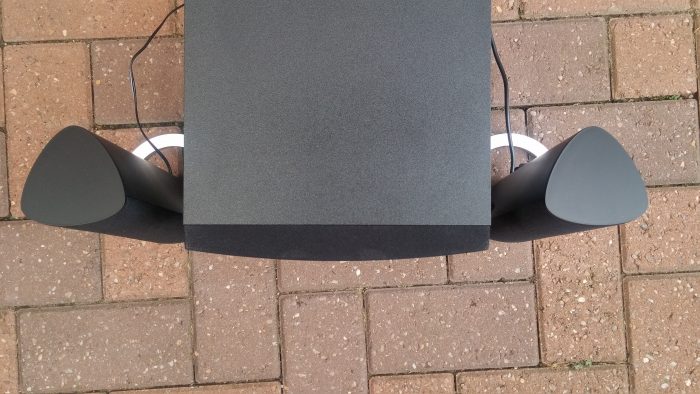 Overall
Bluetooth speakers are available everywhere. They're mostly the portable kind with batteries powering them. This Edifier M3280BT is definitely not one of them, and easily replaces a top-end HiFi unit, letting you output sound from your TV, set-top box, CD player and smartphone plus much more. The lack of a remote control could be an issue for those hooking this up to devices which aren't mobile or have a volume control of their own, but the solid and slick design plus the ease of use and the excellent sound quality more than made up for that.
Edifier M3280BT Home Audio Bluetooth Speakers - Review
Build quality - 9.1
Sound - 8.9
Setup and inputs - 9.3
9.1
A big subwoofer and two satellite speakers with multiple inputs that'll easily flood your home with crisp and wholesome sound.