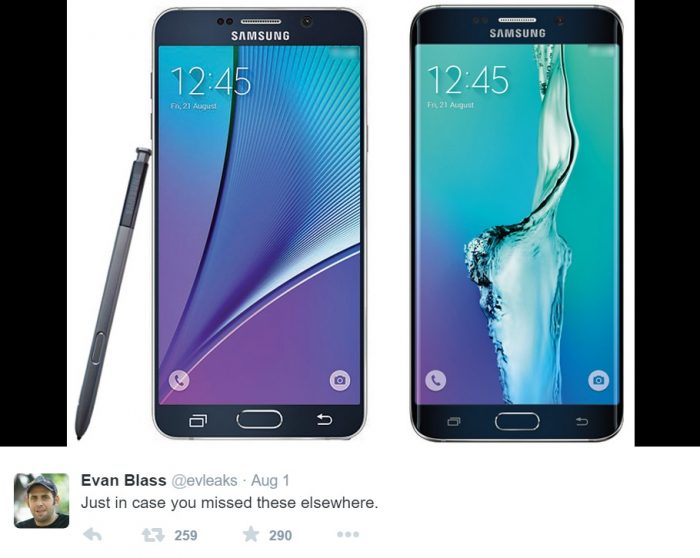 Seeing as the whole point of the Samsung Unpacked event is to announce their new Autumn line up, there hasn't been anything official announced yet. We know there's going to be a new Galaxy Note, because there's always a new Galaxy Note at this time. But there have been enough peeks behind the curtain to let us make certain guesses as to what that Note is going to look like and what to expect.
First, let's get what not to expect out of the way; namely both an external microSD slot and a removable battery. Fear not, along with fast charging and possibly wireless charging from both the PMA and Qi, those clever chaps from Samsung will be packing a 3000mAh battery to get you through the day.
What to expect? Well, there have been a lot of conversation, leaks, and images which make the New Note 5 to be a blown-up Galaxy S6, with a screen density of 515ppi. They'll ship with 4GB of RAM as standard. The S-Pen should be spring loaded to ensure that both pen and phone are flush against each other.

Along with the Note, images of what is pithily named the Galaxy S6 Edge+. This will probably come as a surprise, but it's uncannily similar to an S6 Edge.. but bigger. There's also been talk of a keyboard attachment for the GSSEP (Galaxy S6 Edge Plus) which may retail somewhere in the 60 quid region.
Again, the GSSEP will have a 5.7 inch, QHD, Super AMOLED screen, and in all likelihood Samsung will be putting a 64 bit octa-core Exynos processor (possibly the 7420) in both the Note 5 and the GSSEP. Both devices are likely to have the same camera specs, which are touted to be a 16Mpx front snapper, and a 5mpx selfie-cam.
With no facility for additional storage, memory for both phones are probably going to start at 32GB. 64GB will probably be the step up,considering the higher tier OnePlus range came with this out of the box, but it would be wonderful to have a top level model of 128GB for those data hungry power users.
Unsurprisingly, there's a lot of talk about a new Samsung tablet. With the frequency and irregularity with which they normally come out, I wouldn't bet against it.
When can we expect to see one available in our hands? Current accidental leakage is putting it in either the first week of September or 21 August. Not long to go, either for the announcement, or the chance to get the phone in our mitts.