Yes, I've got me another Bluetooth speaker. It's fair to say I have been sent quite a number of these recently but this, out of the box, does look a rather polished and classy affair.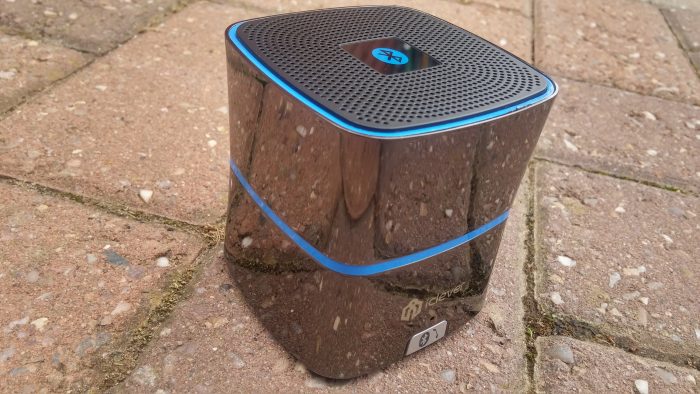 That shiny mirrored effect around the edge is actually a zinc alloy shell with a high gloss plating. Surprisingly it didn't actually get much fingerprint action either.
The pairing process is a fairly easy one – simply turning it on triggers the pairing process and then I just connected with the device called "IC-BTS02". It'll save energy by turning off Bluetooth after 15 minutes of inactivity.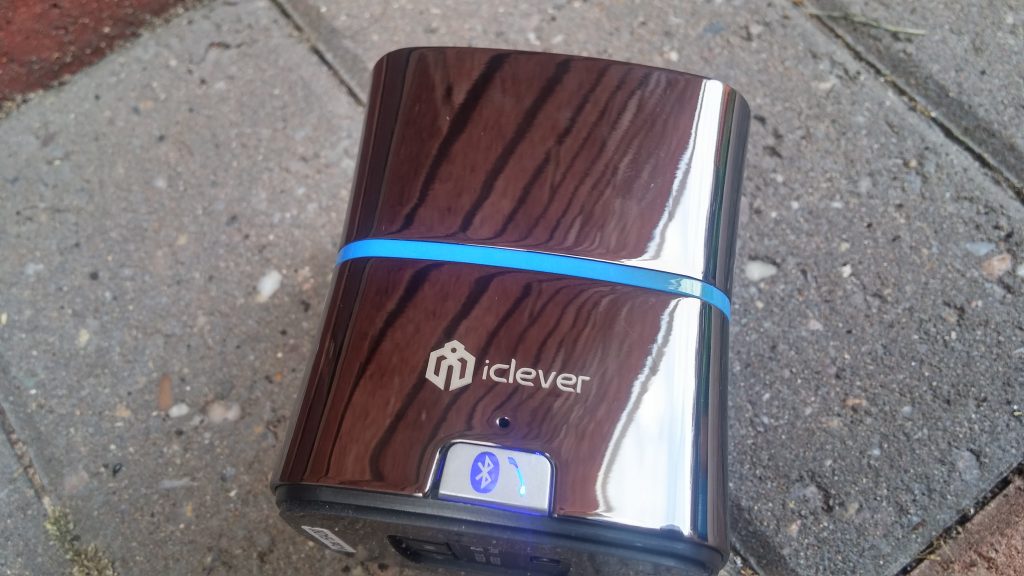 Up front, a silver button which lets you make and receive calls. You can also see what's going on with the aid of the LED – a flashing blue LED means that it's searching for a Bluetooth connection, a steady blue LED means it's connected and a red one means you're running low on battery. There's a microphone just above that button so you can conduct calls too, meaning you can use this as a speakerphone. According to the people at iClever there's a 2-foot "pick up" so you don't need to be right next to it either.
Oh, and the Bluetooth connection is properly strong – I got quite some distance away from this with my phone before the connection started to drop off.
Press and hold the front button to disconnect Bluetooth, answer a call with a short 1 second press or reject a call with a 3 second press.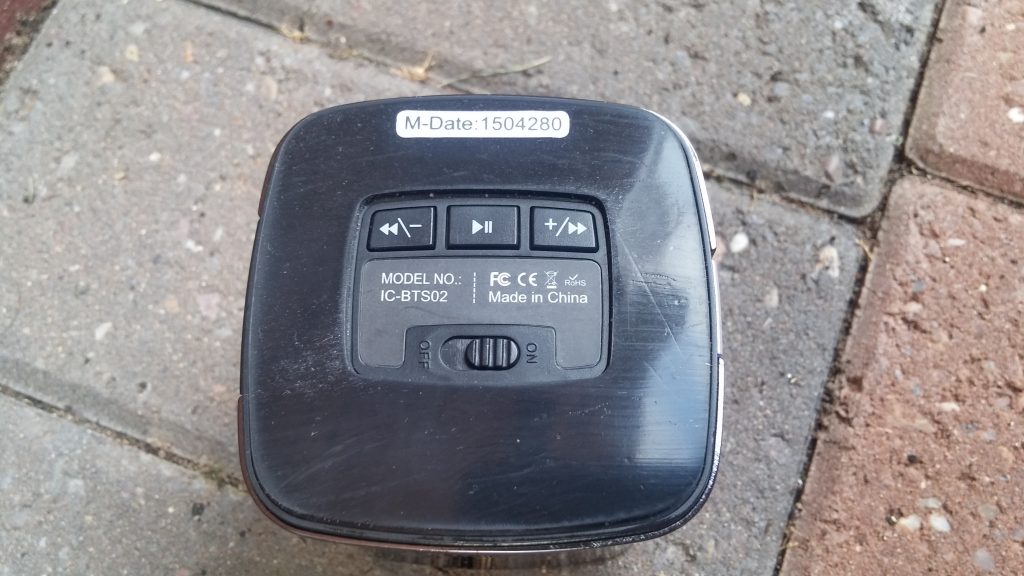 The first issue I thought I'd have was with the button placement. Having the audio controls at the bottom, along with the track / skip buttons, seemed a bit mad. I found quickly that I'd just turn it on via the switch at the bottom, ram the volume up to full and then use the volume on my phone as I couldn't be fussed having to faff around turning the speaker over every time I wanted to adjust the volume or skip a track. To be honest, in reality, I think most people will be doing the majority of their music control from their tablet or smartphone anyway.
If you do want to control tracks with the speaker, pressing play/pause will do just that, whilst a short-press on the previous track button will go back a track and a long press will turn the volume down. Likewise, a short press on the next track button will do that but a long press will increase the volume.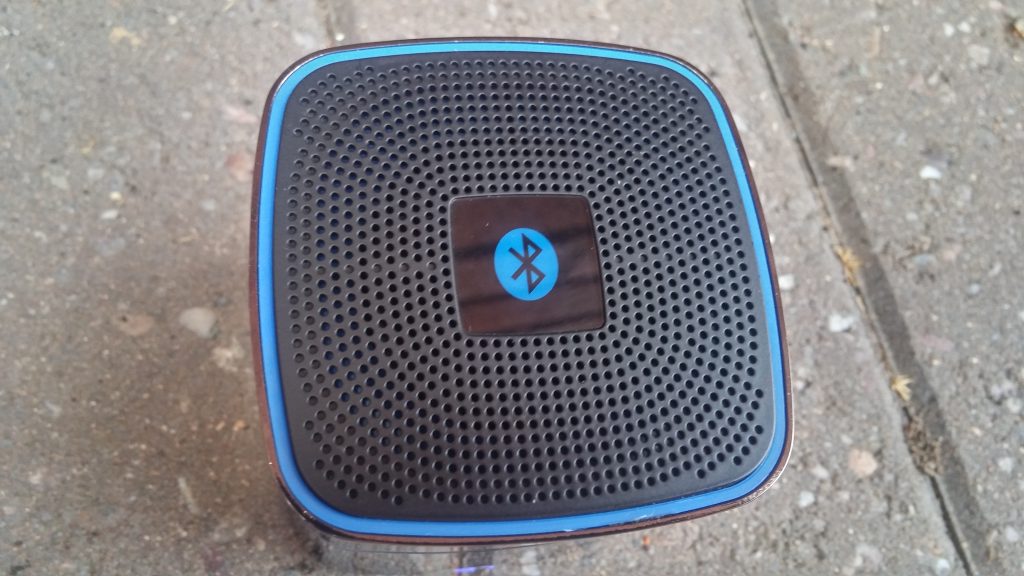 The speaker has a certain weight to it and is about same width have a can of Coke. It's around 240g and has a non-slip rubber bottom so you can place it onto a table without it bouncing off.
The top of the unit houses the speaker itself and is perforated with the Bluetooth logo in centre. The sound itself is a little hollow and it's not loud enough to upset the neighbours. This is definitely a decent sound for filling your kitchen, a hotel room or a caravan, but it's not going to get your floorboards rattling.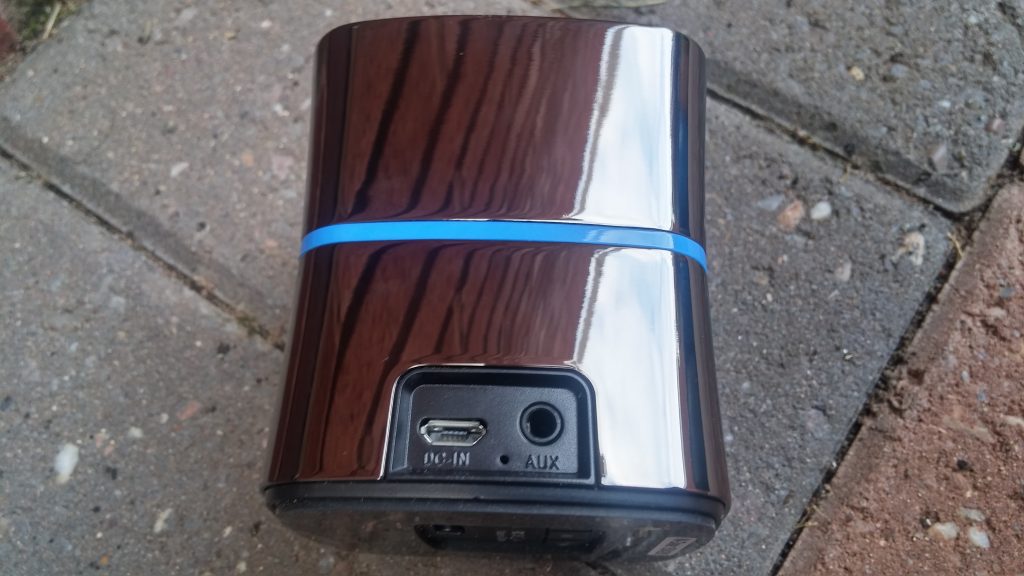 On the back side of the speaker is a microUSB port and an audio-in port should you not have a Bluetooth device handy. The supplied cable in the box means that you can plug in your MP3 player or even a radio and listen that way. There's also a supplied microUSB cable for charging the device.
Overall
A nice design, a fairly decent 5W output, no distortion even at loud volumes and a 500mAh battery which performed well. It's not going to blow your socks off, but then again nothing will that is this big. It's a good-looking device with a definite feeling of quality about it.
At £22.99 with free delivery here on Amazon it's a pretty decent price too. The battery lasts well, the sound quality is good and you can use it as a speakerphone too.
iClever Bluetooth Speaker - Review
Sound - 8.4
Design - 9.2
Build - 9.4
9
Great to look at, a good performer and a solid build. Slightly strange button placement.