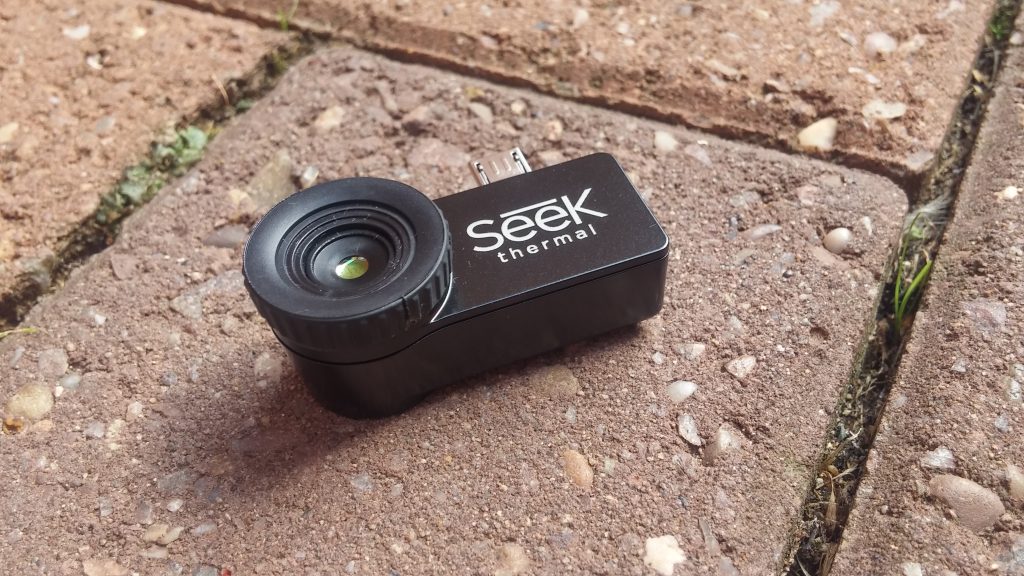 Well now, this is jolly clever isn't it? A little gadget that simply plugs into the bottom of your Android phone or iPhone handset and literally lets you see heat. You've probably seen something similar on a sci-fi movie like Predator. It lets you see what's hot, and what's not. Best of all, it's a lot cheaper than competing kit, and you can carry it around in your pocket without any trouble.
Today we're having a look at the Android version but you can get the iPhone one with the lightning connector. It's a simple enough process to get going and, believe me, if I can get this up and running in minutes – you can too.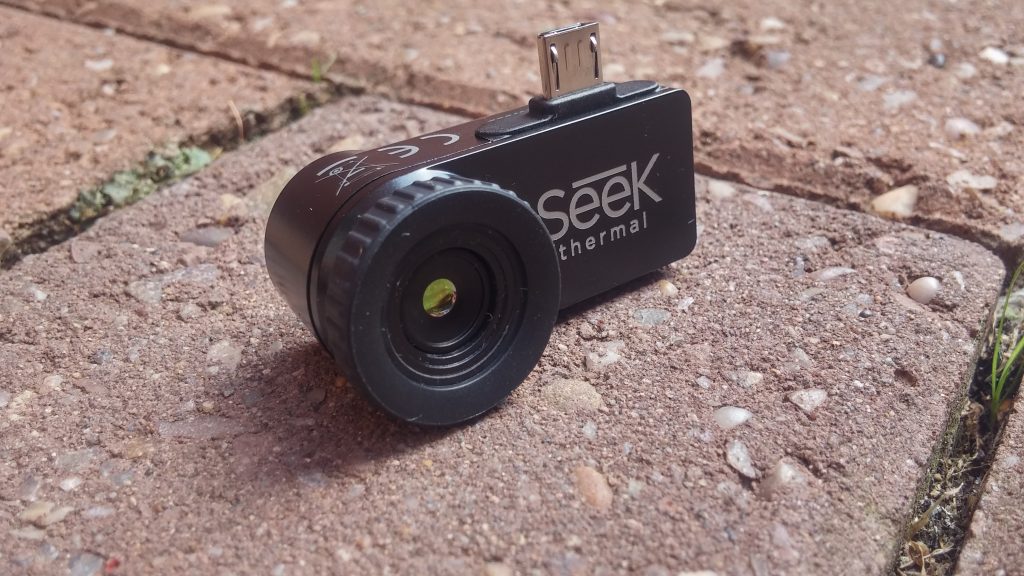 Initially you'll notice the size of the thing. It's properly small. Imagine holding a AA battery – it's about three quarters of the height and puts absolutely no strain on your microUSB / lightning port at all.
Around the main lens is a rotating bezel for adjusting the focus. An adjustable focus is available on the XR model, whereas it's fixed on the normal model. If you intend on just doing work inside your house then you'll probably never need to tweak this, but if your work involves looking at things closer or further away, just tweak this to suit. No problems.
It comes in a plastic carrying case which can hang off your keyring – it really is that small. This will protect the Seek Thermal Camera and also ensure that the lens isn't scratched. It's pretty nice to look at too. No simple camera bag or pouch here – this is a proper fit which gives you a professional edge. A nice little touch if you're running a small / medium sized business and want to look "the part". It's waterproof too, which is nice.

In the dark you can do cool tricks like being able to see people and animals without any light. However there's the professional aspect too, like checking water damage, electrical safety problems and energy inefficiencies such as air leaks or missing insulation.
There is a list of specs here. Some of which I don't fully understand, but it's going to make sense to those of you reading this probably. 🙂
36º Field of View
Resolution: 206 x 156 Array
-40C to 330C Detection
Long Wave Infrared 7.2 – 13 Microns
12 µ Pixel Pitch
Vanadium Oxide Microbolometer
Chalcogenide Lens
Perhaps the easiest way to show you all this is by video, so here goes…
What I should mention at this point is something that you may have picked up on in the video. This won't work with all phones. There's an officially supported list which lists many of the Samsung handsets, "most" LG handsets, all the iPhone 5 / 6's and the latest Motorola devices. The HTC One M9 needs an adapter, and other handsets may or may not work, so do a check. I tried it with an LG G3 and a Samsung Galaxy S5 without issues. You can tell pretty much straight away by trying to download the Android app from Google Play. If it says that your phone isn't supported, it's probably worth getting a new phone.  By the way, here's the iPhone version of the app.
In practice the app will let you do a number of cool things. Plug in the camera and start the app. It'll ask whether the camera should have access to the USB port, just say yes to that and you'll get a helpful screen which guides you around the app. You can easily take pictures, record video and – cleverly using the on-board camera on your phone – you can mix the "live" image with the thermal one. Record that too.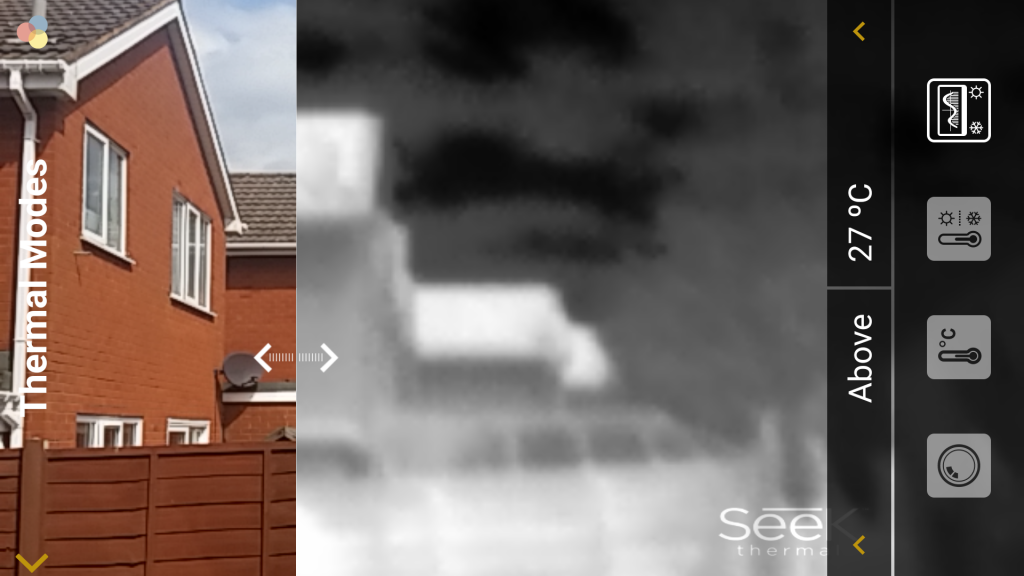 Other parts of the app allow you to see the hottest and coldest spots of an image, or you can set a threshold to see which parts of the image are above or below a certain temperature. All very slickly done. You can adjust the colours, adjust the temperature units, add a date / time watermark, location watermark or change the aspect ratio.
On the default setting you'll notice that, if the temperatures are broadly similar, you'll have a single colour across the image and it won't look too interesting. The addition of the normal image, which can be slid left and right, helps to locate what you're pointing at. Then, when you do find something which is warm, it'll alter all the surrounding colours to a darker blue or a another darker colour so that you can see that the spot you're pointing at is warmer.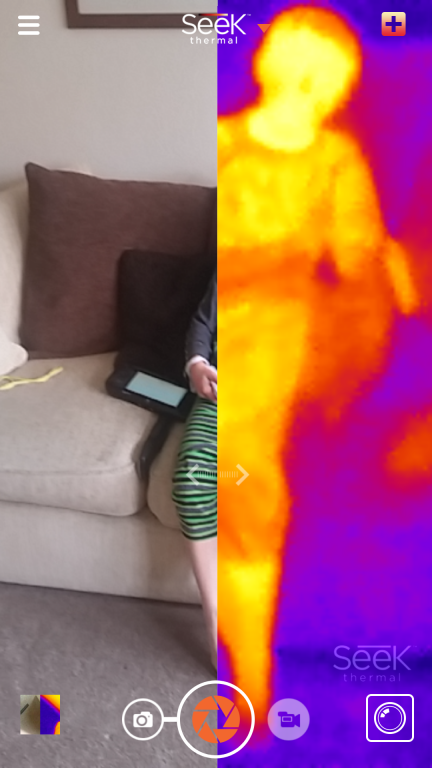 The app also lets you see the average temperature around the centre spot and, oh, don't worry if some of these images don't quite align correctly (the "standard" image and the thermal one together), you can adjust that too. You can also slide across from the "real" image to the "thermal" one, which feels really professional once again. I can imagine showing a potential customer and saying, "Here, I'm looking at your walls here with a standard camera, but if I just swipe right you can see the heat you're losing".
You can also take a picture and then swipe between the real and thermal images after as the app takes and stores both. Nifty.
Notice on the shot below how you can see the warmth of the pavement and the cool concrete drive. There's also small bits of heat coming up to the top of the road and pavement from a pipe beneath.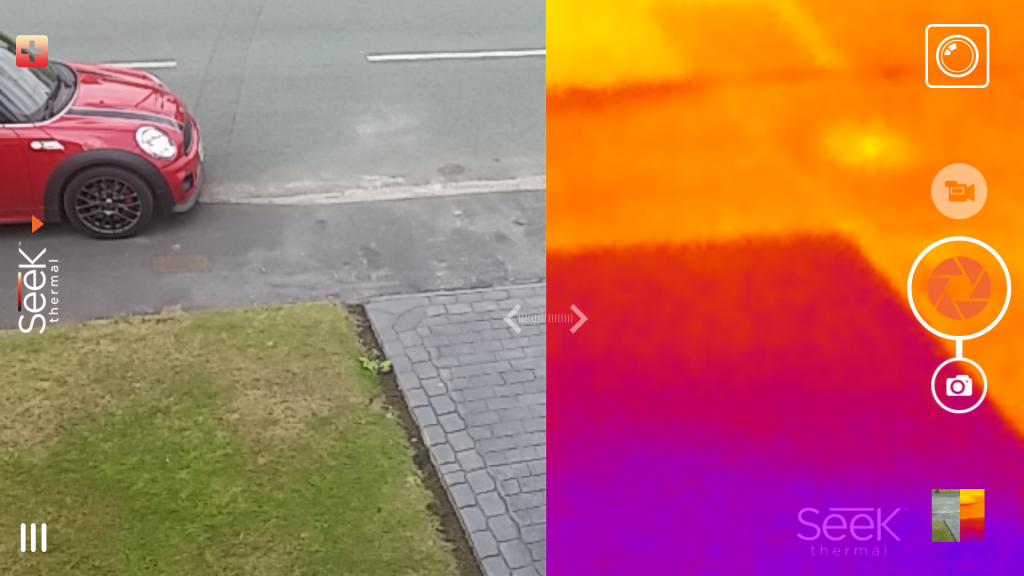 Here's some of the actual shots pulled from Samsung I was using with the app.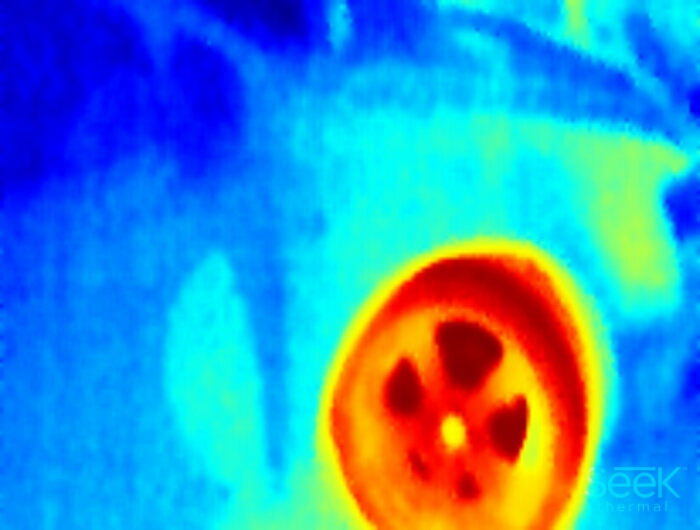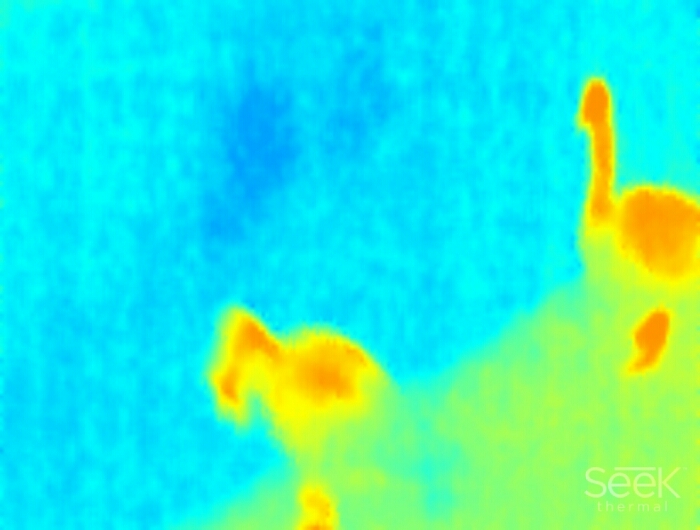 As I mentioned before you can also record video direct from the thermal camera. Currently there's no sound. It would be perhaps good if they could pick up audio from the on-board phone mic, but we'll see if that'll happen going forward. Here's some of the video I filmed..
Also a very minor point of concern (for me at least) was the fact that there was no microUSB pass-thru, so you have to make sure that your phone isn't going flat before starting to use this as your microUSB port is occupied. Yes, you could start faffing around with wireless charging but you couldn't really use that at the same time as this camera could you?


Overall
Head to the thermal.com website for more info. If you're looking to get the Seek Thermal Compact or the extended-range "XR" model, have a look at places like Mobile Fun who have them both on sale here in the UK. The iOS and Android one is current £225, with the "XR" model costing £260. Yes, it might seem a lot but believe me, that's WAY cheaper than the alternative products out there. This is a light and well-performing thermal camera attachment with a very capable companion app. The app has a range of very decent features and a good refresh rate, plus the ability to both record and photograph thermal images whilst comparing them to the "real life" shots, was a real bonus. I'm properly impressed by this little wonder.
Seek Thermal Camera Review
Tiny, powerful, quick and with a powerful and easy-to-use companion app. Proper brilliant. A peek into another world via your smartphone.