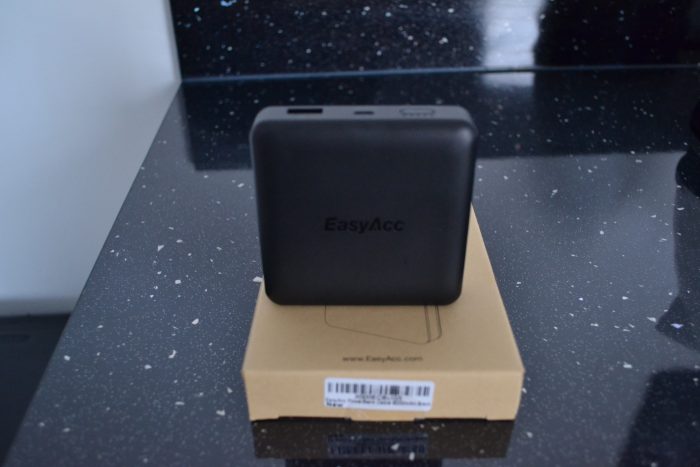 I was recently contacted by EasyAcc and asked if I would like to review their latest powerbank. If you're not sure what a powerbank is, that's simply another name for a chunky battery that you carry around with you. It'll charge your phone or anything else you might have with you that'll accept USB charging.
To be honest I thought, "Meh, not another powerbank" at first, but this one does have nice features.
Good Points:
Built-in charging cable.
Capable of 3.4A output.
Small compact design.
Smart charging facility.
Ability to charge two devices at once.
Bad Points:
A slightly awkward 'twist' holding a phone and battery together.
Micro USB only at the moment.
Design:
Measuring in at a compact 80.4×80.4×21.5 mm and made from a soft-touch plastic, the Powerbank fits nicely in the pocket or your bag. Don't let its diminutive size put you off,, this powerbank packs a punch with its 9000 mAh battery. This meant I could charge my OnePlus One nearly 3 times from flat. Check the size of your smartphone battery – if it's 3000mAh, you'll be able to charge it three times too.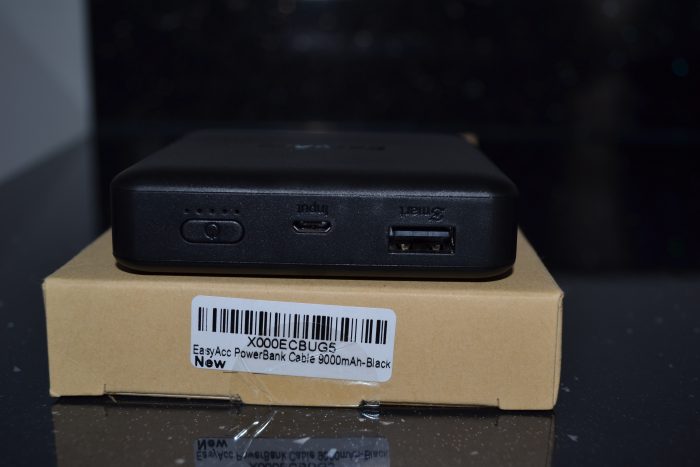 On the top of the device is a simple on/off switch, a micr USB input port, a normal sized USB Smart Port, and 5 blue LED's. Each one representing 20% of the available power capacity, so..
5 lights = 81%-100%
4 lights = 61%-80%
3 lights = 41%-60%
2 lights = 21%-40%
1 light = 5%-20%
1 flashing light = <5%
Wrapped around the edge of the Powerbank is the built-in microUSB charging cable. The plug slides nicely into the Powerbank – and if you didn't know the lead was there, you would be hard pressed to find it.
In Use:
Once opened, I charged up the Powerbank. Obviously, it needs charging from the mains to get going. It came from EasyAcc with about 75% charged so it didn't take long to top it it up. The Powerbank feels nice in the hand. The soft-touch black plastic didn't pick up any fingerprints.
The built-in charging cable is able to charge devices at the rate of 1A, which meant it took a few hours to charge up my One Plus. The normal USB port is able to charge devices at the rate of 2.4A, meaning it took less than 2 hours to charge my One Plus from flat. This is good for more hungry devices like tablets too.
Also, due to the "Smart Technology" on board, the Powerbank is able to fast-charge devices as well. The Powerbank was able to supply charge to my iPad, which is unusual for portable powerbanks.
A couple of drawbacks I did find – because the inbuilt cable is of a flat construction, there is an awkward twist in the cable when holding both the phone and Powerbank together. Also at present there is only a microUSB inbuilt cable, so Apple device users will have to carry their own charging cable as well.
More information on the Powerbank can be found here. The EasyAcc Powerbank is available from Amazon for £15:99. Not a bad price, and this is good for the money.
EasyAcc 9000mha Powerbank
Design - 9.5
Charging time in built cable - 7
Charging time using Smart USB port - 9
Value for money - 8
8.4
A simple but powerful portable charger with built-in cable.