So here we have the Samsung Galaxy S6. Immediately you can just feel the quality oozing out of the handset. It is well built, slim and gorgeous to look at. There's a distinct industrial feel to it, especially around the edges of the phone
This white version from Vodafone is particularly nice to look at, but gone are the days of microSD cards. Instead, this 32GB version means that you'll have to use cloud storage if you require any additional space over the on-board storage.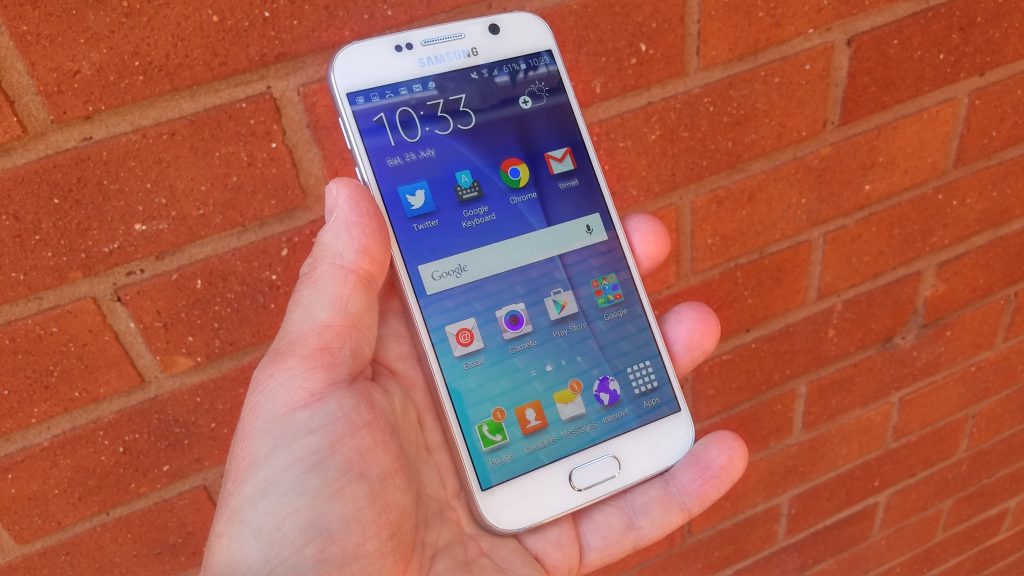 The front and back is beautifully polished glass and interestingly, on this particular model I have the UK address of the Samsung headquarters printed on the rear. It's a small thing, yes, but to see a UK postal address on the rear of a phone is quite something. I really appreciate it, even if it is actually made in China.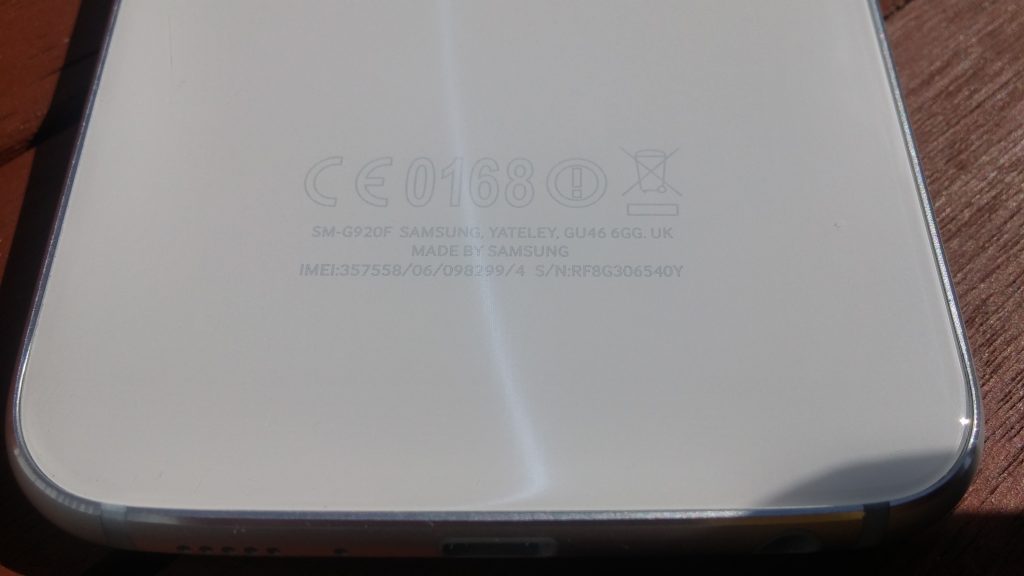 Gone on the plastics and the bendability of the Galaxy S4 and the Galaxy S5. Now we're in a world of glass, metal and a slim, seamless construction. Specs? Oh they're good..
– 5.1″ 1440 x 2560 (577 ppi) screen with Corning Gorilla Glass 4
– Android 5.0.2
– 16 megapixel rear camera with OIS, LED flash
– 5 megapixel front shooter with HDR
– 32GB / 64GB or 128GB storage (model dependant)
– 3GB RAM
– Corning Gorilla Glass 4 back panel
– Fingerprint sensor (PayPal certified) and Samsung Pay (Visa / Mastercard)
– Nano SIM
– Weighing in at 138g, it measures 143.4 x 70.5 x 6.8 mm
– Octa-core CPU (Quad-core 1.5 GHz Cortex-A53 & Quad-core 2.1 GHz Cortex-A57)
– GPU Mali-T760MP8
– Bluetooth 4.1
– WiFi, NGC, 3.5mm audio
– Wireless charging
– OneDrive cloud storage (100 GB)
The S6 is a solid but beautiful construction. Although most people will probably be more attracted to the S6 edge, there is still something to be said about this particular handset. It's got a definite "class" about it and is a more professional and polished appearance than the S5.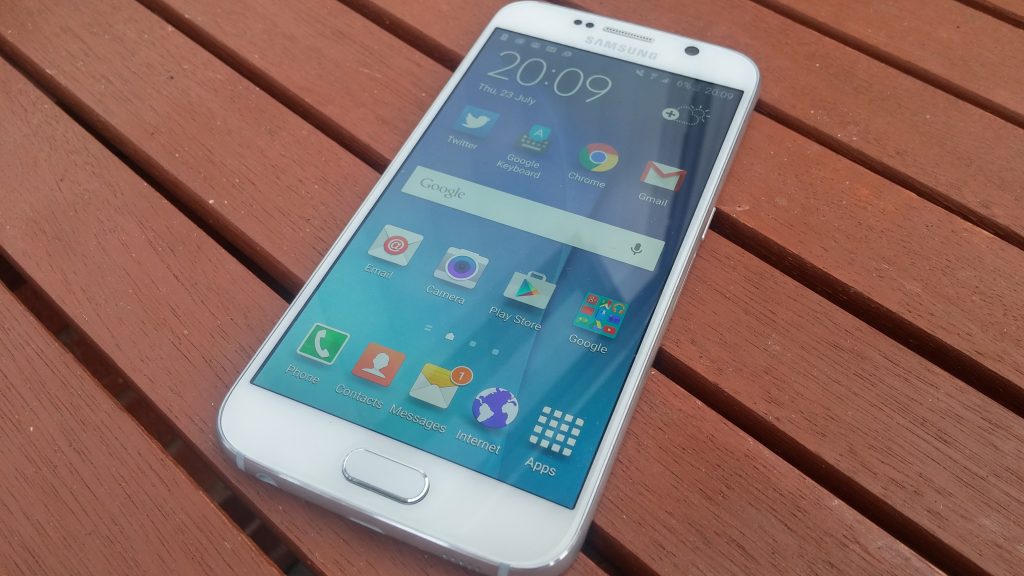 First the changes. Gone is the microSD expansion card. Gone is the waterproof protection. Gone, too, is the removable battery. Instead we have several different storage versions of the Galaxy S6 which differ in price depending on the amount of storage built in. We also now have a speedy charging system which means that a 10 minute charge will deliver up to 4 hours of use. Wireless charging is here too, straight out of the box. Whack it on a charging plate and boom, you're done.
First, a tour around this particular phone. The edges in particular are of interest. They have a brushed silver metallic finish with very angular and strong with bold lines.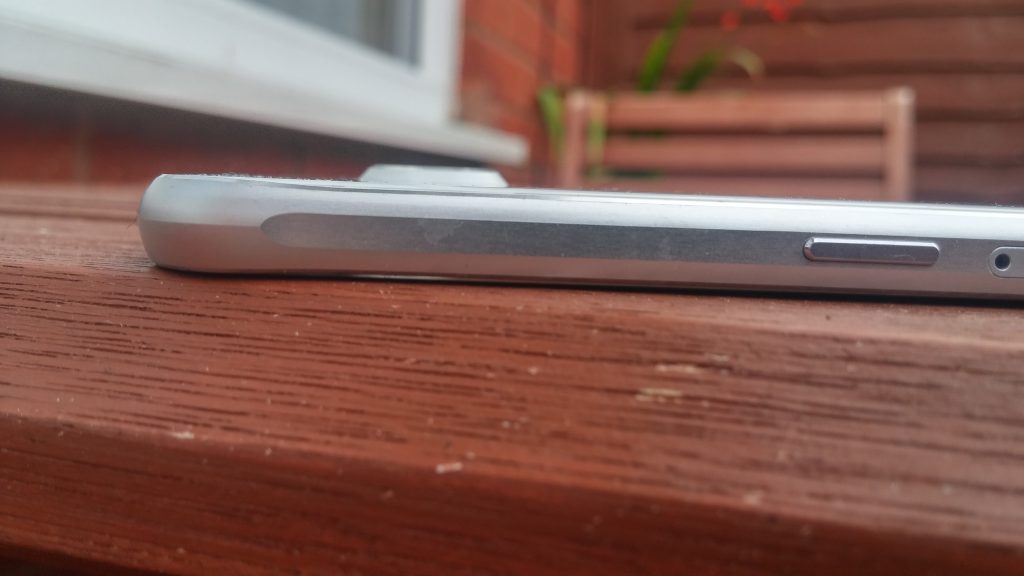 The right and left side of the phone has flat edges. These roll off at 45 degree angles to the rear section. Meanwhile, the top and bottom edges are more rounded.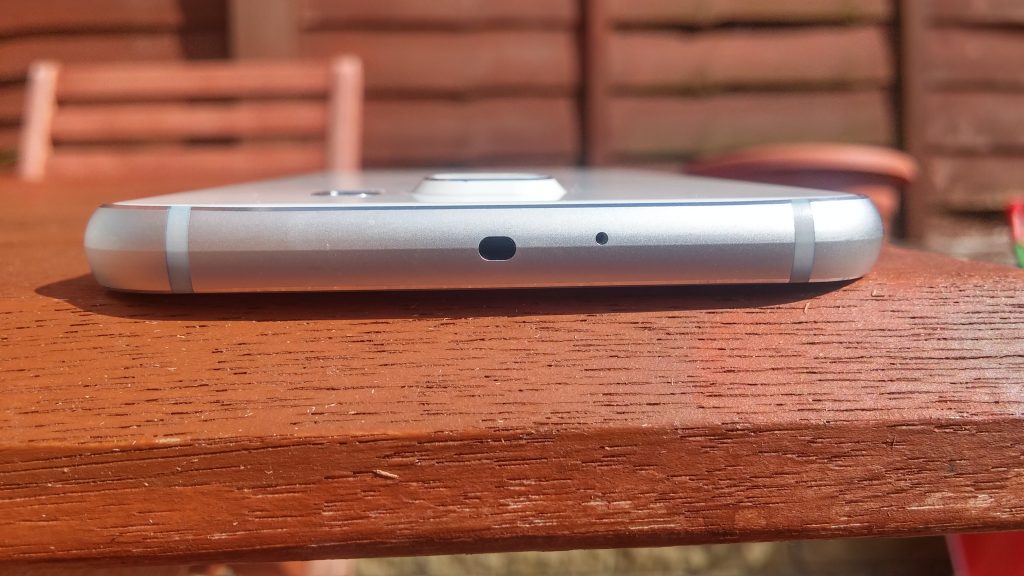 The top section houses infrared remote control. This means you can use your phone to zap your television or another entertainment device. There is also a secondary microphone for active noise cancellation. Good for making your caller think you're in a nice quite room when you're actually in a noisy shopping centre or similar.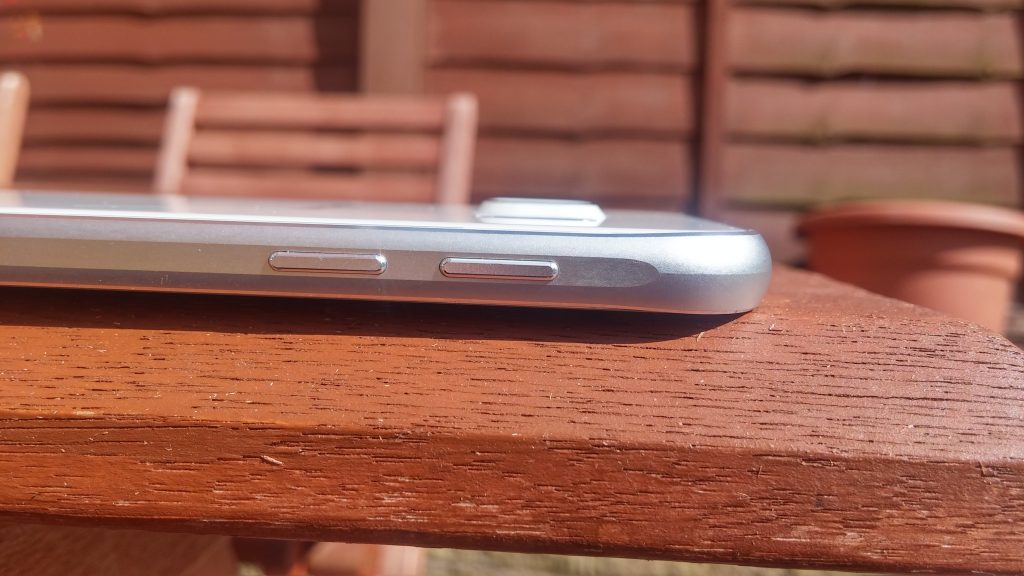 The left edge has your volume controls and you can see here the angular lines of the brushed metal edges.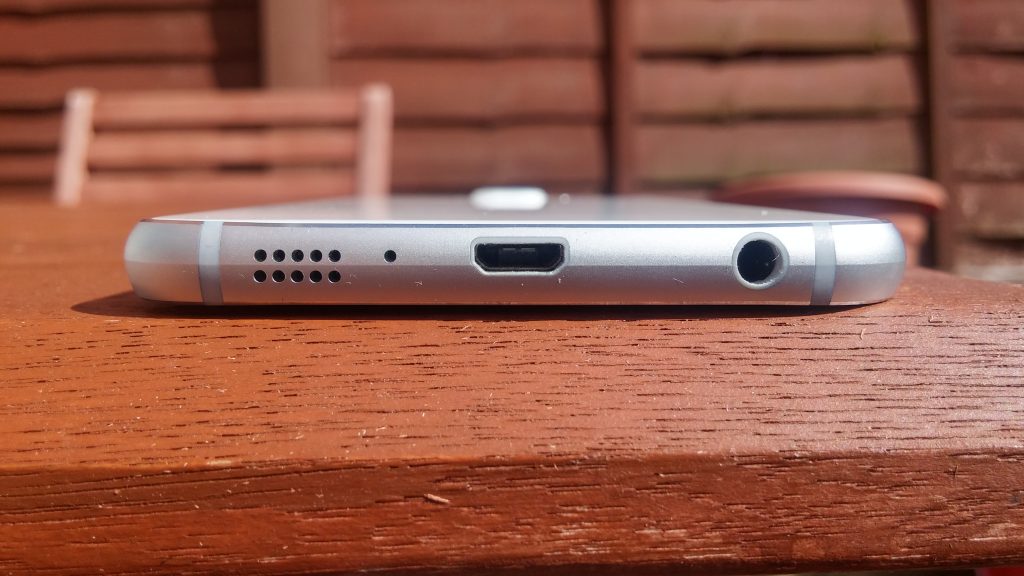 On the bottom is the usual 3.5 millimetre audio port the microUSB charging port. There's also a rather beautiful external speaker.
Meanwhile on the right edge is your SIM tray and power button. This is easy to locate.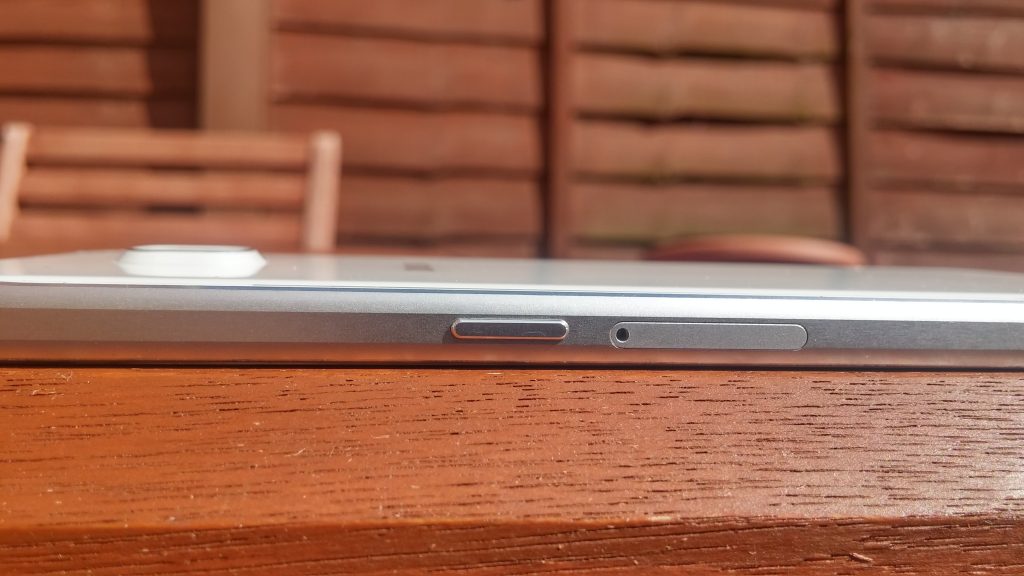 The polished rear section is smooth, clean and pristine. However the camera is rather pronounced when this device is in your pocket. You may believe you have a loose coin stuck in your pocket. The cameras will load up and shoot in 0.7 seconds.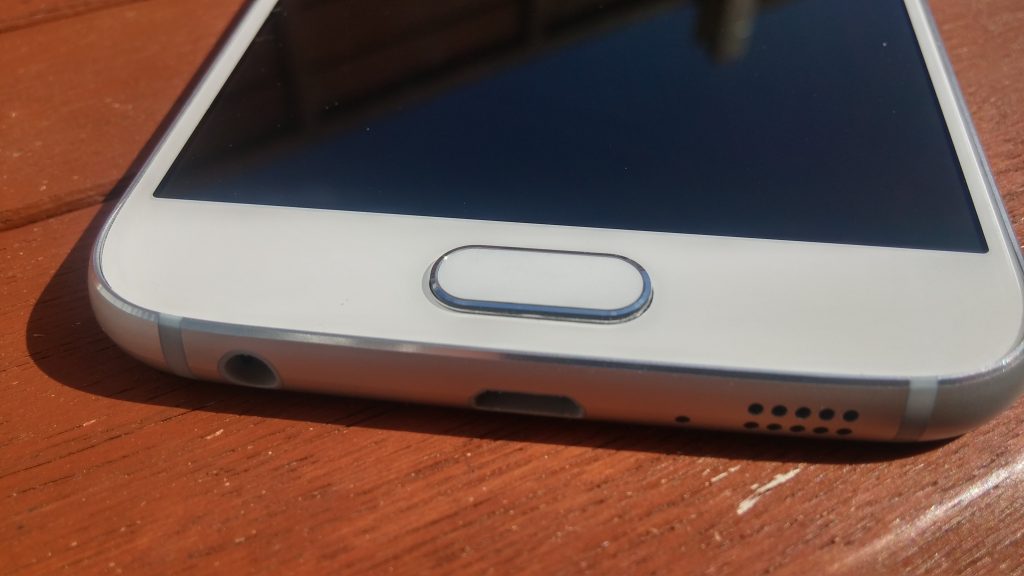 On this shot you can see just how pronounced that camera is..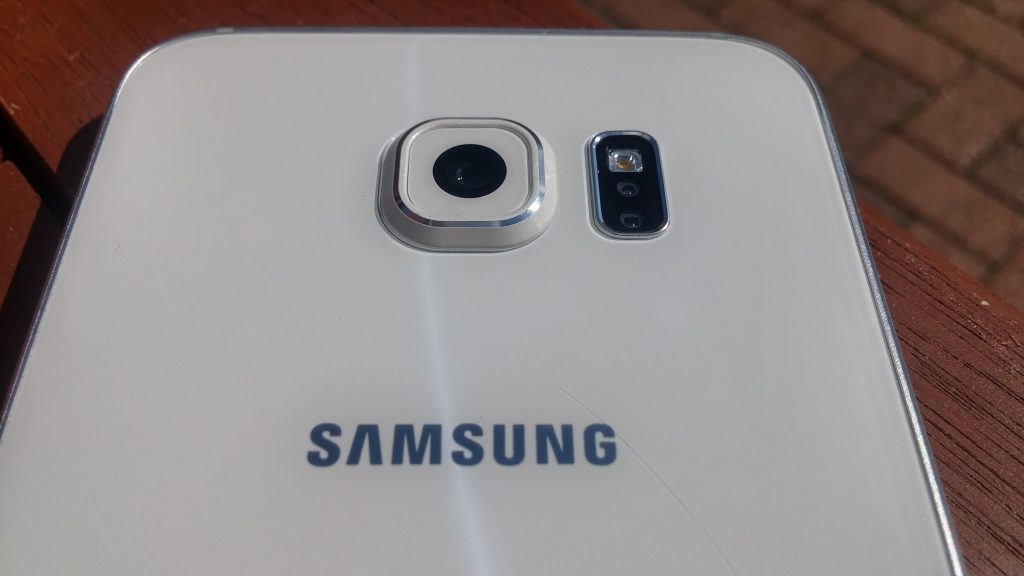 The initial setup is a particular bone of contention for me. I review quite a number of Android handsets and I regularly hop from one handset to another. It's a good that Android ports all your apps across and, for the majority of you, this is a bonus. It's really quite helpful but sadly there was a few other "helpful out of the box additions" that I really didn't want shoved in my face.
Before I even got to the point where the apps restored there were a number of hurdles to cross. From the initial power on I am asked for my Google account. This is expected and normal. However, I am then asked whether I would like a Samsung account. If I choose no it'll then ask me whether I'm "sure" about this decision.
Once that is done I am then asked about Microsoft OneDrive. This delivers lots of free space (100GB) via cloud storage and I'm then forced to wait as a number of additional apps are installed (that I didn't necessarily want) and the phone then realises that the whole OS needs an upgrade. Microsoft have also managed to get OneNote on here. It's the start of things to come if Microsoft get their way.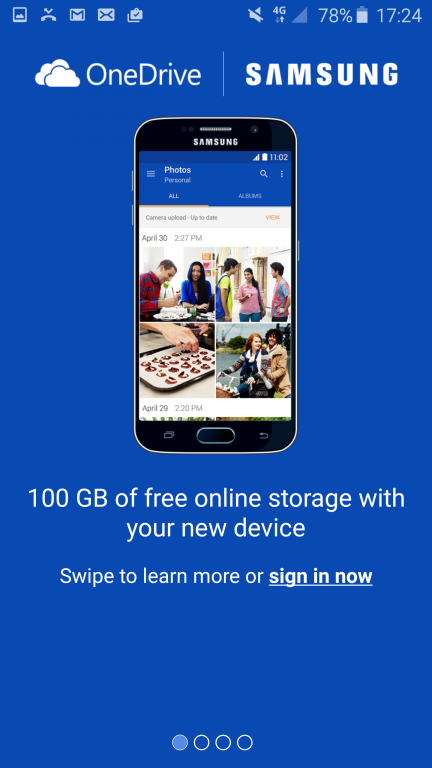 Whilst I understand the reasons for all of these additional applications and tools, to cram them all down your throat at the initial power on was a little annoying at best.
The S6 is just like many Android devices inside and comes with the usual cloud-based safety you've grown to expect. Your email, contacts and diary appointments can all be sync'd with the mighty Google Cloud provided you have a Gmail / Google account and, if you've had an Android before, all of your apps will re-appear. The usual little tricks such as predictive dial (which will find your contacts based on the first few letters or numbers you enter) are here and the main screen can have widgets, folders and shortcuts added too. You can change the amount of apps and the size of the "grid" on the homescreen too, plus there's the ability to change the lock screen, the homescreen and all the sounds etc.
Not only that, but you can also use the "Tap & Go" feature to move music, photos, messages and files from your previous phone to this new one. You'll need NFC on your old phone for this to work (it's obviously already there on the S6) but, if you have something else (like an older iPhone for example) you can use the Samsung "Smart Switch" app to move your stuff across.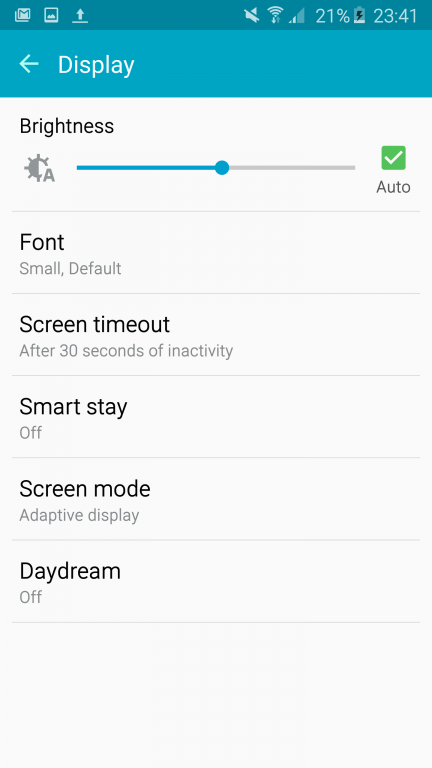 The S6, however, does have a number of additional goodies. First up is the fingerprint scanner, which take just a short while to setup. It's a touch-based sensor instead of the slightly-more-familiar swipe-based method, but it worked well for me and acted as a quick and secure way to unlock the phone when I wanted to use it.
I quite liked the "Smart Alert" mode, which queued all the messages and alarms so that they only appeared when you pick up the phone. It works like this. You enable it (via Settings->Motions and Gestures) then, if you pick your phone up and it vibrates, there's something that you need to be looking at. If you pick up your phone and nothing happens, you don't even need to turn your screen on. This is great for battery saving.
There's also an app to track how much you move and how much data you're using.

While we're talking about batteries, there's a couple of further beneficial features on this front. First is the "Turbo Charging" which lets you quickly give your battery a new lease of life. This feature works with the charger that's supplied – it'll deliver "adaptive charging" – so make sure that you use this one if you want a quick boost. Not only that, but Samsung have their battery saving options, including "Ultra power saving" which will prolong the battery life greatly. Wireless charging is available too.
"Easy mode" is a feature we've seen before, but it's great to see it available, even in a high-end phone like this. It reduces the amount of clutter on the screen and makes the whole UI easier to use.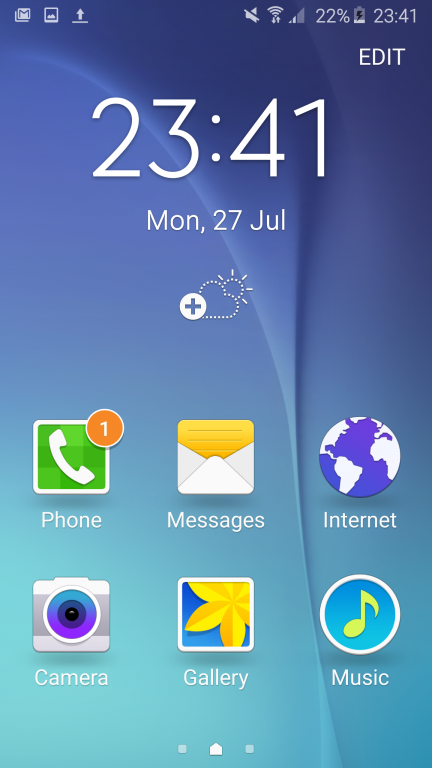 This is brilliant if you're struggling or this is a phone for someone who just wants to get things done quickly and more simply. It's activated in the settings and you can switch back in no time. Oh, and there's a stack of themes to switch to – you can download more as well. Let's not forget the myriad of sound effects and ringtones, all easily changeable.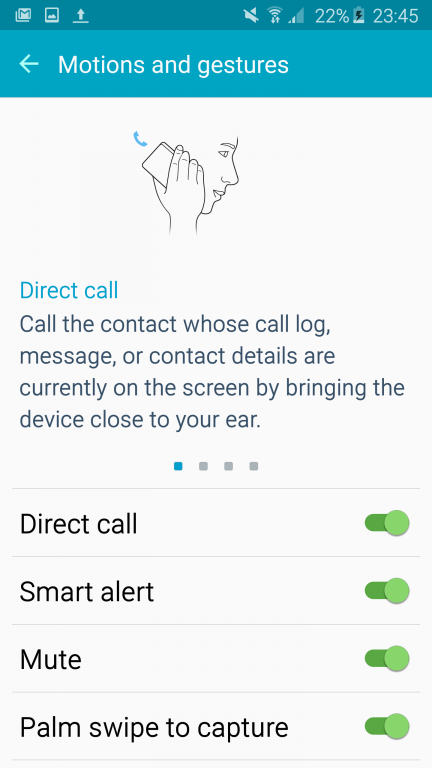 A feature that has been shown off on stage before is the "Direct Call" system, and basically means that you can initiate a call simply by lifting the handset to your ear. Again, this is activated within the Settings and it'll simply call the person who's contact details are on screen. A quick time saver.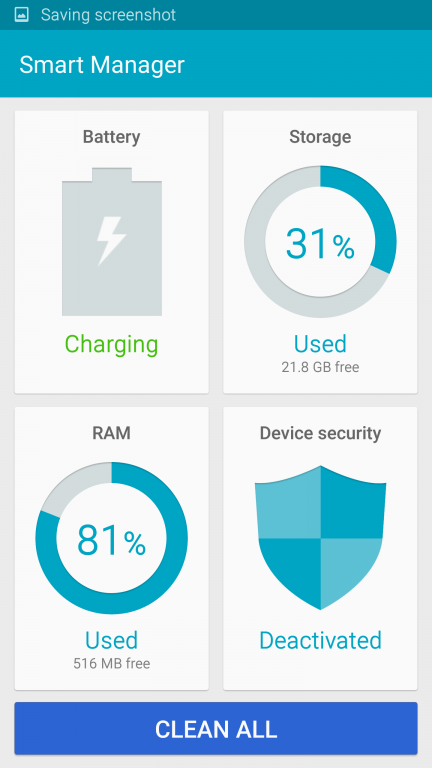 Samsung have their "Smart Manager" system here again, and it will become your central point for ensuring that your phone is running well. You can control memory, storage, security and the battery from here and see which app or process is impacting system performance.
Samsung have also added their "S Voice" (a bit like Siri / Google Now) and "S Finder" (a phone locator) apps which really are quite good. They should be tried out, even if you're familiar with the Google versions of these.
The browser (there's actually two) is as slick and feature-packed as you'd expect. It comes with a feature for pinning your favourite sites to the main home / start page of the browser too.
Gestures really take off on the S6. You can take a screenshot of the screen by swiping your hand across or silence alarms simply by placing your hand above the screen. This also works if you wish to reject incoming calls, which is quite nifty.
Some of these features aren't enabled by default, so you'll need to head into the settings, but even the tiny extras feel beneficial. The settings screen, too, is a clean and simple layout which is properly nice to use.
Camera
We took all these shots on the "Auto" setting and they came out incredibly well. There's a stack of options within the camera app and they're all good, let me tell you. The UI is fresh and easy. If you're a proper camera geek then the "Pro" mode will get you under the hood and into a world of settings that I, quite frankly, have never heard of. You also have a "Selective Focus" option for tweaking the focus after taking a shot. If that's not enough, then you've also got Panorama, Slow Motion, Fast Motion, Virtual Shot and a stack load of others available for download. You can also switch to HDR mode for boosting the dark areas of a shot and balancing them out with the lighter areas.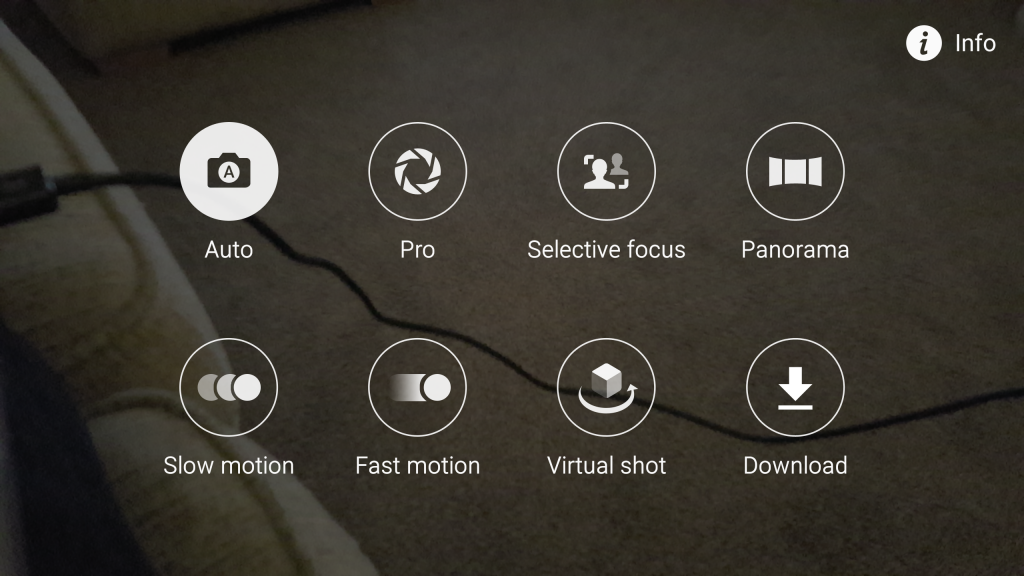 The F1.9 aperture camera worked well and you can see the resulting images below. Oh, and let's not forget the various effects that can be added from the main screen. You can download more of these too.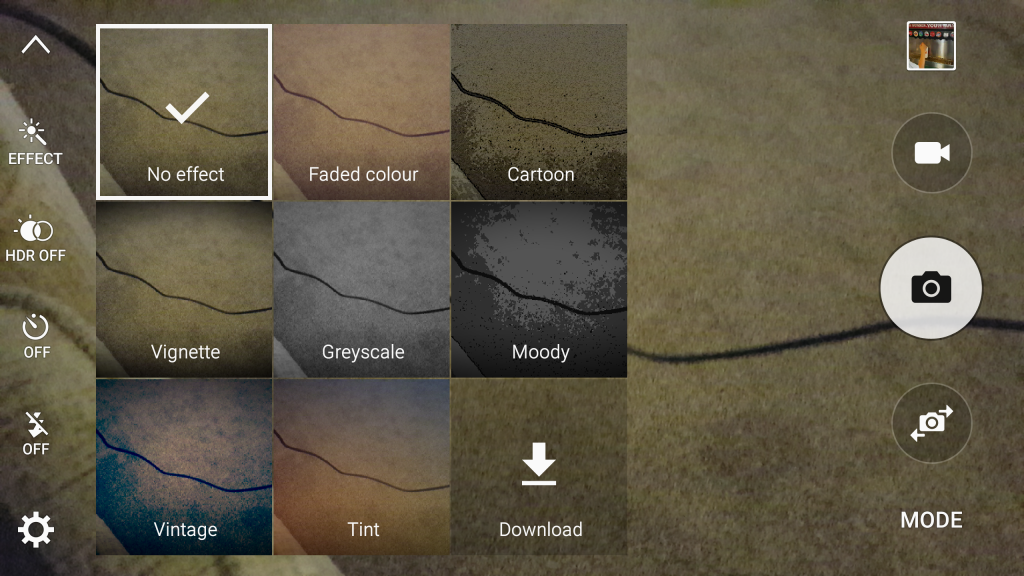 The camera performance is definitely speedy thanks to the CPU and it opened in around half a second – you can double-click the home button or use the icon on the home screen. No dedicated camera button here.
Here's an example of the camera quality. Just hit the preview images to see full-screen…
Overall
Another strong and capable handset from Samsung. I'm sitting on the fence about the lack of microSD card in particular, because I've got so used to having the ability to extend my on-board storage. The presence of the Microsoft Onedrive cloud storage is a help, but if you don't have a good data plan or don't fancy pushing your photos up to the cloud automatically then you have to choose the appropriate handset right from the get-go.
With the S6 I was impressed with the speedy charging in particular. I'm so sick and tired of looking at phones and seeing that battery bar rapidly sinking to the bottom, so to be able to give it a quick "splash and dash" was really helpful. The design, too, was something that made me smile. The quality of the build, the front and rear glass and the fact that you can't remove the battery was a marked improvement on the Galaxy handsets of old. That said, my wife did remark that she wouldn't upgrade from her S5 because this new handset was probably not as "bouncy" as her current phone. Make of that what you will.
After my initial grumbles about those startup prompts and a number of OS updates and patches that rolled out to my loan device, the handset settled down and I began to appreciate the clean and fresh UI. The settings screen is well ordered with a fresh layout. The home screen and the overall operation of the S6 was an absolute dream. Yes, Vodafone have peppered a few bits and pieces here and there, but they're not in the way or annoying. The Samsung apps, too, are useful and I appreciated them.
The phone operated quickly and slickly. The design was crafted and premium. It's another class act from Samsung.
Get the Samsung Galaxy S6 on Vodafone.
Samsung Galaxy S6 Review
Build quality - 9.3
Value for money - 8.5
Camera - 9
Battery tech - 9
9
Premium feel, a premium experience and a premium design. Another stunning handset from Samsung.