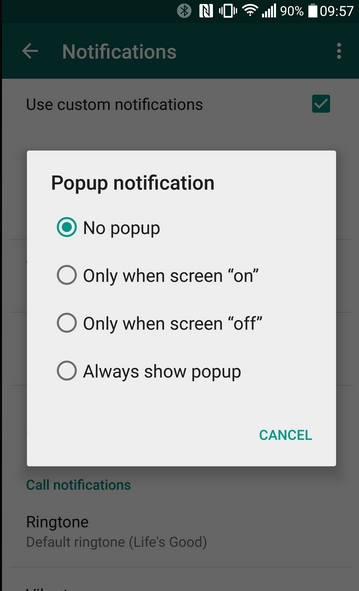 Not content with just updating their app once, WhatsApp has decided to slam in eight – yep, you heard right – eight updates in the last couple of days since 21st July. Most of which should have started winging their way to your handsets by now. If you think that's a lot of updates, you're right, but it isn't unusual for new updates of WhatsApp to pop up every two or three days. It's just pretty amazing for any company to iterate from 2.12.190 on 21st of the month to now (full disclosure, they seem to have missed out 2.12.195 and 2.12.198. I don't know why, and I doubt you would either at that rate).
What's changed? How can you tell? Well, first and foremost the latest version for Android will be 2.12.200. For those who are feeling a little bit lost in the new WhatsApp interface, hit Menu – Settings – Help – About to bring up your current version.
As for what's changed, right up there will be a bunch of bug fixes… Not that I've seen WhatsApp to be anything other than rock solid stable, so I'm relatively lucky there. Not so lucky is my primary handset being stuck on 2.12.176 for the time being.
The ability to back up via Google Drive is back, which is always a helpful thing to do with the oodles of storage (15GB at my last count) that Google gives away with every account. In case you didn't realise, WhatsApp give you the option of when the regular backup happens. It seems to be set to 4 in the am, which is a reasonable enough time that most people aren't going to be using their phone on a regular basis at that time. Since the option isn't there for me yet, try checking out Menu – Settings – Chat Settings. Don't expect to see any options of where your backup is going – it takes care of that for you behind the scenes.
They've played with enabling options for using Google Drive as a backup medium before, even allowing you to choose what frequency you want the backups to happen and which google account you intend on using (if you have more than one gmail account set up, that is), but it never seemed to make it as a full release. Still, we appear to be edging one step closer to that option coming back again.
Also making a debut is a tweak for those who use the voice dialling option: there's a setting for Low data usage. Not everyone is on a 4G/LTE tariff, and other people may be in terrible wifi area, or have to manage their bandwidth cap, so it's nice to see the Facebook/WhatsApp management (WhatsFace? FaceApp?) thinking giving people the option to conserve data.
Another nice touch is the option to mark a message as unread – simply select the conversation you want to change the alert, and you can mark it as unread. I don't know whether this also changes the status on the sender's side, so they won't get those blue confirmed ticks, but it's worth playing around with to know one way or another if you're going to use the old "sorry, I haven't read this yet" excuse. Which you would never do, of course. We're told it doesn't, but best to make sure.
The icing on the cake has got to be the custom notifications. Now some may never bother with changing notifications for WhatsApp, or indeed any other app that wants to ping, vibrate, alarm or generally get your attention. For those that do however, you can tweak both individuals groups notification options to your heart's delight
We aren't condoning or recommending any app to be purchased or downloaded outside of the official sources, but if you are that type of person who is happy to take the risk to warranty and handset, you could go to worse places than APK Mirror to have a look at the latest updates as they get snatched and posted.
Others of us will wait patiently. It is my main handset after all.
source: Android Police