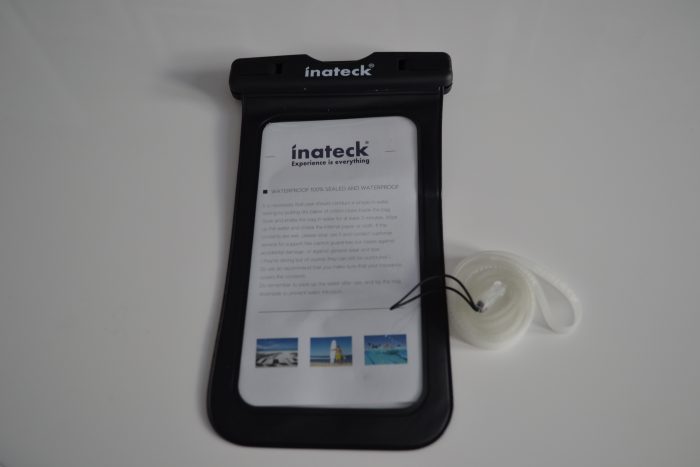 Ahhhh, the British summer is here!
What does this mean? Day trips to the beach, ice cream and loads and loads of photos.
But, if you want to take your beloved smartphone with you, you'll need some form of protection. Not from the sun, no, but from the rain and mud of course. What were you like thinking? The sand and the sea? Oh, well yes, that too.
Anyway you can put your superbly designed and highly priced smartphone in a big unsightly case, or you can leave it naked as God intended and then pop it the IPX8 waterproof pouch, which will protect your device from dust/sand and submerging in water for up to 30 mins.
Good Points:
Fits a 5.5/5.7 inch screen perfectly
Able to use the touch screen through the case.
Bad Points.:
With the edges being sealed means button presses on the device edges a little tricky.
There'll always be a degradation in picture quality.
In Use:
For want of a better description, the Inateck IPX8 Waterproof pouch has a clear front and back panel that allows you to continue to use your capacitive touch screen.
The pouch comes with a lanyard which allows you to wear your phone around your neck too. It'll open at the top and, once your phone is slid inside, will lock and seal thanks to two locking levers.
Inateck state that the pouch will accommodate phones up to 5.7 inches, but I found that it fitted my OnePlus One almost perfectly. As you can see from the picture below the edges of the pouch are sealed together and this makes for operating the buttons on the side of the phone a little tricky. However, I have my OnePlus to double tap to wake and sleep, so I had no issues using it that way.
The touch screen was still as responsive, but I wouldn't recommend taking or making a call whilst it's in there as the person on the other end only hears a very muffled version of you.
I also took some pictures while my phone was still in the pouch and, as you can see, the results are really impressive.
Excuse the finger in the last shot. 🙂
The Inateck IPX8 Waterproof pouch is available from Amazon for £8.99 and is available in Black/White/Orange, I will certainly be buying one. if nothing else, it will keep my phone nice and dry when I ride my motorbike in our fantastic summer weather.
Inateck IPX8 Waterproof Pouch
Build quality - 9
Ease of use - 7.5
Protection - 9.5
Value For Money - 7.5