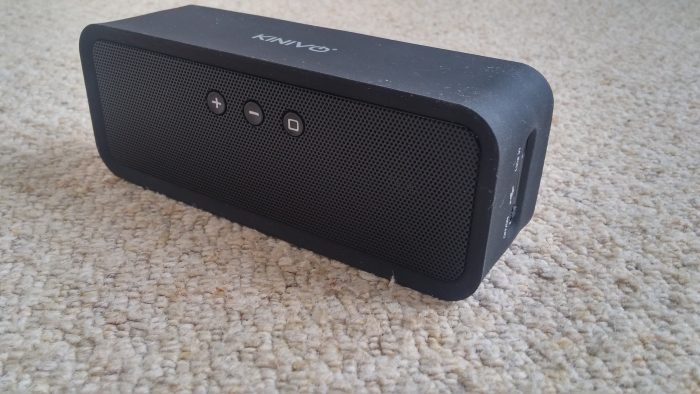 So, we have another Bluetooth speaker. This one is made by Kinivo and it's called the BTX270. In the box you also get a 3.5mm audio cable, so if your device doesn't do Bluetooth then you can instead plug it into a 3.5mm output and off you go.
Ah but wait. This is no ordinary Bluetooth speaker. This thing features a technology called Bluetooth apt-X. This delivers CD-quality wireless audio. Normal Bluetooth doesn't really have the bandwidth to deliver high-quality audio, but the aptX codec solves this by reducing the bit rate without affecting audio quality.
To take advantage of this you'll need a phone or tablet which supports the technology. Luckily most phones do, but you can check your handset here. I tested this with an LG G3, which supports it.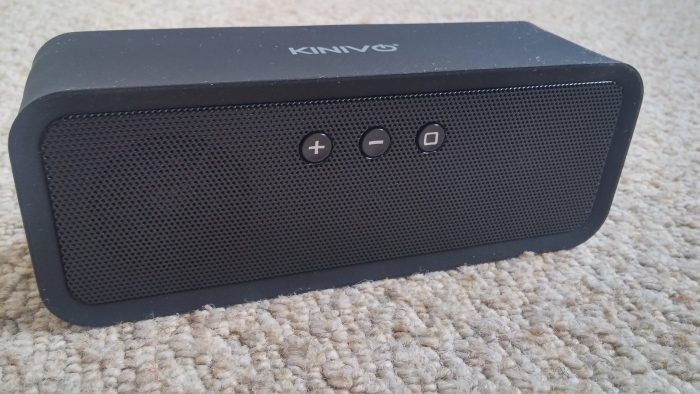 The speaker has two small, but perfectly formed 3W "acoustically balanced drivers" which pump out a total of 6W (obviously). There's also a built-in microphone so you can use it for hands-free calling.
On the side is the on / off switch and a charging point. It's your friendly and familiar microUSB charger here but there's no charger in the box – just a microUSB cable. The amount of chargers and USB ports in your house is probably plentiful, so the recharging is easy enough. It'll last around 8 hours on the in-built rechargeable battery. The on / off switch is easy enough to leave on, but I did find that there was some sort of auto-power-off system. So even if you leave it on (and the power switch is set to "on") it powers down after about 10 minutes to save battery. You wake it up again by simply clicking off and then on again.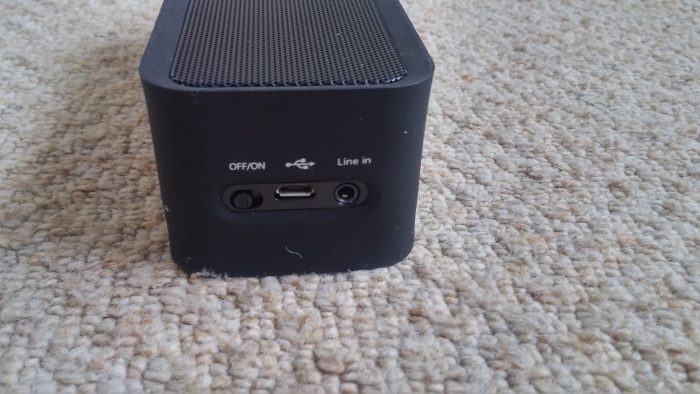 The outer shell has a rubberised finish making it grippy and tough. You had the confidence to throw this thing around to some degree. The front and rear grill are fairly open, with the front having three buttons – a volume up, down and a "multifunction" button that let you pause and play your music. If you're in the right place on your phone it'll also let you hop into the voice command or switch a call from speaker to the phone. Pairing it up is easy enough – just press and hold this multifunction button until you hear a melodic tone. It's then just a matter of getting your device to pair and find the BTX270 on-screen. I also found on my smartphone that the speaker battery status showed on my notification screen. Nice.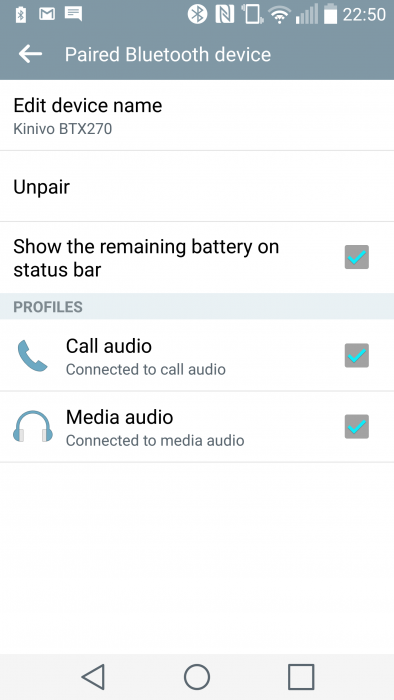 The LED notification is just below these three buttons. It'll flash a blue light when it's connected to your phone, blue and red when pairing, red when charging and will flash red when the battery is low.
The speaker remembers up to 8 devices, but when you power it on it'll automatically hook onto the last device it was connected to. If it can't find that, it'll try the one before, and so on..
The output from the speaker was clear, balanced and meaty enough. It's not going to shake the windows or provide deep, gurgling bass due to the size of the two mini speakers. Plus it has a form-factor that is no larger than a tin of beer. However, it performed well and, if you were fairly close and pretty central, you could hear the stereo effect from the two speakers.
Overall
Outside, kicking around in the garden, washing the car, out on a picnic, it performed extremely well and provided the audio quality I would expect – and then some. Even at absolutely maximum volume there was very little distortion or bleeding across the tones. I found that, by pointing the speaker up at slight angle, the sound seemed to get even better (when I had it on the floor at least). The fact that both the front and rear of the speaker is open seemed to help the sound quality and the output, and I was really impressed that such a small thing could pump out such a crisp, clear and loud output.
If you want one, check out their website or go to Amazon.co.uk, where you can get one for £35.99 at the time of writing. If you're outside of the UK, check your local Amazon store.
Kinivo BT270 Bluetooth speaker review
Build quality - 9.1
Value for money - 9.4
Sound quality - 9.3
9.3
Small but perfectly formed, this handles the knocks and bumps of everyday life whilst supplying an excellent sound output.