Using a tablet whilst out and about may seem like an alien idea to some, but for many including 4G in a tablet makes it the ideal companion to take on the train, bus or even to the local cafe. Historically tablets have been Wi-Fi only with the 4G variants costing a lot more, encouraging users to tether to their phones instead.
Archos with budget range of tablets have what is potentially a great device, the 80b Helium , which has a decent price, 4G and a host of other interesting specs. I've been using one for the last few weeks and it's prime time to bring you my review. Starting as always with my good and bad points.
Good and Bad Points
Good
Nice looking tablet.
4G and Dual SIM capabilities.
Micro SD slot.
Archos networked multimedia apps are a pleasure to use.
Pre-installed bloat is optional and removable.
Makes an ideal on the road productivity device.
Reasonable display.
Bad
Only 8GB memory doesn't leave much space for stuff.
Front and rear cameras are pretty basic.
1 GB of RAM struggles at times.
It doesn't pickup 4G in as many areas as my phone (running on the same network).
Design
When I opened up the box of the Archos 80b Helium 4G tablet it was quite a surprise how familiar it looked.  Maybe it was the silver metal sections joining the white plastic sections, but it sure looked like my LG G Pad 8.3.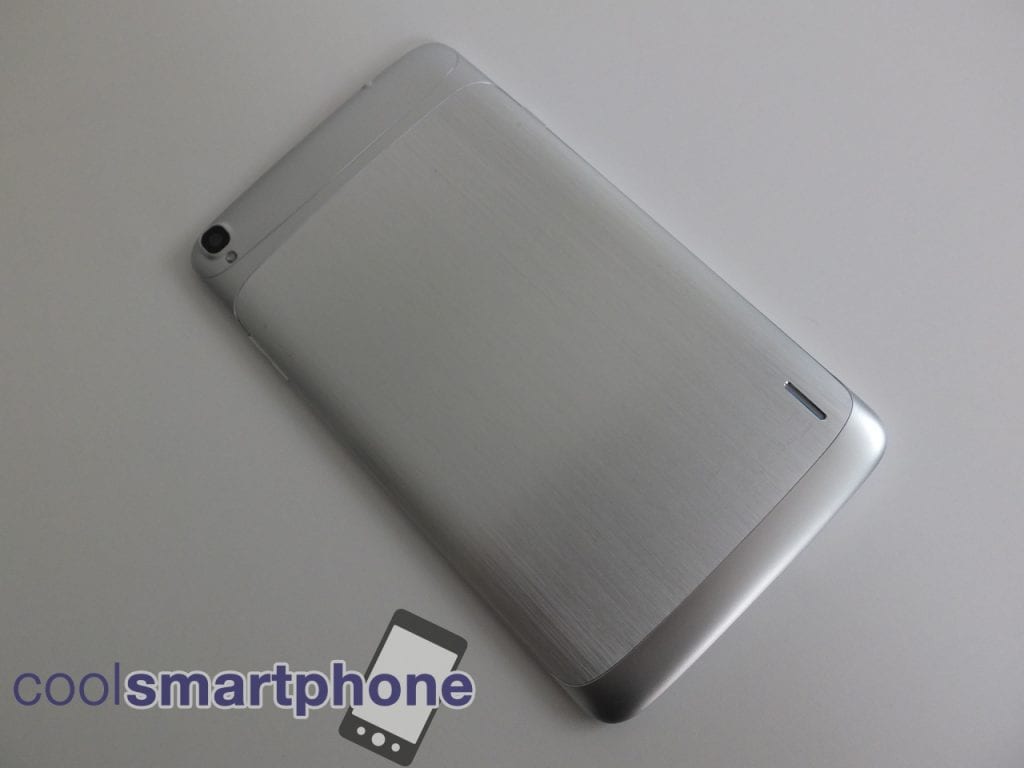 So from the front you've got the 8″ display with fairly large white bezels around each side. The top and bottom bezels make nice handles when used in landscape. As the tablet has onscreen navigation buttons the bottom bezel can only be described as unnecessary. The top one houses the front facing cameras, the sensors and an earpiece. If you dared use this as a phone it's there waiting for you to do so.
The sides are made of silver plastic, the sides are also made up of the display surround which is chamfered down to the edge and this is white plastic. So it's really not a seamless arrangement. The left hand edge is where the power button lives, the power button is plastic and to tell you the truth it's also in the wrong place. As a longtime tablet user I'd much prefer that the power and volume buttons are side by side, especially as you'll often find yourself using the tablet in landscape. With this arrangement you have to decide which button to hide away. The right hand edge is where the plastic volume rocker lives.
The top edge has the 3.5mm headphone socket and a fingernail backplate removal point. The bottom edge has a microphone hole for when you use it as a phone and the Micro USB port.
The back is probably the best looking part of the tablet, it's a non removable brushed metal backplate, that has a cutout for the speaker. The backplate also has some Archos branding on it too. Above the metal backplate is a separate plastic smaller backplate, this one is removable and gives you access to the dual SIM slots and the Micro SD slot.
Overall the design is pretty nice, I'd have preferred the edges to be metal, but we can't have everything at this price point. It is nice having a metal backplate it gives the tablet a slightly more premium feel.
Hardware
Spec wise the 80b is a bit basic, opting for some basic components to keep the price down. Here is what you get.
CPU: Mediatek MT8732 Quad-Core 1.5 GHz.
GPU: Mali 760 MP2.
RAM: 1GB.
Internal Storage: 8GB (with 4.76 GB free out of the box) .
Expandable Storage: Micro SD card up to 64 GB (when formatted to fat32 standard).
Screen: Diagonal Size 8 inch (20.32 cm) Resolution 1280 x 800 IPS.
Software: Android 4.4.4 KitKat.
ARCHOS Apps preinstalled: Video, Files.
Wireless Technologies: 1x Micro SIM, 1x Mini SIM 4G. LTE frequencies 800 / 1800 / 2600 MHz. Data Rates LTE / 4G (cat.4) 150Mbps / 50Mbps.
SMS/MMS capable.
Wifi, Bluetooth, GPS/AGPS.
Cameras: Back camera 2MP – with LED Flash, Video Encoding 1080p. Front Camera 0.3 MP.
Battery: 3900 mAh Li-Poly.
Video Playback: H.264 up to 1080p resolution – 30 fps/ AVI/MP4/3GP.
Dimensions: 210 MM H, 122 MM W, 9.3 MM D.
Weight: 320g.
A few things hamper the hardware though, the CPU, GPU and RAM combo mean that screen transitions are occasionally are a little laggy, games run at slower frame rates if at all and everything just feels a bit gloopy. The internal memory only 8 GB as well doesn't help matters especially as you only actually get about 4.76 GB free, which means you'll be relying upon putting files on the memory card, which if you want it for a multimedia device will be fine.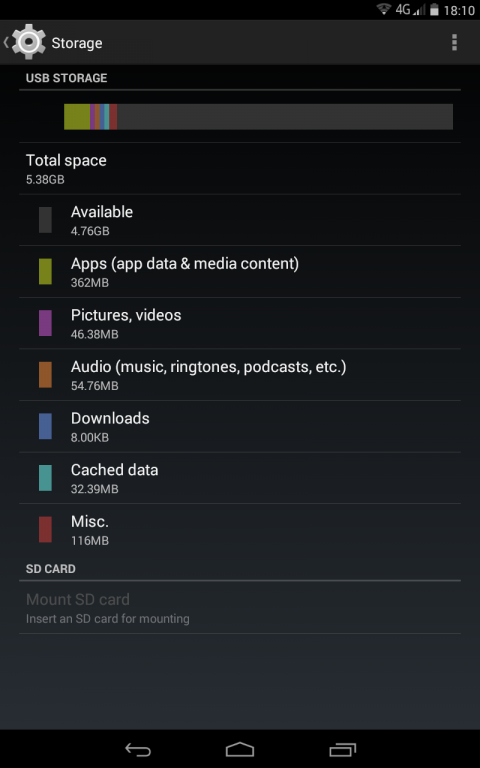 The display is quite nice despite being quite low resolution. At 1280×800 things aren't too pixelated, although if you try and use it outdoors you will be punished for your impunity.
Benchmarks
The benchmarks all paint the 80b Helium in a fairly bad light, with the Mediatek MT8732 only getting basic scores.
3DMark – 4990 ( Archos Oxygen 101 – 7338, Tesco Hudl 2 – 14650, Lenovo Yoga Tablet 2 Pro – 16558, Nexus 7 – 10767, Nexus 9 – 24567)
Antutu – 21734 ( Archos Oxygen 101 – 33942, Tesco Hudl 2 – 31319, Lenovo Yoga Tablet 2 Pro – 34860, Nexus 7 – 28017, Nexus 9 – 60230)
Geekbench – 2110 ( Archos Oxygen 101 – 2217, Nexus 7 – 1752, Nexus 9 – 3220)
Quadrant – 9894 ( Archos Oxygen 101 – 8964, Tesco Hudl 2 – 13922, Lenovo Yoga Tablet 2 Pro – 15790, Nexus 7 – 7571, Nexus 9 – 13971)
Battery Life 
The 3900 mAh battery in the 80b is an odd one, you can kill it in a few hours playing games or watching video but leave it in standby it will last for a few days, with about an hour screen on time.
Audio Quality
Audio quality on the 80b is a tale of two very different things. The rear speaker is pretty basic, low volume, no depth and very tinny. With headphones plugged in however it is different, thanks no doubt to some software tweaks. It is a decent volume and has decent depth and bass.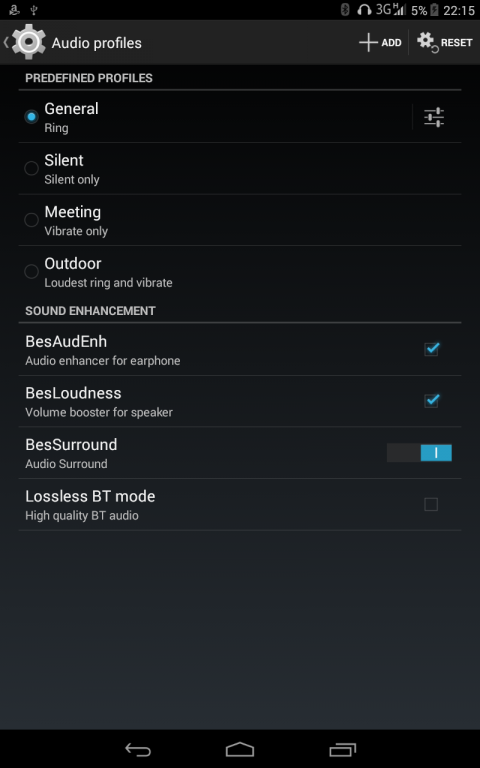 Software
The Archos 80b Helium tablet runs Android 4.4.4 KitKat with the Google Now Launcher installed, so you get a fairly straightforward setup with no odd gestures or skins to deal with. With it also being an Archos product you get the benefit of having the nice network friendly Archos media and file management apps pre-installed for you.
Archos do however do offer you the chance to pre-install some bloat when you first boot the tablet up, I did just to see what they'd force on you. Remember though these apps are optional and uninstallable.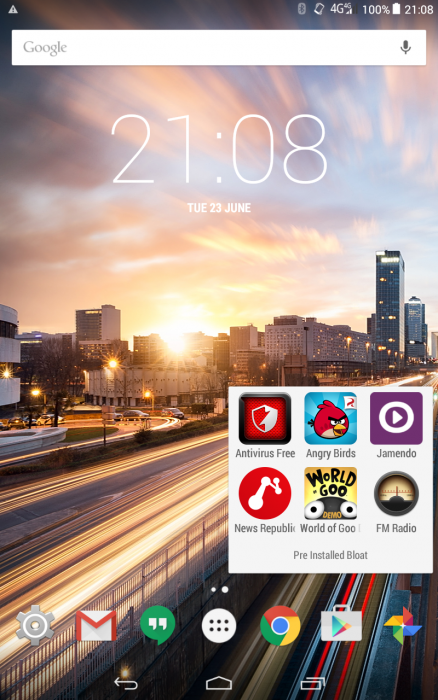 Overall it is nice to see Archos still installing their media apps out of the box, it is also nice to see them offering you the chance to not pre-install the bloat at startup. How times have changed…..
Camera
The Archos 80b Helium tablet has two basic cameras, a 2 MP rear camera with a flash and no discernible way of choosing what it focuses on and a 0.2 MP VGA camera on the front. Both are unpleasant to use, the rear mainly because it decides what it wants to focus on. Certainly nothing up close, definitely not nearby and more often than not on nothing at all. The front camera at least manages to focus for selfies it just applies what looks like an 8-bit filter over the top of the image, the joys of 0.2 MP images. Needless to say I cannot recommend the tablet if you're wanting to actually take pictures with it.
And here are the truly awful selfies of me on Sunday morning, mid DIY project.
Conclusion
When a manufacturer does too much of one thing it can now and again lose sight of the point of a device. I really felt like that with the 80b Helium, it just felt like the sum of its parts as opposed to a load of unique and useful features combining to make a decent tablet. The lack of memory, low RAM and basic processor made it feel lack lustre and the inclusion of 4G just made you wonder what someone out and about would actually do with this tablet. Yes they maybe watch a film, play a game or do some work, but all of those would be compromised and a bit slow. Without 4G this tablet would make sense as a cheap tablet suitable for media playback, with 4G it just doesn't feel right. It does look quite nice though…..
The Archos 80b Helium 4G is available at the Archos Website for £134.99 which for a 4G tablet is reasonable, so if that's all you want and you can live with the compromises then head over to their site.
Archos 80b Helium 4G - Review
Design - 6
Hardware - 4
Software - 6.5
Camera - 1
Display - 5
Battery Life - 5
4.6
When a manufacturer does too much of one thing it can now and again lose sight of the point of a device. I really felt like that with the 80b Helium, it just felt like the sum of its parts as opposed to a load of unique and useful features combining to make a decent tablet.