I'll admit to jumping in my car and generally throwing my phone onto the passenger seat. There it'll be, sliding around and then falling off the side of the seat as I go around a corner. After I arrive at my destination I then get to play the "Where is it?" game, as I ferk around down the side of the seat and that awkward bit by your handbrake.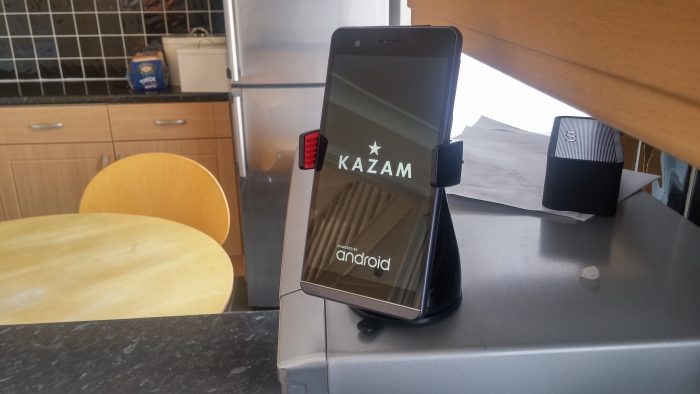 If, however, you want to keep your phone positioned properly on your dashboard then you'll find a huge range of mounts. This one, from a company called MONTAR, is £17.49 from Amazon as I type. It'll fit in your car, on your windscreen or, if you want something to hold your phone in your kitchen, on your microwave, fridge or work-top.
To get started, you place the suction cup onto a clean flat surface (such as your windscreen etc) and then click the lever down to enable the suction. I've had it on my windscreen and on the microwave without issue. Not once has it moved or become unstuck. I think this is partially due to the build quality of the thing. This is far tougher and looks more premium than the standard holder you may see being sold on market stalls etc.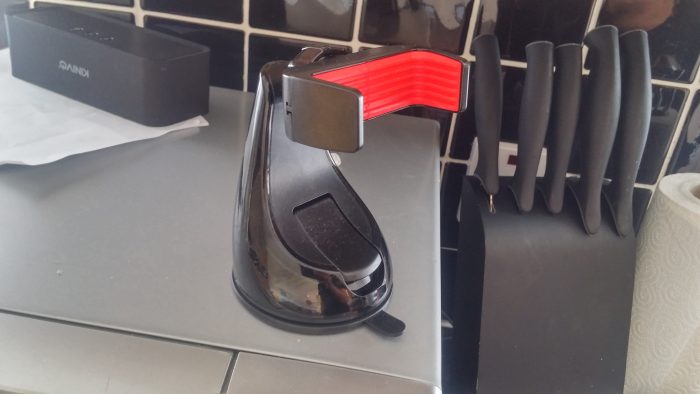 To add to the features, that grip, which can be opened with one hand, rotates 360 degrees. So if you're in the car and using your phone to navigate, just twist it around. There's a collar at the back for fixing it in place and it's really quick and easy to slot your phone in and out, plus it's rubber so you won't risk your phone getting scratched.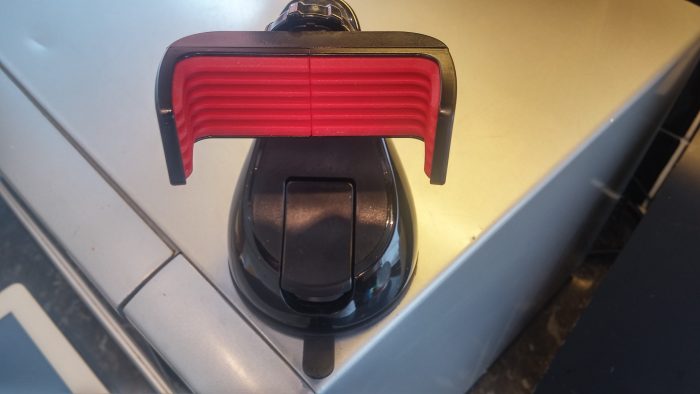 The design of this is really rather good, and gives enough clearance at the bottom of the phone for you to plug your charger in. This is essential when you're using GPS / sat-nav / Google Maps as it'll drain your battery quickly.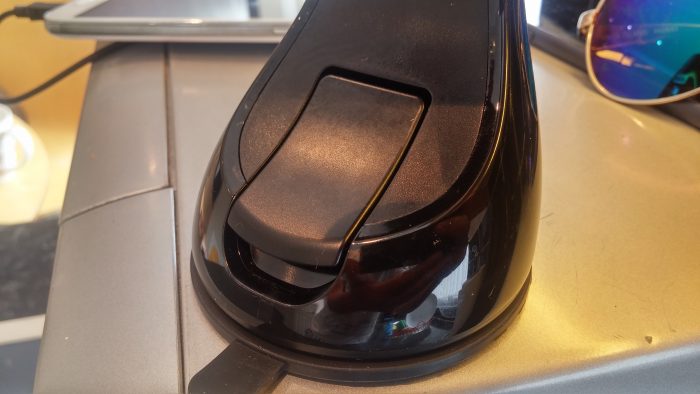 As is usual with our reviews, we've got an intro video, plus a look at how it's installed in the car..
Overall
This handles my rather "interesting" driving well and is put together nicely. It'll hold my LG G3 (5.5″ screen) but the box states it'll do phones up to a 5.3″ screen. The fact that I could pop the phone in and out with one hand, and rotate it, definitely worked well and it's a durable and clean design which won't drop off your dashboard or windscreen easily. The rubber "grip" has a strong spring and you won't find your device falling out.
You can also use the 3M pad to attach it to your dash, but I found that the windscreen was probably the best place as it was flatter and cleaner.
Get it for £17.49 from Amazon or search the site for your local listing.
MONTAR 360 degree car mount
Quality - 9
Price - 8.7
Design - 9.3
9
A rugged but polished mount / phone holder that'll keep your device in place no matter how many bumps you go over.