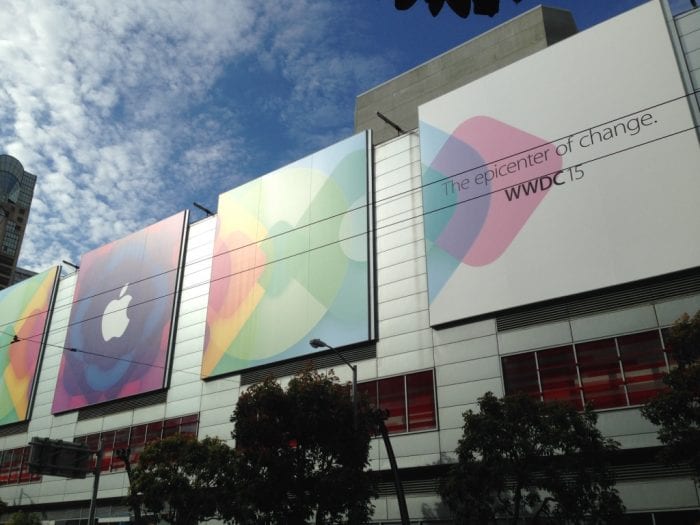 Introduction
I attended WWDC 2015 this year on a Student Scholarship. For those that don't know, it's the annual conference Apple holds in San Francisco, California where they announce their newest updates to iOS and OS X, as well as some surprised!
It was an amazing experience and there was a lot of amazing stuff announced. This article will go over the things you've already heard about, as well as my thoughts on the conference as a whole.
Sunday – Scholarship Orientation
Last year when I attended WWDC, Apple had a scholarship orientation inside their Stockton St. Apple Store. However, this year the amount of scholarship recipients increased from 200 to 350, so more space was needed. This year scholarship orientation lasted from 11:30 to 4:30, rather than 8:00 to 9:00 like last year. It was held at the Four Seasons. The space was much larger, accommodating all 350 students comfortably. Apple provided lunch, snacks, and drinks and allowed all us students to get to know one another for a good hour or so.
Afterwards, we were all invited into a ballroom where several Apple employees shared passionate information about life at Apple, how they got to Apple, and what to expect at the conference. Tim Cook even made an appearance for some photos!
Finally, all student scholars were given WWDC 2015-branded backpacks (a clever way to recognise fellow students at the conference all week, too!). Overall it was a great kickoff to an ever better week!
Below, Harrison Weinerman, a fellow scholarship recipient, shares his take on the student orientation.
"The student orientation was great. We had the opportunity to meet other scholarship winners, Apple employees, and hear stories from them on how they wound up at Apple and what it's like working there. Notably, one person went from chainsaw juggler to Apple employee and I don't think anyone will ever forget that. I walked into orientation pumped for a week of WWDC and left even more pumped for a future career at Apple."
Monday – Keynote day
The Keynote
Monday is the kickoff day to WWDC! It's when Apple holds their main keynote (the one where all the new products are announced), as well as two lesser known ones: The Platform State of the Union, where they go further into detail about their newest products, and the Apple Design Awards, where they honour beautifully designed apps for the Mac, iPhone, iPad, and now, the Apple Watch.
The demand for the first keynote is high, and some people line up as early as 12:00 on Sunday! The line slowly grows throughout the night. I went at 01:30 and stayed with some people for a while, but eventually moved ahead in line to hang out with some other friends who queued late Sunday-night. The night went quickly, and I didn't feel tired at all.
In line, I watched the previous night's new episode of Silicon Valley on some pretty horrible WiFi, tried studying for a French test I had when I got home, but mostly spoke with the fellow scholarship recipients in line. It was also great when someone realised there was a 24-hour Starbucks open and did a coffee run for all of us!
This year, Apple tried some different crowd control tactics. I was in the first section of people allowed into Moscone West, and an Apple employee walked in front of us, ensuring we didn't run. All this ended up doing though, was slow the people very first in line, while people behind us ran. This resulted in even more tripping and commotion than before. After two more hours of queuing inside Moscone West, the line was broken into three sections and led by San Francisco Police Department officers to ensure everyone remained calm. For the most part it was fine, but I felt like others in line didn't care for the rules put in place and tried to shove their way through the line anyway. To give a slightly different opinion on Apple's crowd controlling this year over 2014, Eytan Schulman:
"I thought Apple's line control on Monday morning was great. With the exception of getting through the very front door to Moscone West (When we were going through the doors, I was pushed and felt as though I almost fell), I was not pushed and things flowed smoothly. They even allowed you to exit the line if you were on the edge and go grab a snack donut or drink.

"Last year's keynote queue was less loose to a degree. This year they condensed the lines more, and we were squeezed much more tightly. During the WWDC '14 queue once we got to the end of the line before we got let into Moscone we were able to sit down and code and such. This year we were squeezed so tightly that this was not possible."
I ended up sitting in the fourth row, and got a great view of the stage as Tim Cook, Craig Federighi, and others showed off OS X El Capitan, iOS 9, watchOS 2, Swift 2 and Apple Music. I'm glad that this year Apple decided to focus more on stability and performance than new features for their operating systems. However, the addition of native Apple Watch apps is great, and I look forward seeing what developers can come up with!
Apple Music was Apple's "surprise" announcement that everyone already knew was coming. It was introduced by Jimmy Iovine (which was a nice refreshment from the usual cast of WWDC speakers) and detailed by Drake, who, not gonna lie, I know nothing about. But I'm sure that it was welcomed by viewers at home who aren't developers more than any other announcement. While I like the streaming plans announced, Beats Radio 1 is an interesting product that I can't quite form an opinion on. Right now though, I don't understand Apple's reasoning behind creating a radio station. As for Connect, I have zero interest in it and have a feeling it won't quite expand in the way Apple is hoping it will.
The Evening
After the keynote ended, I intended on going to the Student Lounge to download the new betas. However, it wouldn't open until the following day. So instead I got a quick bite to eat and waited in line again for the Platform State of the Union. Here, Apple went into further detail regarding the enhancements made in their new operating systems and changes made to Swift 2. While I would love to tell you what I thought of the address, my two hours of sleep was beginning to get to me and I dozed off a few times!
After the PSOTU, though, was the Apple Design Awards. This was a great event where many wonderful apps were honoured for their contributions to the platform. One app to mention that I love is Workflow. I don't think anyone was surprised that they won, but the demo of their app was conducted by a blind man. I was amazed at how well their app works with accessibility and I hope it encourages more developers to make their apps work for everyone. Braeden Mayer puts the demo as
"…an outstanding demonstration of how both iOS's accessibility features and Workflow itself can make a difference in the life of someone living with a disability."
Tuesday and Wednesday, and Thursday
Tuesday was the first day I got to go to the Student Lounge. They took down the walls of a session room from last year to split it into two lounges: One for attendees and one for scholars. It was huge! Last year everyone was in a tiny space that never had enough room for everyone, but this new room had more than enough. Great place to hang out and work with other students.
The three middle days of the conference I spent attending sessions. Most were great and I learned plenty. The sessions were also a great place to meet and talk to attendees about what they work on. Overall great environment! Designing for Apple Watch was definitely a great one, and I encourage those wanting to build Apple Watch apps to watch it!
On Wednesday and Thursday (and Friday), we had lunchtime sessions where special guests would talk about their fields of expertise. They had a Disney animator, and a Cal Tech astronomer (who was the one that demoted Pluto) speak. They were amazing talks and I would watch them again for sure!
Thursday evening is when Apple holds their annual Bash, where they have an open bar, food, and an artist perform. This year Walk the Moon played, and it was great!
Due to California state law, minors aren't allowed in Yerba Buena Gardens because alcohol is served, so Apple has a special student area setup that looks down on the park. Craig Federighi made an appearance for photos, too! It was a little disappointing, as at one point security came up the elevators and pushed everyone back. We were expecting Jony Ive to show up, but after 20ish minutes of standing around we were informed that he couldn't make it. A little disappointing, but didn't ruin the awesome evening! Matthew Panzer certainly agrees:
"The Student Bash was an excellent way to wrap up our long and exciting week at WWDC. It allowed us to socialise with some fellow students that we had already met, and also to make some new friends. Walk the Moon was amazing to watch perform. It was really cool to talk to so many Apple engineers and even some executives like Craig Federighi!"
Friday
Hard to believe it was the last day of the week. I'd had an amazing time and didn't want it to end!
Since it was the last day, I decided to try and get a UI Design Lab. These are special one-on-one sessions with an actual Apple designer to go over the user interface of your applications. I had to queue at 07:00 to try and get an appointment, and was pretty near the cutoff section. Luckily I got a time slot that I was able to make! I had to leave Moscone right after the lunchtime session, so I needed to get a morning time.
Getting to go over my design was great! I only had mockups, as the app wasn't functioning yet, but it was still really useful! I was given tons of great insight and the 30 minutes went by really quick. I would definitely recommend anyone going to WWDC schedule one of these. If you aren't able to attend these conferences, Apple's design sessions are also a great way to get valuable design information.
Conclusion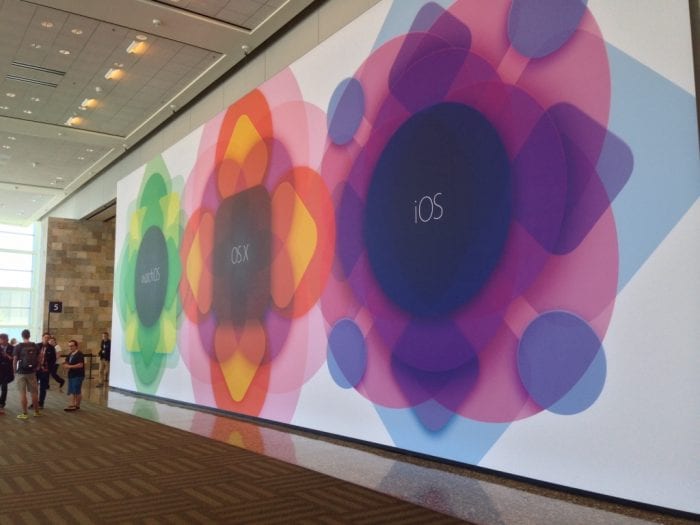 Overall, WWDC this year was an incredible experience. I learned lots and met some great people. If you're just starting out with iOS, Mac, or Apple Watch development, I urge you to take a look at Apple's Student Scholarship and apply next year! It'll be the best week of your life! But if you can't get in, Apple uploads videos of all their sessions to their developer portal, for those who are registered Developers. I hope to see you all next year!
Now, if only I could get rid of this post-conference cold…