A GoPro camera might be found on the helmet of a cyclist near you but, if we're honest, these things are quite expensive. This is an alternative – the Kitvision Splash. The price is £69.99 (RRP), but you can get it for less than that on Amazon. This model will take 12 megapixel photos and full 1080p video, plus it's waterproof and comes with a stack of accessories to help you stick it, mount it, attach it or rig it onto anything.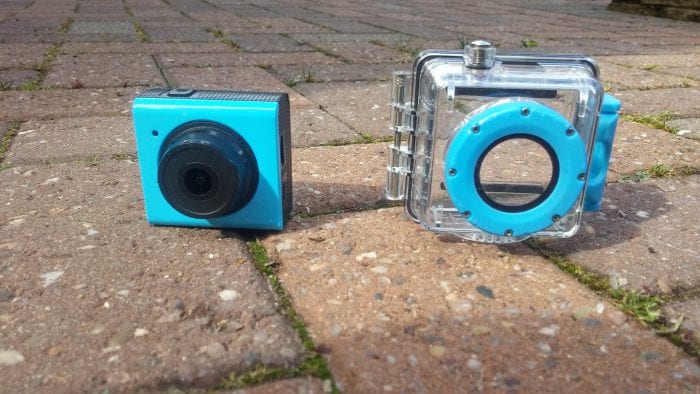 These kind of cameras always interest me. I'm going to be doing a charity bike ride again this year, and I need something to document the journey. I'm raising money for Edward's Trust and it's a simply fantastic organisation, so please do help me out with your donations if you can. During the ride, I'd like to strap a camera to either the bike or my helmet and document the journey, so this looked like a good option.
In the box you get a case which makes the camera waterproof. Great for filming around the pool, in the rain or anywhere else really. Let's say you're filming a speedboat ride. Waterproof. Sorted. Boom. If, however, you go out on your bike in the sunshine and get caught in a rain shower then you're covered (literally) too.
The outer case is easy enough to use and gives you one easy-to-find button for starting a recording or snapping a photo. I've hurtled down some pretty steep hills with this camera strapped to my bike and somehow still managed to start a recording, so it works and the button is chunky enough and proud enough to push, even with gloves on.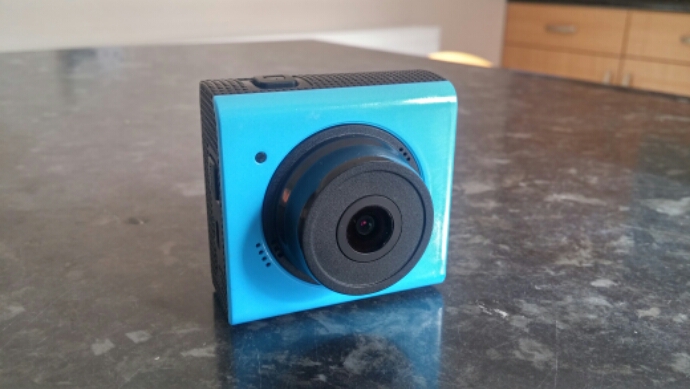 This review will be mostly video-based, and I'll be showing you a lot of video produced from the camera itself. First though, let's have a look at what you get in the box, because this isn't just the camera itself you're getting here – there's so many attachments that you'll definitely be able to attach this to whatever you want. The mount and tripod adaptors slide in and out of the bottom of the camera easily. Although each attachment screws in tightly and are adjustable, these are also quickly released with a clip system so you don't necessarily have to leave the camera in position – whether it's in the protective waterproof casing or not. Ideal if you don't want to leave it on your bike, car or helmet etc.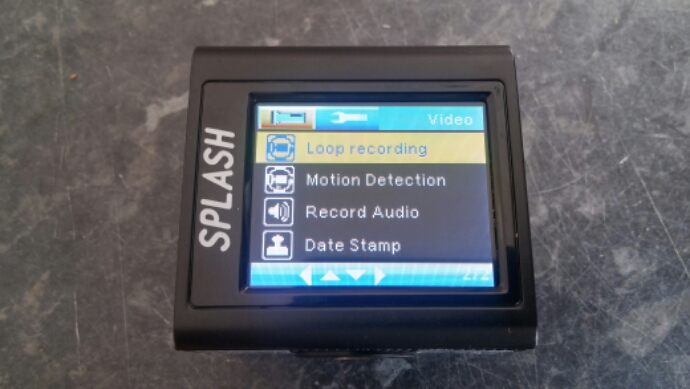 Not only that, but there's a selection of 3M adhesive pads so you can stick the camera to a car or something else..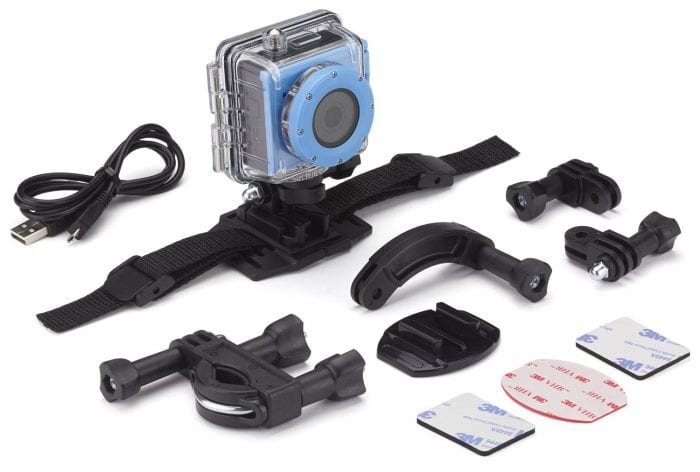 Here's the camera itself. Quite small actually. Up top is the main record button, which also acts as the camera shutter if you want to take a snap. That LED up front lets people know when you're recording. The front is glossy and the edges are a grippy black finish.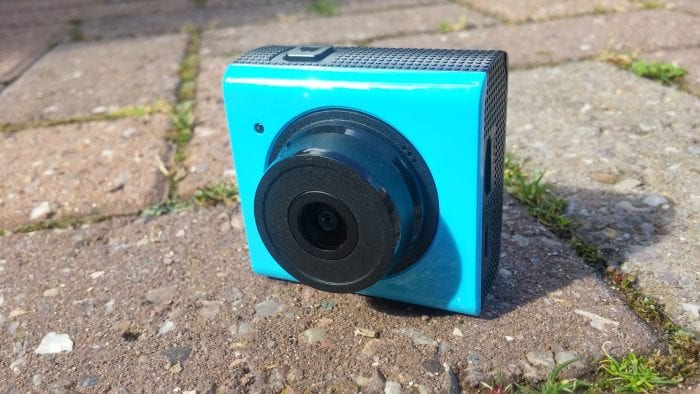 Here's the camera button, which also starts / stops recording the footage if you're filming. It will also play videos back too if you want to see the video you've just taken.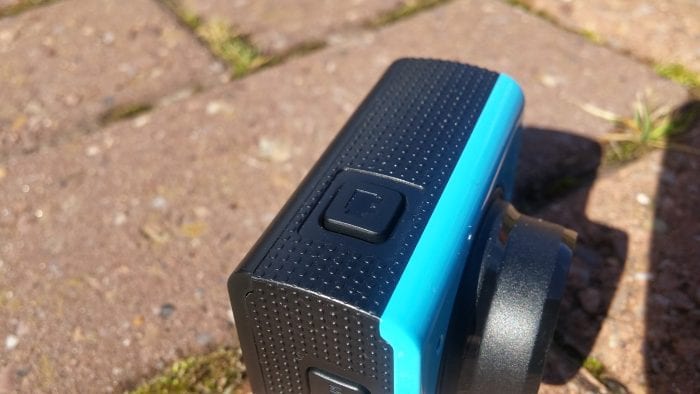 On the ride side is a mode button for switching between the camera / video / playback mode. You can also hop into various settings if you press and hold it in. More on this in the video. Below this button is the HDMI output and a reset button should things go wrong.

To the left, a microSD card slot and the microUSB for recharging the built-in battery.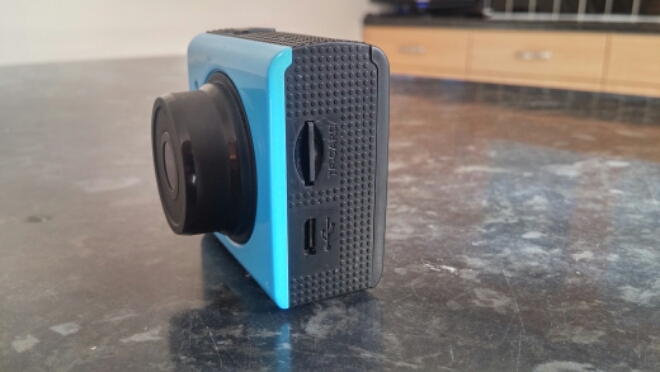 The screen is a 1.77″ TFT LCD which is fairly low res and perhaps not a great representation of the finished footage, but it's enough to let you see around and navigate the controls.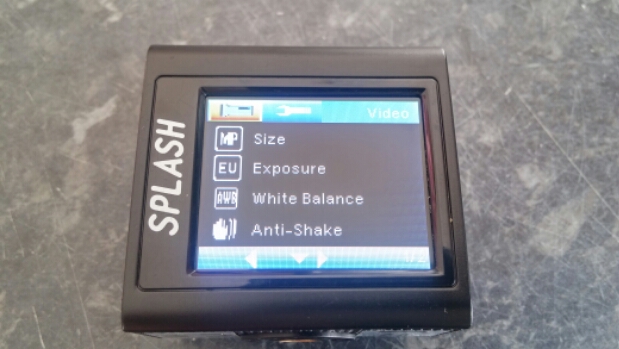 This is all wrapped up in this, the waterproof case. You pop the camera in here, close the door and then shut the clasp to lock it tight.
It adds a certain element of bulk to the proceedings but the top button pushes down the record / action button. You can't hit the mode button once it's in the case though, so make sure you set it to the video or photo mode before you start.
Here's a brief intro..
Now, before we get to the bike rides, let me just show you the waterproof test. We don't exactly have a bit pool in the back garden, so here's me with a bowl. It's a bit low-tech (and doesn't quite test it to the full 15 metres that the camera will do), but hey….
..here, from the camera perspective, is the resulting video..
So, I've got my KitVision Splash camera. I've now attached it to my bike. Let's see how it performs shall we? There's a setting on the camera for stabilization control, so I ensured that this was turned on..
This, I should point out, is footage with the camera actually attached to my handlebars. It's not too bad, so let's see how it goes when I head off-road..
Hmm.. things are a little bumpy to say the least. Don't forget that I've got suspension on my bike here, so it feels relatively soft to me while I'm riding. Either way, I did some even more challenging terrain. This is how that turned out..
Unless you make the video window super-tiny, it's pretty unwatchable on a full TV or a full screen. I figured that it could perhaps be the stabilization feature going a bit nuts, so I turned it off again. Here's the same route I just took above, but with the stabilization feature disabled…
After that, I figured it would perhaps be best to attach the camera to my helmet. After all, there's a strap for doing this in the box, plus your head tends to be more stable, so here is the video from that one. Firstly, on a fairly flat gravel road…
There's obviously more movement in a way – my head moves around after all – so let's push things a bit further and go a slightly more severe route. This is over the "Monkey" on Cannock Chase, if you're wondering..
I've got the stabilization turned on for these videos. Here's another off-road example…
..and finally a more severe route…
I think it's safe to say that the camera struggled with off-road filming. It seemed fine for road cycles and road cyclists, but anything off-road was a pretty wobbly video.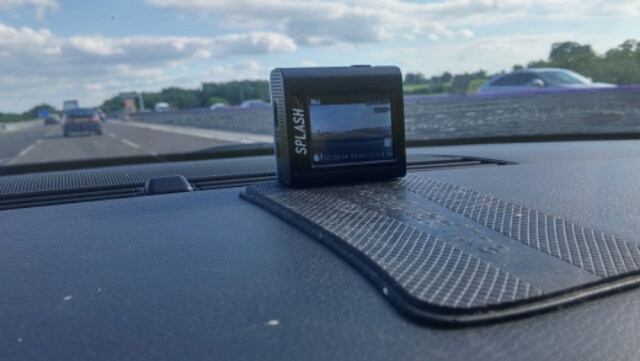 So my next trick was to try filming in the car. The Kitvision Splash has a "loop" feature, so you can plug it into your cigarette lighter (to constantly charge it) and constantly record video. It'll record 3, 5 or 10 minutes on a constant loop. This is good for car accidents, and you'll be able to watch it back again (should you remember to stop the recording after). At about 1.20 into this video I kinda got stuck in this tiny country lane and might've needed that feature…
Next, some "A" roads and some roundabouts the test the camera on the corners and fast-changing scenery. It performed well here…
Finally, a bit of video up the motorway..
All of this is good, and I began to see that the camera suited road-cyclists, people at the pool and perhaps those wanting a safety camera in the car too.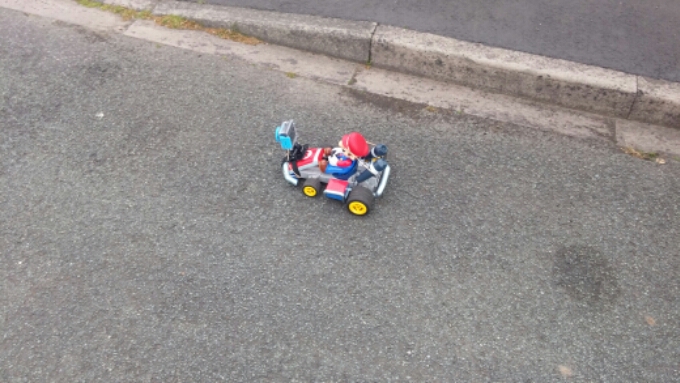 It didn't perform too well in hard off-road mountain bike trails, but I wanted to give it one last try – attaching it to a radio controlled car!
This was quite a bit of fun and, again due to the tiny size and weight of the camera, I attached it to a toy train… 🙂
Again, it performed very well for usage like this. Anything fairly smooth, on a flat surface or perhaps connected to a drone, should be OK. Pictures also came out well, as you can see below..
For all of these, I simply took the microSD card out and slotted it into the card slot of my laptop.
Overall
Cheap it is, yes, but the video when mounted to a bike which isn't on a completely flat road is almost unwatchable. It's good for anyone having fun at the beach plus anyone who want to use it as an in-car camera.
I do like the range of options including the loop recording feature on the video setting. There's also a substantial amount of settings within the photo option. Plus it was very rugged too. I took it over some pretty hard terrain and, although it didn't record the video very well, it stood up to my endless testing. I also liked the fact that you could easily slot your own microSD card in and store much more footage. Just a shame about that video quality.
Get the Kitvision Splash from Amazon for £65.98.
Kitvision Splash Waterproof Action Camera Review
Battery - 8.7
Camera quality - 9.2
Video quality - 6.4
Build - 9.2
Value for money - 9
8.5
Great size, great battery life, great price. Same about the video footage when you go over bumps.